Hair extensions is a modern day solution for those who want long hair but fall short of time to maintain it. Hair extensions can be clipped to hair or have to glued. Protein glue is a preferred option to combine natural hair and hair extensions.Aside from normal hair care tips, taking care of your hair weave is very important because it makes it last longer, which saves you money in the end. While the gluing part might be easier, the process of removing and maintain the hair extension glue is a daunting task for many. This all inclusive guide will give you the information you need to take care and maintain your hair extension along with debunking some myths.
How to maintain your hair extensions and weaves
If you are rocking a hair weave such as a Brazilian natural wave , you need to know how to maintain it. Nowadays, women are opting for sew-in weaves but do not know how to care for them. Oftentimes, different rules usually apply when it comes to keeping weaves in good shape.Here are some tips for taking care of your weave:
1.    Pick the right extensions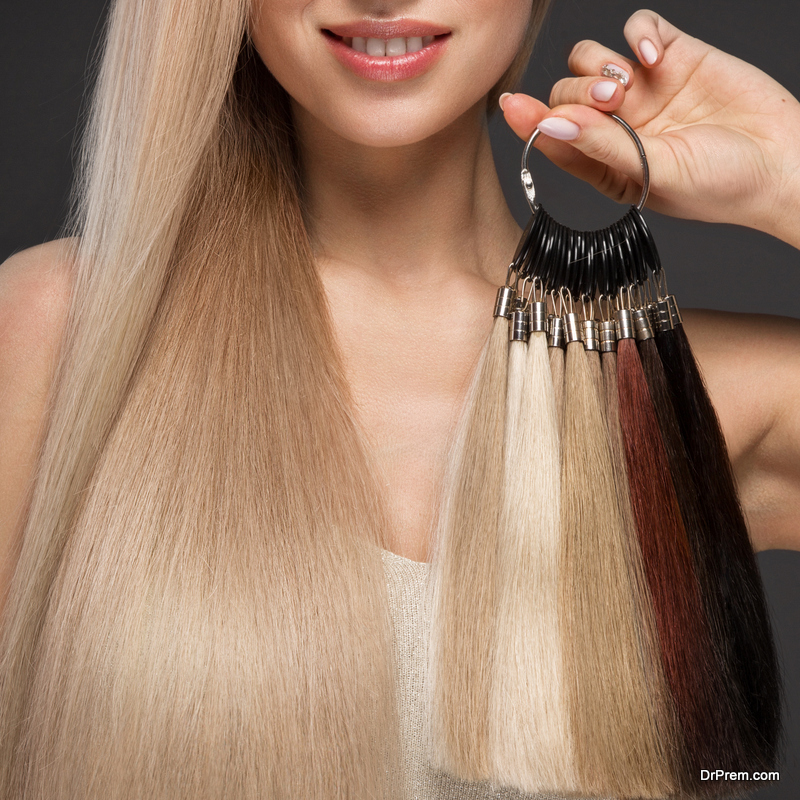 Everything starts with hair selection. If you are new to the world of hair weave, you should opt for a texture that resembles your own hair. This will make taking care of it so much easier for you. Moreover, if you want extensions that last for a long time, you should pick top quality hair that looks real instead of synthetic.
2.    Combing and detangling
When combing your hair, you should not just rip your comb through it. You need to remember the tracks that are sewn into your hair. The more you yank and pull the extensions while combing, the more likely you are to damage your own hair. If you do not want your hair to fall out, make sure that you comb through the weave gently and are mindful of the tracks.
Just as you would do with your own hair, start detangling from the bottom. Make sure that your hair is wet to prevent it from shedding too much. Moreover, weaves have the tendency to tangle badly when not handled correctly.
3.    Cover your hair with caps/wraps at night
If you want your hair to look great in the morning, cover it with a silk cap. Silk wraps are great for retaining the moisture in your hair; thus, keeping it fresh. With a wrap covering your head, your hair stays intact through the night, helping you to avoid bushy edges.
Did you know that cotton pillowcases create friction with your hair, which can result in hair loss?
If you want to keep your weave looking brand new, you should use silk pillowcases. If you have one lying around in your closet or drawers, you should take it out.
4.    Use heat protection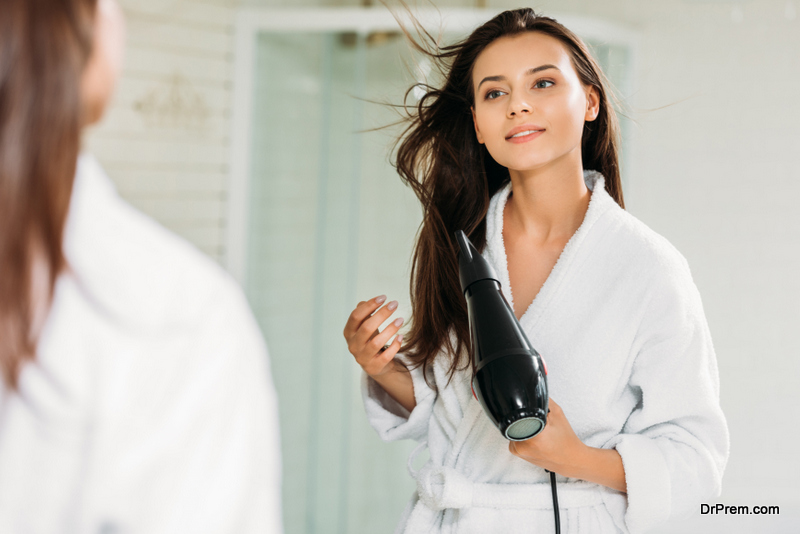 It is very important to use heating protection spray before applying heat to your weave. Even if your weave is of top quality, it can only take little amount of stress before it starts looking worn down. Using heat protection spray keeps the ends of your extensions looking fresh and prevents your hair from drying out.
In fact, if you use a silk wrap when going to bed, you might avoid using heat altogether. It will keep your hair flat, eliminating the need for heat application.
Deep conditioning your weave will leave it looking lustrous and fresh. Even if you condition for ten minutes, you will see a marked difference. It prevents your hair from drying out, especially in the hot summer months.
For this reason, you need to deep condition your hair at least once every fortnight. You should try different conditioners until you find the one that works best for your hair.
6.    Air dry your hair weave
It is best to air-dry your weave and if you must use a blow dryer, begin with the weft and move to the ends before working your way up. Make sure that you use the lowest heat setting possible when using heat tools. Just like with natural hair, excessive heat application can dry the weave and loosen the bond. Use a wide-tooth comb if you have straight hair and your fingers for a curlier one
How to take care of Hair extensions
Hair extensions are wonderful inventions that add length and volume to your hair instantly for a quick hairstyle change. Moreover, you can use them to cover a bad color or cut that makes your hair look horrendous. Here are several methods for caring for the best hair extensions:Here, in this article, we are offering some tips that make caring for clip-in extensions easier than you would have thought probably:
1.    Daily care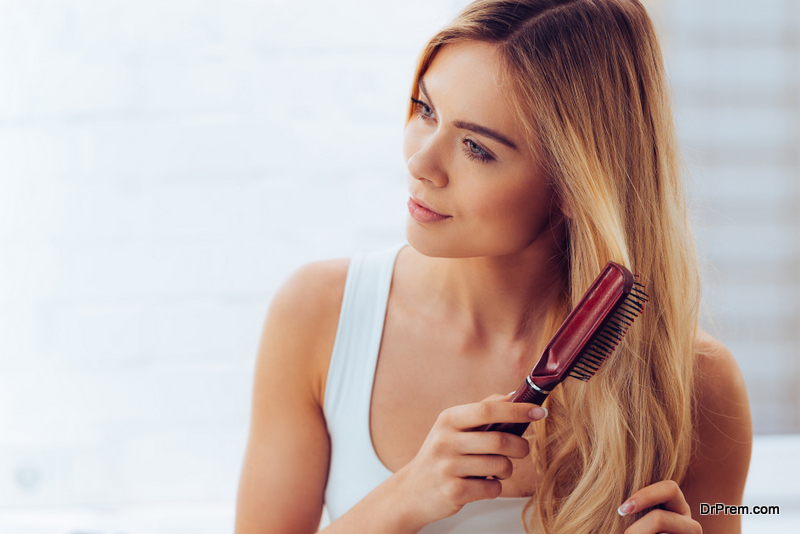 If you have clip-in extensions, you should take them out every night before retiring to bed and brush them gently. Unlike sewn-in extensions, the clip-in variety should be removed because the tiny combs used to attach them to your hair can dig into your scalp as you sleep. Moreover, these hair extensions are more fragile. 
2.    Washing
Wash your extensions once every month using a gentle conditioner and shampoo that will not ruin them. Start by placing the extensions in a sink or tub and dampening them with lukewarm water. Apply a dab of shampoo, massage it into the hair, and rinse the lather out. When you finish with the shampoo, you should repeat this procedure with the conditioner. 
3.    Styling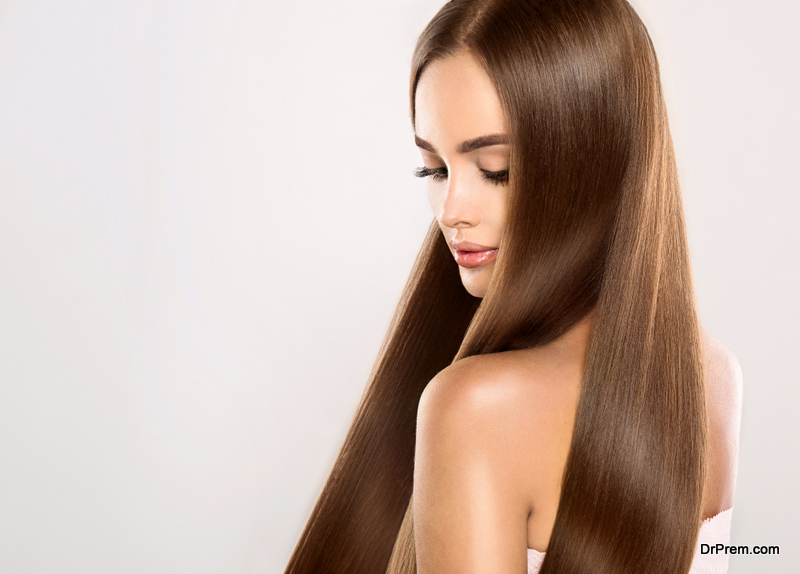 When heat styling your clip-in extensions, make sure that you take great care. If possible, you should avoid heat styling altogether. If you must apply heat, make sure that you use a low temperature and protective spray. Follow these tips when heat styling your extensions:
Avoid blow drying them as this can result in tangling
Make sure that they are dry before using heat
Style the extensions before you clip them to your head
If possible, get two sets of hair extensions; then, curl one and straighten the other to reduce time wastage and heat damage.
4.    Drying
Once you finish washing them, you should hang the extensions up to dry, but do not brush them while wet. Before air-drying them, you should pat hair extensions dry with a soft towel and then place them on a hanger. Wait for them to dry before you brush them to avoid frizzing. 
5.    Combing
When the extensions dry up, you should comb them using a wide-tooth comb. Start by combing the ends and then work your way up to the top, not the other way around. If you style the extensions regularly, you should moisturize them but not too much to avoid greasiness. 
Remedies to remove hair extension glue from hair
Visiting a salon for the same might not be the choice of a budget beauty. Thus, we have put together 4 easy home remedies to help you remove the protein glue with ease.
1. Glue remover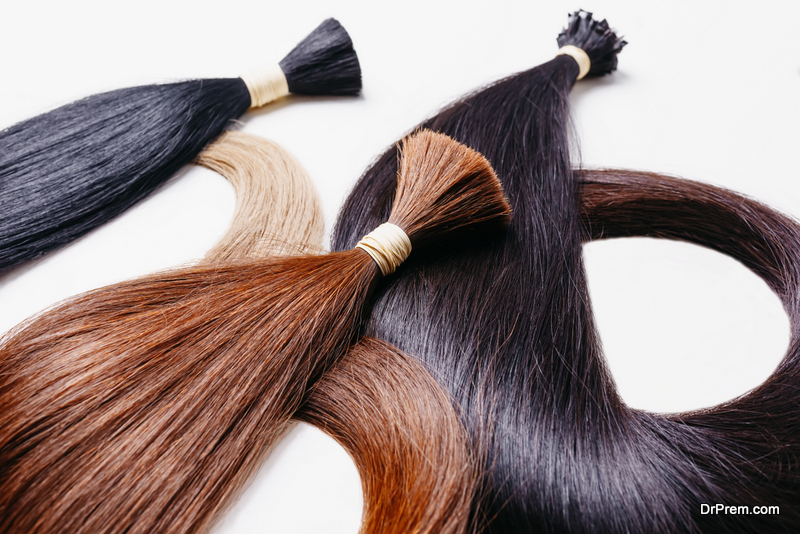 Glue remover is one of the easiest and simplest ways to separate the hair from hair extension. It is easily available in the market. Post picking this up from any of the beauty store, all the candidate needs to do is, apply this gently on the bonds and let it sit there for some time. The glue remover will gradually remove the glue from the hair and hair extension. After the application brush the hair gently using a fine tooth comb.
2. Using baby oil
Using baby oil though sounds pretty easy and simple, but is one of those methods which can test the patience of the candidate. As a procedure the candidate needs to weaken the bonds by applying baby oil. Post the application of baby oil and weakening of bonds it become easy now to gently brush the glue out using a fine tooth comb.
3. Using hair conditioner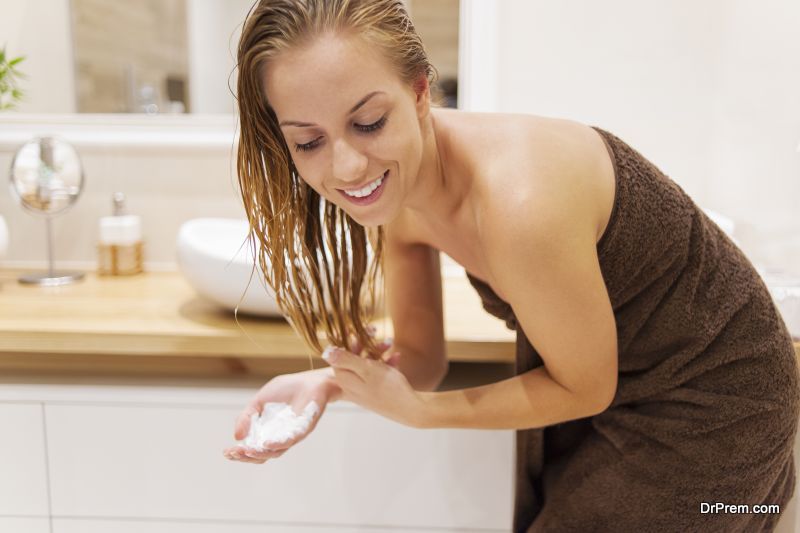 Using a hair conditioner is a very time-consuming method. One needs to apply it several times before the glue is completely separated. Apply the conditioner and leave it on the hair for some time. Post the application of conditioner in the hair, the glue needs to be gently brushed out.
4. Nail Polish remover
Nail polish remover can be harsh to your hair hence it is advisable to use nail polish remover only if it is on a small section of hair. Nail polish remover contains acetone. Acetone is one of the reasons though being harsh it is still used to separate hair and hair extension. Acetone instantly dissolve the glue and makes it a relatively hassle free activity.
Hair extensions: Myths and facts
Whether it is old school celebrities like Jenifer Aniston or young celebrities like Selena Gomez, a huge part of their beauty routine includes hair extensions. And with the obsession of dressing up like celebs, many women love wearing hair extensions to add volume to their natural hair or shield their natural hair from getting over exposed to sun light. Whatever reasons may be, a huge population of women wears hair extensions these days.However, there are many notions about using hair extensions that make some women reluctant to take a chance. Continue reading to know what are the myths and realities about hair extensions, so that you try them out with double the confidence.
1. Myth: You should avoid combing your hair when wearing hair extensions.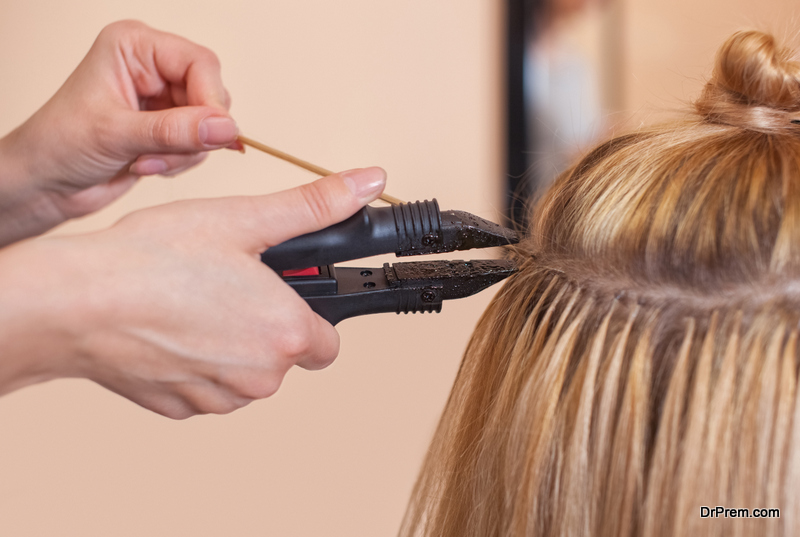 Fact: The fact is that your hair extension should always be treated like your own natural hair. To maintain the quality and health of the hair extensions, it is necessary to comb them at regular intervals. Combing your hair extension also ensure that your current hairstyle looks the same as usual. Also, before wearing any hair extension, you should always comb up your natural hair.
2. Myth: It is not essential to condition your hair extension.
Fact: Whether you wear your extension either for a day or for few hours, you have to treat your hair extensions like your natural hair. Therefore, you must wash or condition your extensions on a weekly basis. Many celebrity hair experts recommend using infusium 23 to help maintain the quality and shine of your extensions.
3. Myth: Hair extensions don't demand high maintenance service.
Fact: Always remember, your hair extension should be treated exactly like your own natural hair. So, you must wash and condition your hair extensions every week like you do with your natural hair. Similarly, you must style your extensions regularly for their proper maintenance.
4. Myth: All hair extension brands are of same quality.
Fact: Each brand of hair extensions uses different type of hair. Unprocessed virgin hair is the most qualified hair that is used in hair extensions. However, most hair extensions are usually processed with a Silicone coating, which simply signify that no two brands are the same. Some high quality hair extensions are hacked off from dead people.
5. Myth: Women with damaged hair normally wear hair extensions.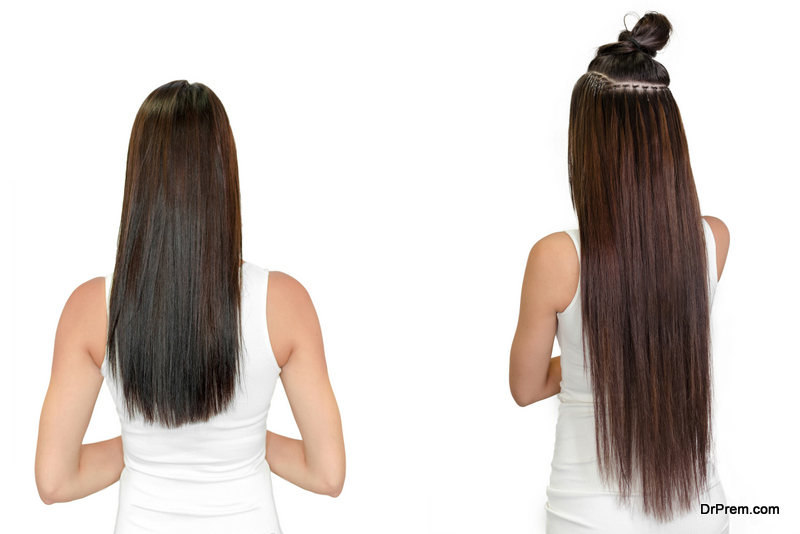 Fact: This could have been true a few years ago, but now women with healthy hair also wear extensions to extend the hair length, volume, protect their natural hair from chemicals and sun heat or to try a different texture of hair.
6. Myth: Attaching and removing your hair extensions require special training or education in styling.
Fact: However, attaching and removing hair extension doesn't require formal training or such, but in order to avoid the damage of your natural hair, you should seek a stylist. Knowing the basics might prove helpful to you if you regularly wear in or wear off your extension.
7. Myth: Hair extensions are bad for their health and also affect hair growth.
Fact: There are exceptions with women with really sensitive skin. Therefore, these women should seek a professional opinion before trying on hair extensions. But, it is evident that many women who wear extensions have no issues with their hair. Moreover, hair extension doesn't influence hair growth and your hair will grow as usual.
8. Myth: Hair extensions are identifiable and detectable from near.
Fact: Hair extensions are attached to your hair in a way that make it look natural from every possible angle. The hair stylist will style both your hair and extension to provide an undetectable appearance.
9. Myth: Wearing extensions are uncomfortable and sometimes even painful.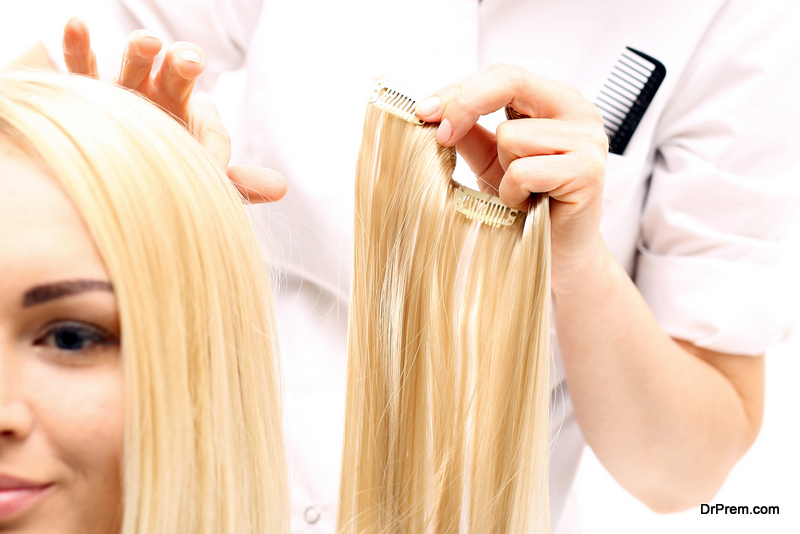 Fact: You will experience no such pain or discomfort after wearing hair extensions. However, if you have unusual, sensitive skin, you can be uncomfortable. Nonetheless, a huge majority of women don't feel pain while wearing extensions.
10. Myth: Unlike natural hair, it is extremely difficult to brush the hair extensions.
Fact: If your hair extension is installed correctly, you will never face any issue with achieving brushing. However, avoid too hot brushing on your extensions as they might misplace them from its actual position.