Precious metals like silver have been a part of jewelry for nearly as long as jewelry existed. It makes diamonds and gemstones glimmer like no other metal can. Silver expresses value, refinement, and poise.
Learning to pair silver with the right corresponding color can enhance these natural values. These are the best colors that go with silver, and how to style your silver jewelry to make it shine. 
8 Colors that go with silver
1. Black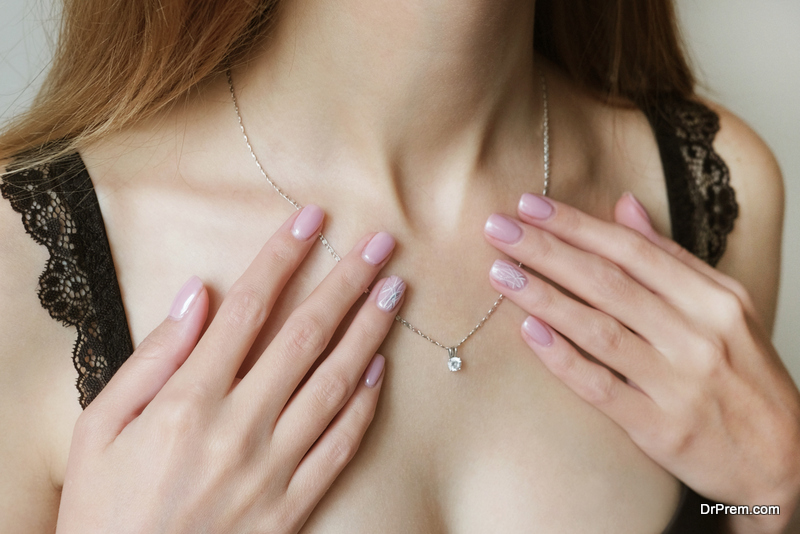 Black is the best color to wear with silver because it enhances the contrast the most. When you're wearing black, your jewelry doesn't have to be big and flashy. A simple silver chain or small pendant will stand out even more.
Of course, you can always wear your larger pieces too. The simple black background will help your jewelry make a statement. Don't be surprised if your black dress has people commenting on your jewelry all night.
Black is the perfect color to pair with any piece of silver jewelry. 
2. Dark Navy or Royal Blue
Like black, solid deep blues provide a great contrasting background to enhance your jewelry's natural beauty. Blues have the additional benefit of bringing out the natural blue tones in your silver.
When you're pairing shades of blue, or even purple, think winter hues. Silver is like a snowflake against the sky. The colors it works best with will be colors that share that wintery hue.
 3. White or Cream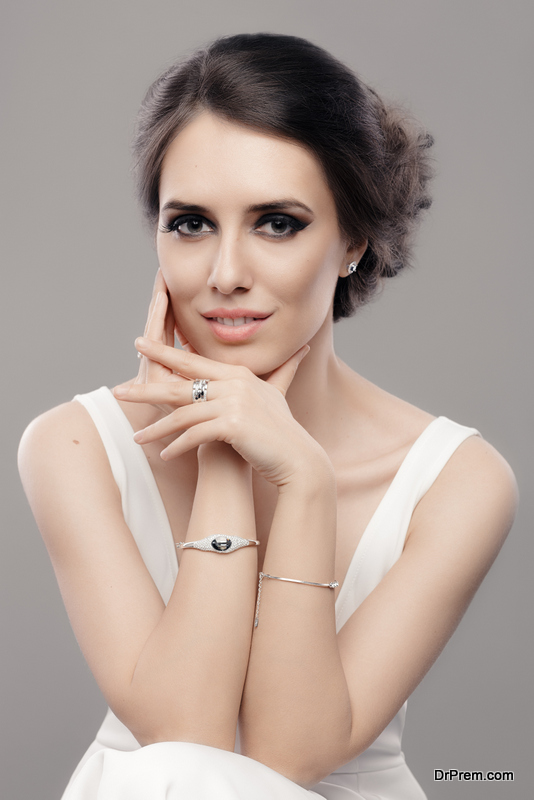 Gold jewelry stands out more against a white or cream color. But that doesn't mean you can't wear silver.
Consider silver pieces that have more color in them like an opal ring or a gemstone. Check out these stunning options from Dreamland Jewelry for some ideas.
You can alternatively layer your gold and silver jewelry to better bring out their colors. Gold and jewelry are both dominant metals, so be careful while doing this. If you're mixing jewelry metals, you might want to focus on pieces that already incorporate both metals. 
 4. Gray
Technically gray is a shade, not a color, but that won't stop us when we're styling stunning jewelry.
Gray clothes can make a blend-into-the-background style. Silver brings a simple gray outfit to the front.
Silver works to sparkle up gray's calming tones. Go for big, flashy, statement pieces to make your outfit shine.
 5. Bold Colors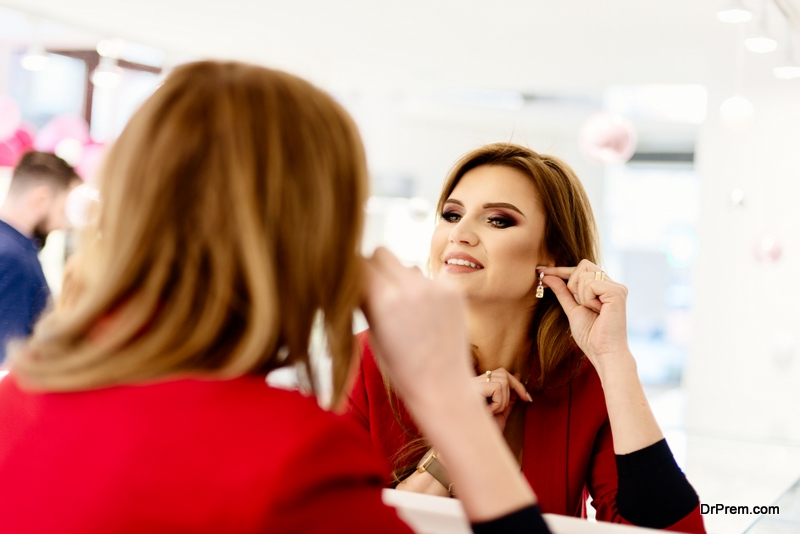 Oversaturated tones like deep blues, yellows, greens, and other bold colors work well with silver. While gold jewelry might compete for attention, silver makes the colors appear deeper.
At the same time, it contrasts with the colors to help the silver jewelry stand out even more.
 6. Pastels
Pastels bring out silver's more metallic tones. It makes pastel and silver a perfect combination for a baby's nursery or a spring wedding.
Consider shades like light blue, light pink, light purple, light green, or light yellow.
Pastels bring out more metallic tones and less shine. As a result, they work well with silver pieces that have more of a gunmetal quality to them, and less of a polished hue.
 7. Neutral Colors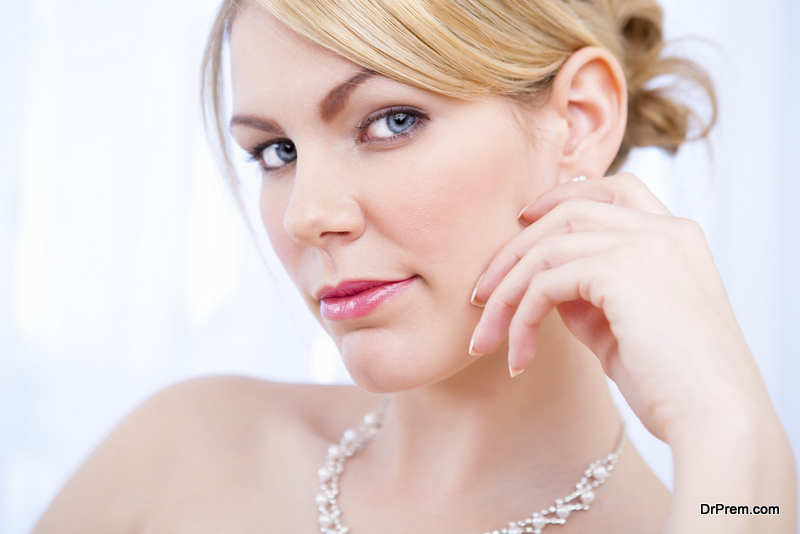 As we established above, neutral colors like black, grey, and white are all amazing at working with silver. But they're not the only neutrals you should consider.
Any neutrals you might use in interior design work great in your wardrobe to complement silver jewelry as well.
 8. Gold
It used to be bad taste to mix silver and gold, but that's not the case anymore. Instead, they create a festive, complementary color scheme.  
Pay Attention to Your Skin Tone – But Not Too Much
The rule used to be that if you had dark skin tones with yellow hues, you were supposed to wear gold. Silver was designated only for lighter skin tones with a rosier undertone.
But that method is outdated. You can wear whatever jewelry you want, no matter the metal. The trick is not to overdo it.
Both silver and gold match every skin tone, so you don't need to worry about your jewelry. But you should still consider how colors match your skin to make sure they don't make you look washed out or saturated. 
Pay Attention to Patterns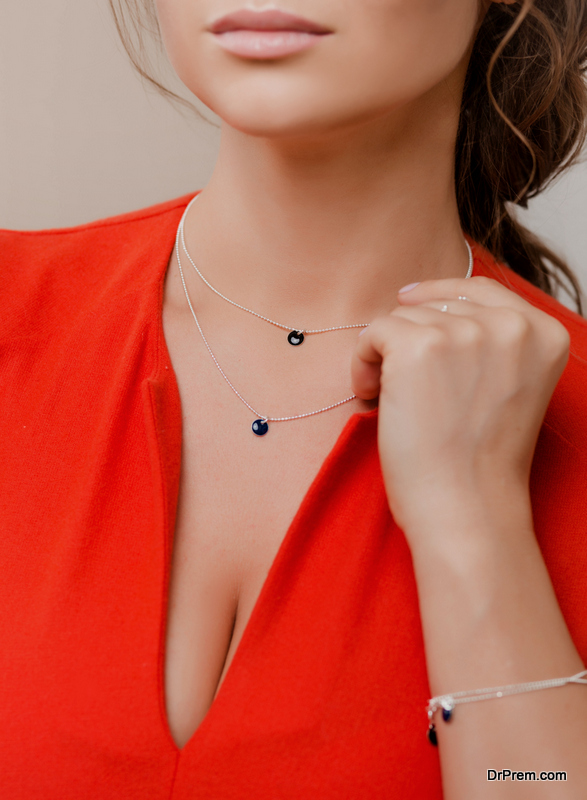 The patters on your clothes matter just as much as their color. Fortunately, the solution is simple.
If you have a bold, vibrant pattern, go for a simple piece of jewelry with a shorter chain.
Alternately, a solid color can help your jewelry shine. This is the place where you can exhibit your silver at its best. Go for a longer statement piece that will catch the eye or a simple pendant. A solid background helps bring out its natural beauty.
Clothes that have several different vibrant colors tend to wash out silver jewelry. It might be better to pick a costume piece or go with gold. 
Be You
Silver is a timeless classic, and it pairs well with nearly any outfit.
What matters is how you feel when you walk out of your door. If you wear your outfit with confidence, it will look good.
Do what feels right to you. Wear what you like, and express yourself. 
Colors That Go with Silver Create Elegant, Sophisticated Looks
You can never go wrong with silver jewelry. It's like the icing on your outfit.
Most colors that go with silver have cooler tones. But you can pair jewelry with warmer looks too. These tips above will help you style your silver jewelry so it always looks professional.
Keep checking back for more great tips to always make sure your style is on point.
Article Submitted By Community Writer