Eyes are like the windows to your soul. So, you can understand how important these are for your personality. Dull and puffy eyes make you look tired and stressed, which can reduce the level of your personality even if it's extremely charismatic. Actually, the under eye skin is very delicate that has a tendency to wrinkle and darken easily when compared to other body parts. So, this way it becomes much essential to take care of your eyes. In this article, we are listing down 6 best under eye firming serums to cure unwanted wrinkles, dark circles, puffiness and tired eyes. In the second section of this article, you will get information on the 10 Most effective under eye aging creams
A few important things to remember
If you are not able to choose; the best ask the suggestion of your dermatologist and choose accordingly. He will also give you correct instructions to use the product properly and effectively.
Also check the date of manufacture of the product when you are buying .Old products may not be safe to use; especially when you want to use them on your face in the sensitive areas.
Use them according to the instructions given on the package for getting effective results.
Best anti aging ingredients
Who doesn't want to look young and beautiful forever? But obviously that's not possible. You can never look the same all your life, and believe us; you would never even want to look the same forever. But that doesn't mean you ignore yourself and let nature work upon it in its own sweet way.However, not all of them work. But there are a few ingredients that go into these anti-aging products which are truly beneficial for your skin.Here is a list of some anti ageing products.
1. Alpha-Hydroxy Acids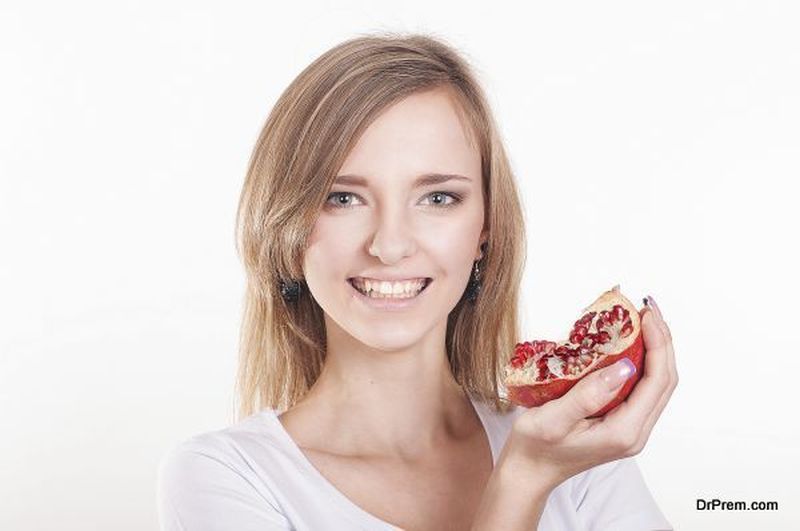 Commonly known as AHAs, these acids are derived from various fruits. For example, glycolic acid from sugarcane, tartaric acid from grapes, antioxidant ellagic acid from raspberries, cranberries, pomegranates and so on. AHAs are used as exfoliaters that help skin get rid of dead skin cells. AHAs are also known to tighten the skin which results in vanishing of fine lines. However, certain limits have been put on the amount of AHAs permitted in beauty products. Not more than 10 percent AHAs are allowed in any beauty product. But sometimes more of it is available for usage on prescription. It is best for dry skin.
2. DMAE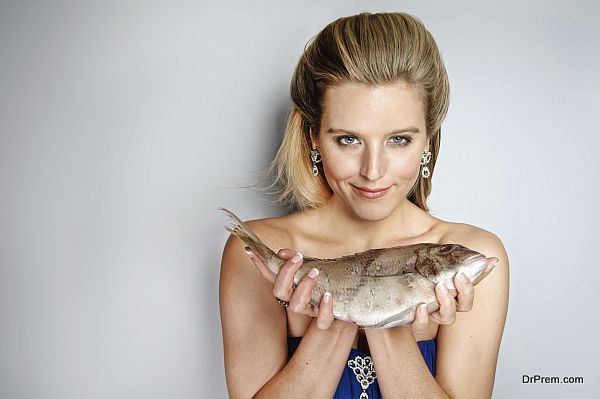 DMAE is a very popular anti aging ingredient being used these days, especially for skin losing its sheen. It has been in use since the early 90s and particularly beneficial for sagging skin. It is also found in fish (another reason to eat fish). However, not much research has been carried out on it and the side effects are not known. But DMAE is an ingredient that has found many takers.
3. Vitamin A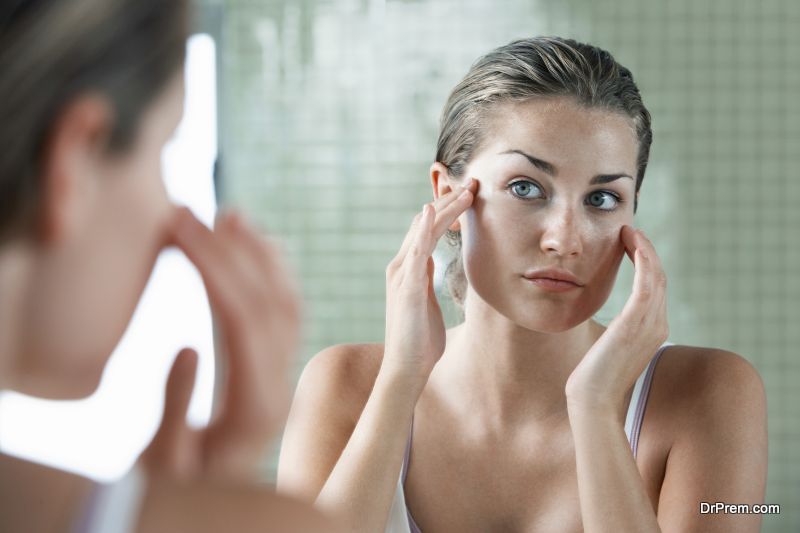 Vitamin A is used in various forms in different beauty products. The right amount can give wonderful results. However, in some forms and depending on the amount it can also cause irritation. Vitamin A helps reduce fine line and wrinkles. It tightens the skin making it taut. Vitamin A is also effective in improving the skin tone. It is also an excellent exfoliater. One form of Vitamin A is Tretinoin which when used in higher concentration has showed excellent results. But even this is available only on prescription. Retinyl Palmitate is another form of Vitamin A which has found to deliver even better results and that too minus the irritation. It is available without prescription.
4. Green Tea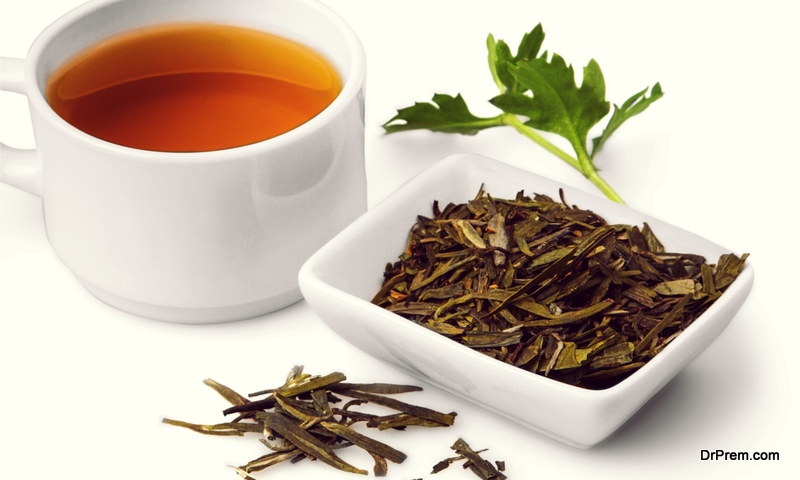 Green tea is known to be a good anti-oxidant and anti-inflammatory. It is being increasingly used in beauty products nowadays. Green tea slows down the process of aging and keeps you looking younger. Externally also green tea does wonders. Having a cup of green tea is good for health as its anti oxidant properties help cleanse the system.
5. Beta Hydroxyl Acids (Salicylic Acid)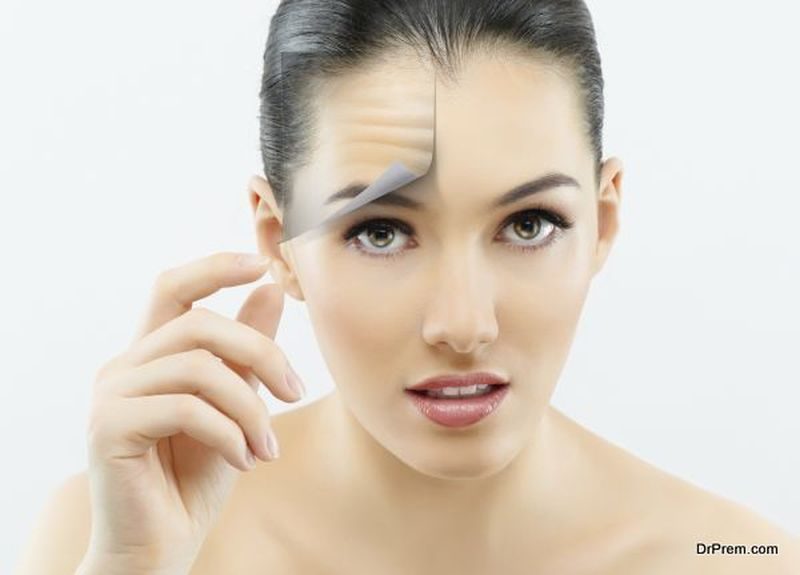 Salicylic Acid is an acid obtained from willow bark, which is particularly effective for oily skin. Its deep penetrating properties help cleanse the skin fully and thus, are best for oily skin and acne-prone skin. This acid is also known for its exfoliating features.
So these were the 5 best anti aging ingredients which are used in many anti aging products. But, not everything suits everyone and so you must be careful before picking up any anti-aging product.
6 best under eye firming serums
Everyone needs to take good care of their skin. Today, the market is flooded with all types of anti-aging products. There are umpteen numbers of serums, day creams, night creams, and what not. Some talk about a particular wild plant that promises to keep you young, while some contain gold and silver to make you look as radiant as them.
1. Sudden Change under eye firming serum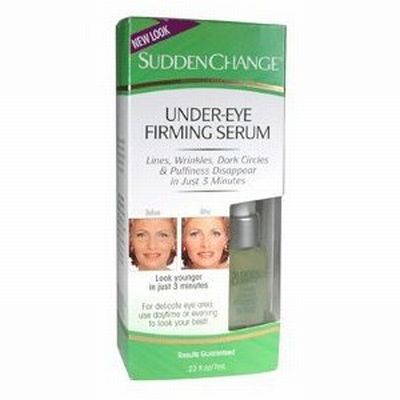 Sudden Change Under-Eye firming serum is an outstanding product to cure fine lines and bags under the eyes. It gives your eyes a quick lift and that too within three minutes. Apart from such wonderful and quick benefits, it brightens your eyes from within and gives you a much younger look.
2. Hydroxatone Instant Effect 90 Second Wrinkle Reducer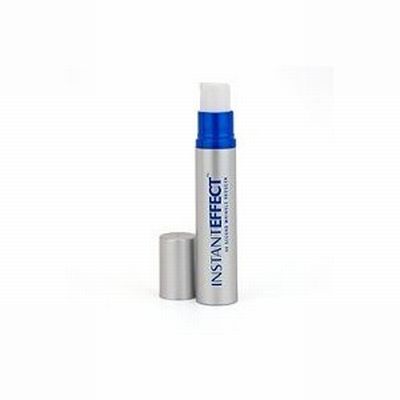 Hydroxatone Instant Effect 90 Second Wrinkle Reducer is a fast acting light diffusing and wrinkle filling serum. It gradually reduces the appearance of fine lines, wrinkles, dark circles and crows feet. Also, the product is suitable for every skin type.
3. Sundari Gotu Kola and Boswellia Eye Serum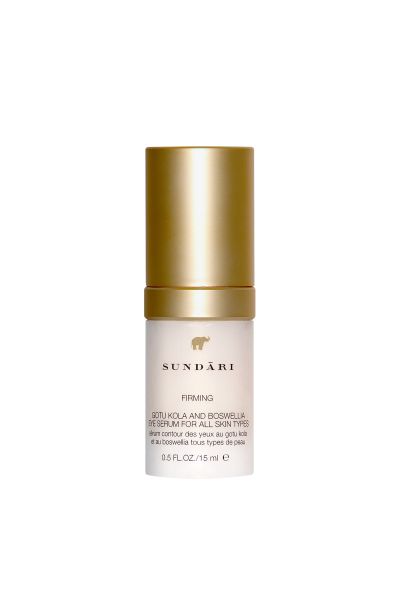 Sundari Gotu Kola and Boswellia Eye Serum is an amazing blend of holistic medication and modern science, which ultimately reduces visible bags and puffiness. It is a unique eye contour treatment which brightens and tightens the delicate under eye skin.
4. Yes to Blueberries under eye firming treatment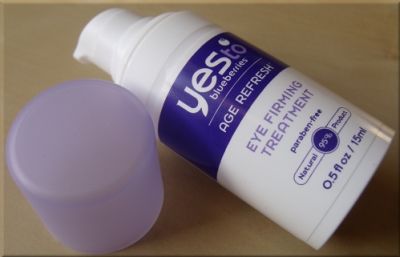 Yes to Blueberries Eye Firming Treatment is a great option for daily use. Though it doesn't work instantly on your under eye area, but gradually it delivers wrinkle free smooth and radiant skin which glows. In just 28 days, you can see extraordinary visible results under your eyes. Also, the blueberries added in the product acts as an anti oxidant which brightens the eye area.
5. Okusil under eye rejuvenating serum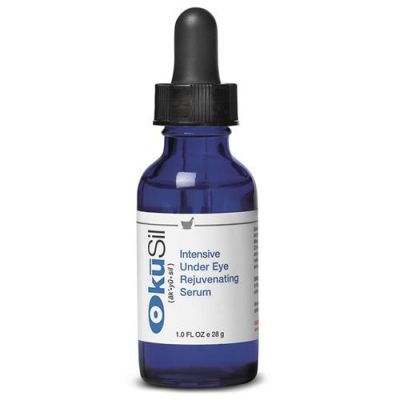 Okusil under eye rejuvenating serum is a rich and revitalizing under eye product especially designed for anti aging purpose to reduce wrinkles and fine lines. It is highly recommended to use it on daily basis for visible results.
6. Reviva Eye Complex Firming Cream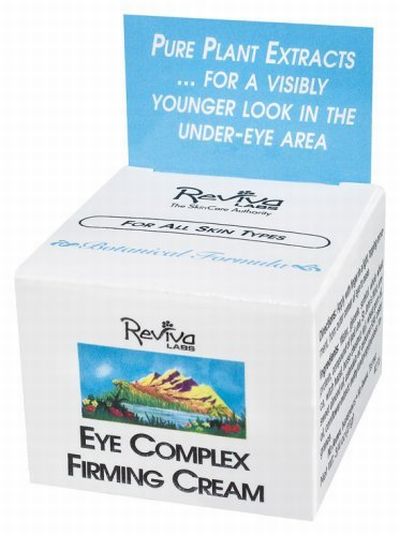 Reviva Eye Complex Firming Cream is a delicate under eye cream with herbal products that increases the circulation around the eye area, which in due course tones and detoxifies the area and brings back the sparkle back to your eyes.
10 Most effective under eye aging creams
Finding an effective anti aging eye cream may be quite difficult because most of them turn out to be just another damp squid. So they opt for other medical treatments like botox and chemical peels etc., to get rid of the under eye wrinkles. But, the fact is that you will be able to find a few effective ones if you shop around for a while. Most of them are very expensive too. But it does not hurt to pay the amount if it is able to make a difference. Most of the women are on the lookout for the best anti aging eye creams to treat their under eye wrinkles. Since the market is full of such creams, it may be a difficult task to choose the best. Given below is the list of 10 best anti aging eye creams for women.
1. Life Cell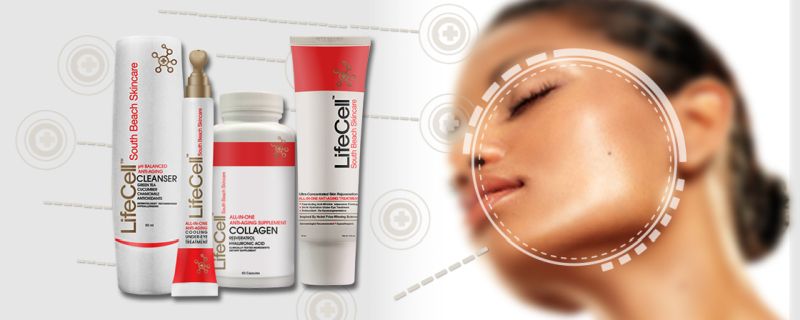 Life Cell anti aging eye cream is considered to be one of the best creams in the market for getting rid of the wrinkles. It contains Dithioline Pentanoic 3 acid, an antioxidant; that is the active ingredient in the cream. In fact, many women recommend this cream as it is to be one of the best general eye creams too available in the market. The product is known to be endorsed by celebrities too.
USP:
The product come from a reputable brand and has very good celebrity endorsements. Users have given positive feedback after using the cream. The best thing is that it comes with a 120 days money back guarantee. So you can try it out and see if it really helpful for you. Life Cell is available in more than 22 countries.
Pros:
Life Cell Anti aging eye cream is manufactured by one of the top brands. It works best as a general eye cream and helps to get rid of the wrinkles, dark circles etc. There is no unnecessary hype about the product. The product is quite expensive too. You can use it and see good results within a short span.
2. Revitol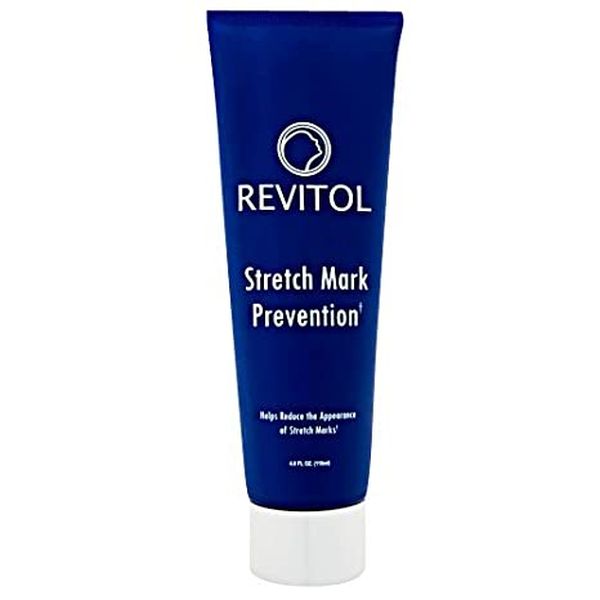 The anti aging eye cream is manufactured by Revitol and is one of the best products in the market. Most of the Hollywood celebrities are a fan of this particular product. The popularity and effectiveness of the product is due to the powerful and active natural components like Niacinamide. Niacin is soluble in water and helps to retain the moisture of your skin. Another component is Bisabolol that increases the effectiveness be soothing the skin.
USP:
The product is very effective due to the presence of the active components like Niacinamide and Bisabolol that are essentially natural. Another component is Chrysin, an antioxidant that helps to remove the dark circles. Argirelene present in the cream has similar effects of botox. So the products come with powerful ingredients that have the ability to get rid of all aging signs.
Pros:
The biggest advantage of using Revitol anti aging eye cream is that it is clinically tested and tried product. It has only extremely positive feedback from all the users. The cream is reasonably priced and can be bought from over 22 countries.
3. Hydrolyze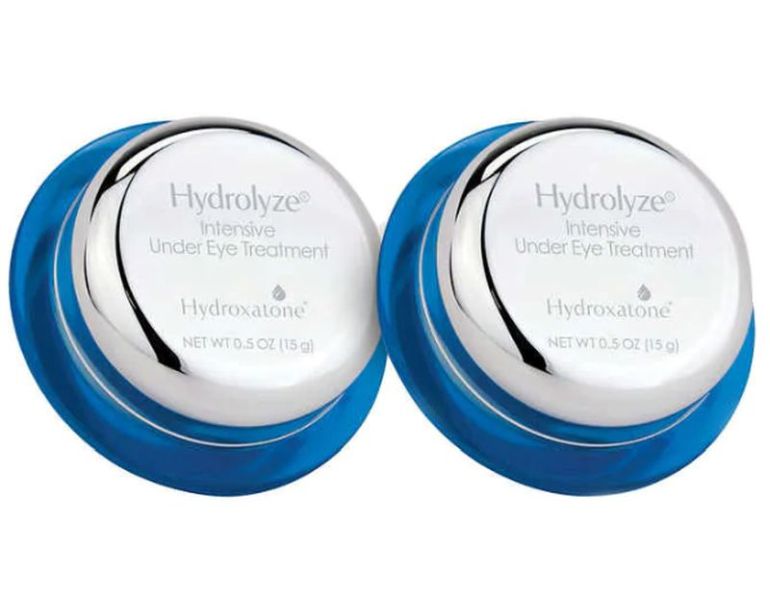 This particular intensive care cream for the eyes is very popular among the users. It has an advanced ingredient for removing wrinkles called Matrixyl 3000. This is responsible for removing fine lines and crow's feet. So this is considered as one of the best eye creams available in the market today. Another ingredient is Haloxyl that is very effective in removing dark circles.
USP:
Due to the presents of many active ingredients like Matrixyl and Haloxyl the product is very effective in removing dark circles, fine lines and crow's feet. It removes the under eye puffiness also.
This cream is known to be 89% effective in reducing the wrinkles. It is one of the highly recommended products too.
Pros:
The product has received a lot of positive feedback from the users all over. It is at least 20% less costly than other similar products. You can see the results quickly and see considerable reduction in the dark circles, wrinkles and fine lines. So if you are looking for an affordable product, this is the one for you.
4. Hope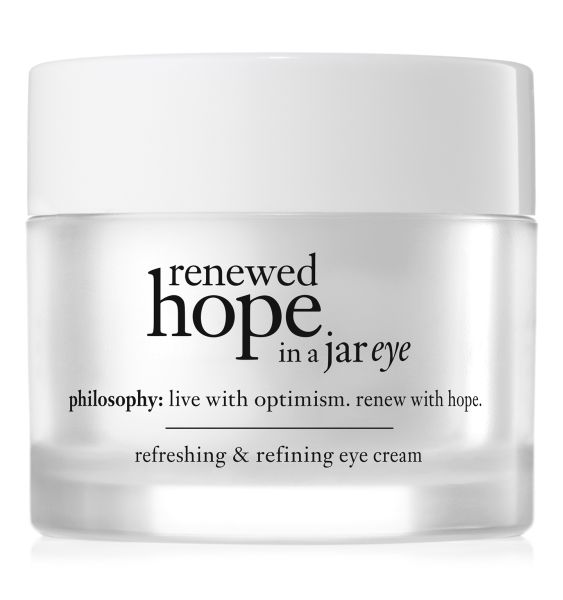 The product has been able to improve its performance consistently. This is the feedback given by the most of the users. The Hope cream for the eyes and lip has been passing around the users through word of mouth advertisement. The sales volume of the product is very high showing the effectiveness of the cream. Use it regularly to remove the dark circles and fine lines near your eyes. It moisturizes the skin as well.
USP:
The word of mouth advertising has been able to create a positive impact on this product. Many users are completely satisfied after using the product for reducing the under eye wrinkles. They are coming back for the product again and again.
Pros:
The high selling product has become the favorite product of many users after using it for one time. The best thing is that the results are visible in a short span. It comes with an affordable price too.
5. Kollagen
Kollagen anti aging eye cream is a clinically tested product known to fasten the collagen production in 84 days. It helps to reduce the aging signs like wrinkles and dark circles. It also works as a daily moisturizer and helps you to maintain a youthful skin.
USP:
The formula of Kollagen has the unique ingredient called SYN-COLL that has been tested clinically. It helps you to boost the natural collagen production, enhance the formation of smooth and youthful skin, hydrates and moisturizes the skin and reduces the wrinkles and fines lines. It also helps to get rid of sun damage and age spots. If you want to enjoy the benefits of collagen, choose this cream for treating the aging signs.
Pros:
The presence of the active ingredient SYN-CROLL is responsible for the production of natural collagen that helps to control the formation of fine lines and wrinkles. The scientifically tested product contains vitamins for skin vitalizing, trace minerals, enzymes, peptides etc. The product can provide effective results due to the presents of active ingredients.
6. Dermatology
The anti aging eye cream contains antioxidants that are responsible for removing the crow's feet and dark circles. The most powerful ingredient in the cream is Resveratol, a powerful antioxidant. Regular use of the product helps to considerably reduce the formation of dark circles and fine lines. Your face can get a youthful appearance with smooth and firm skin.
USP:
The anti aging eye cream helps to hydrate the skin and reduce the aging signs greatly. The appearance of dark circles and wrinkles are reduced greatly. The cream is also known the restore the skin cells and form healthy and uniform skin tone. Your face will have a uniform skin tone all over.
Pros:
The best feature about the product is that it comes with a 90 day money back guarantee. If you are not happy with the product you can return it within three months and get back your money. The strong anti aging formula with antioxidants supports the formation of healthy skin. The skin under your eye will be fresh and glowing.
7. Cellex C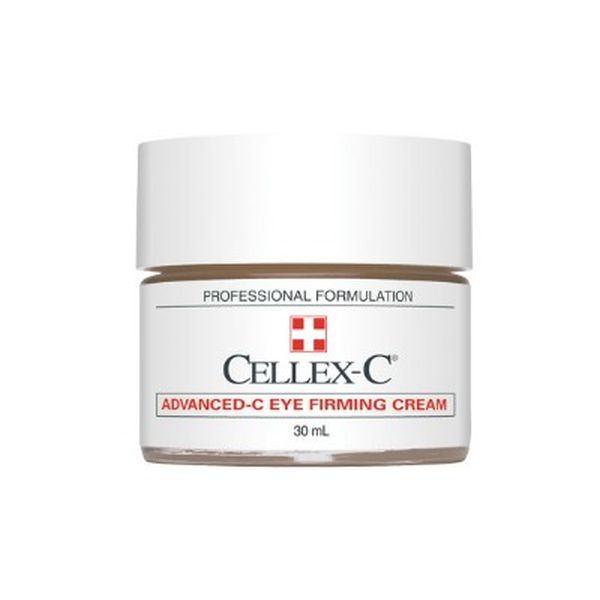 The under eye toning gel cream is one of the best products in the market that is known to reduce the puffiness due to allergies. It can also reduce the dark circles and fine lines due to allergies and age. People suffering from allergy problems can use this product without any worry of complications. Other products may not be very effective for such people.
USP:
The product is best known t reduce the puffiness and dark circles induced by allergies. When compared to similar products it is very effective too. You will be able to see the results within a few days.
Pros:
The under eye gel cream is best for people suffering from certain allergies. It helps to reduce the dark circles and puffiness caused by allergies. When compared to other products this is more effective according to most of the users. The product has been able to completely cure the swelling around the eyes too.
8. Epionce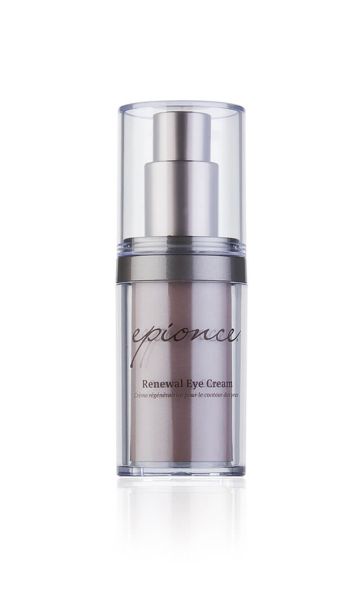 The eye cream comes with a luxurious formula. It is a must have product for all those who are in need of an eye cream for getting rid of the fine lines and wrinkles. The cream can penetrate deep into the skin. It hydrates, nourishes and protects the eyes. The rich complex in the cream is responsible for reducing all the signs of aging including the dark circles, fine lines and crow's feet.
USP:
The luxurious formula is responsible for protecting the skin around your eyes and making it healthy and glowing. They are also responsible for reducing all the signs of aging. The best thing is that it is suitable for all skin types. So people with sensitive skin can also use the cream safely to take care of the wrinkles.
Pros:
The main ingredients of the cream include date fruit extracts, Meadowfoan, Flax seed complex etc. Rose hip is another useful ingredient responsible for brightening and lightening the skin. You skin will look beautiful and glowing in a few days.
9. Peter Thomas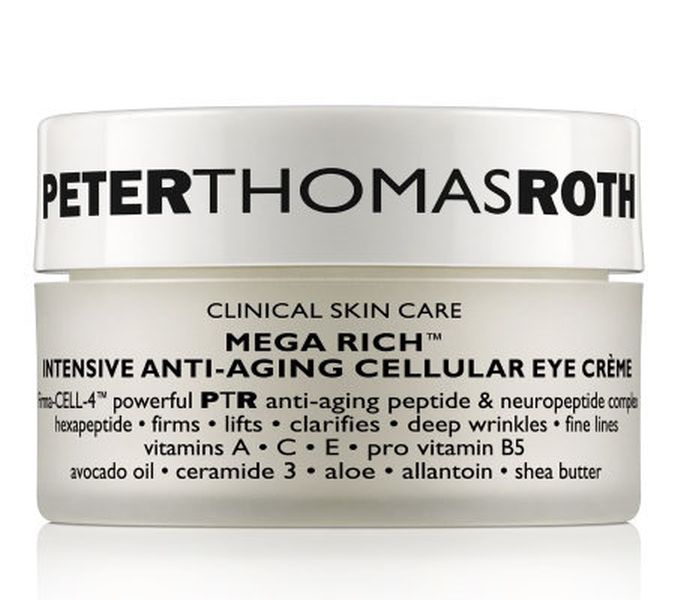 The effective and powerful eye cream has been patented and formulated with Firma-CELL peptide anti aging technology. The formula helps to hydrate the areas around your eyes. The technology uses peptides that relax the wrinkles and helps to form smooth and firm skin. The elastin and collagen smoothens, tones and reduced the appearance of fine lines and dark circles.
USP:
The skin around the eye becomes smoother and former after using the cream regularly. This under eye firming creame reduces the appearance of the aging signs. Other active ingredients include Hexapeptide cocktail, Neuropeptide and Argirelene that paly an important role in protecting the skin.
Pros:
The product is made of various powerful ingredients that are beneficial for the skin. It also contains antioxidants, vitamins A, C and E to protect from free radicals. Other ingredients include Arnica extracts, Sea Algae, Sodium Hyaluronate, Panthenol, Aloe vera, Allantonin, Avocado oil and Shea butter.
10. Aveeno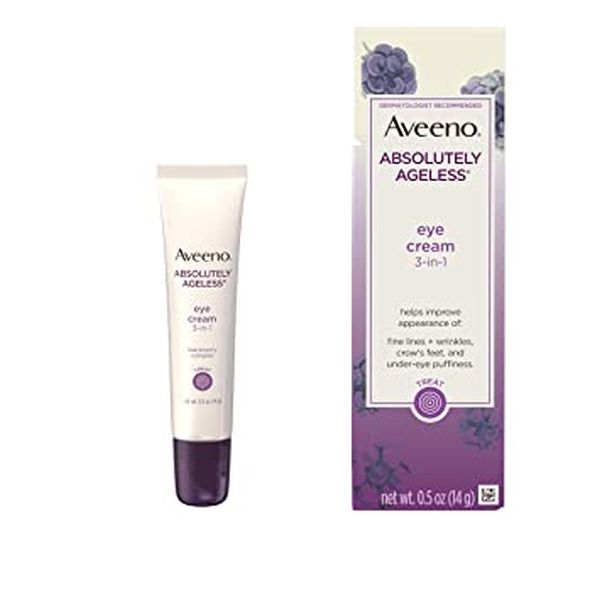 The product is produced by one of the top brands and is known to reduce the under eye dark circles and lines greatly. It is made of natural ingredients that include wheat protein that has a good firming effect. The regular use of the skin brightens and lightens the areas around the eyes.
USP:
The product comes with a unique dispenser making it very easy for application. It remains hygienic and lasts long. Most of the consumers who have used this cream have given a positive feedback and are coming for it again.
Pros:
The under eye firming is made of natural products and will not cause any side effects. The product can be used at night because it does not contain SPF. It can effectively reduce the wrinkles and puffiness formed under the eyes.
Tips to deal with under eye dark circles
Every individual wants to look good, irrespective of age and sex. A glowing face plays a major part in enhancing an individual's overall personality. However, impediments such as under eye dark circles can be a major source of embarrassment for both males and females. Dark circles under the eyes could develop at any age. While some people attribute it to their eating habits or lifestyle, others cite working late nights, inadequate sleep, and stress as the major causes of dark circles. However, such beliefs are scientifically incorrect, and nothing more than a myth.
What causes the formation of dark circles?
The chief cause of dark circles is the breaking down of hemoglobin (a blood constituent) coming out of the capillaries by the action of certain enzymes.The process of hemoglobin spill out and breakage occurs throughout the human body. But its effect can only be seen in the area under the eye, as the skin is translucent and is unable to hide the undergoing process. Thus, the dark circles can be easily spotted.Here, we have compiled certain tips which can be undertaken to deal with under eye dark circles.
1. Applying cucumber slices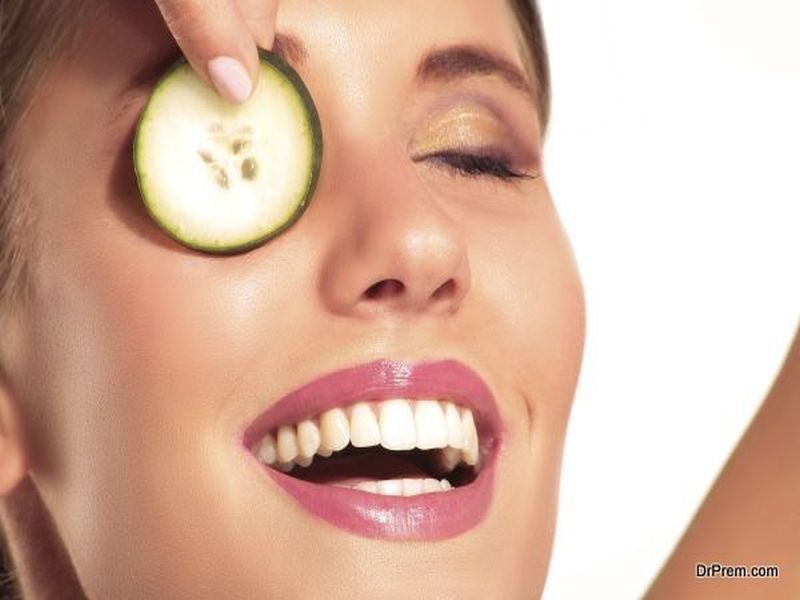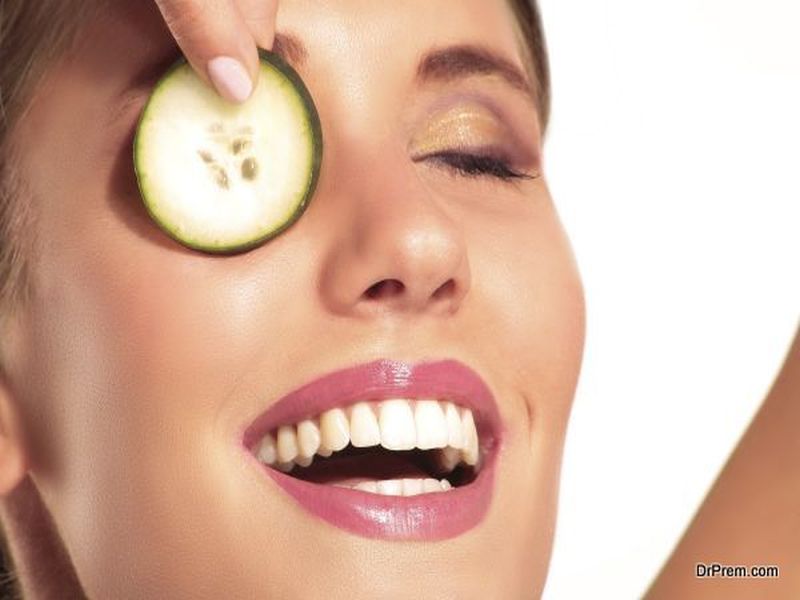 Apply slices of fresh cucumber on your eyes for 10 to 20 minutes, daily. The cucumber slices should be placed such that they cover the affected area. This also helps lowers the stress level.
2. Use of tea bags
The other way to treat these dark circles at home is by applying used tea bags on your eyes in the same way as the cucumber slices. Keep in mind that the tea bags are cold before application. The tea and coffee bags contain caffeine, which helps in improving your skin texture and removing dark spots. In both cases, ensure that the juices of cucumber or tea bags do not go into your eyes, as it might cause unnecessary itching and burning.
3. Applying almond and lime juice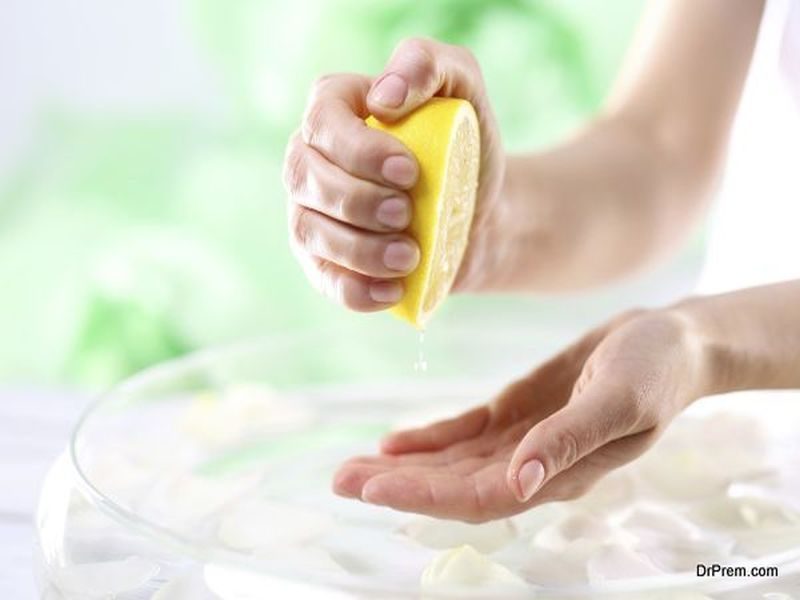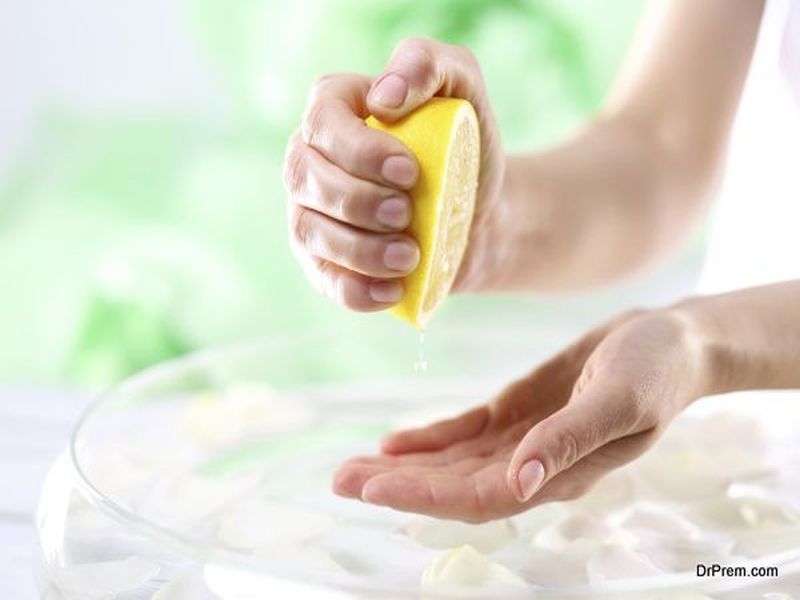 A teaspoon of almond oil mixed with half a spoon of lime juice, regularly applied on the dark surface, can help in reducing the dark circles. It also helps reduce dark spots as well as puffiness around the eyes. The only need is to apply the remedy every night for few days to get the desired results.
4. Use of creams
Not long ago, creams with vitamin E and caffeine were considered effective in reducing dark spots. However, due to further in-depth research, we now have creams that are better equipped and highly efficient in dealing with under eye dark circles. Hespiridine methyl Chalcone prevents hemoglobin from wandering out of its capillaries by reducing the capillary size. Palmitoyl oligopeptide induces collagen formation under the skin, thereby making it smoother and ideal for avoiding wrinkles. The anti-inflammatory and anti-oxidation properties of Chrysin helps in making the skin smooth. Cucumber and caffeine extracts, vitamin C, and E with time tested benefits, are also found in the new creams. Therefore depending on your condition and skin type, you can opt for the cream that suits you best.
If you have softer dark circles, home-based measures are enough to better your condition. However, if the circles are very deep and clearly visible, dark spot removal creams are recommended.
A final note on under eye firming serums and anti-aging creams
Although under eye dark circles are not indicative of any disease, they are definitely not good for the looks. Home remedies can be used to get rid of the dark circles, as lifestyle changes may not yield the desired results.While choosing an under eye firming cream look for the ingredients used. It is better to use products made of natural ingredients because they will not cause any side effects. Buy the products from reputable manufactures and top brands. They will not have any side effects. Avoid buying cheap products because they may not be effective. Expensive and popular products have been in the market for some time and will not cause any side effects even if they are not very effective.