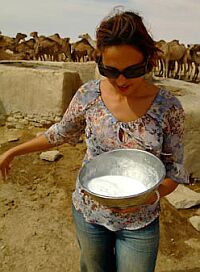 On one hand when beauty advocates are discouraging excessive consumption of milk due to acne breakouts, Researchers at the National Research Centre on Camel (NRCC) in the eastern Rajasthan district of Bikaner are on their way to launch an anti-wrinkle cream made from camel's milk.

Camel Milk is reported to have three times the amount of Vitamin C, unsaturated fatty acids and B vitamins in comparison to cow's milk.
While vitamin C provides with antioxidants, B Vitamins repair damaged cells and the fatty acids play an important role in builiding a healthy lipd barrier for our skin to protecting it from bacteria. Taking into account these benefits the cream can be recommended to people suffering from skin problems.
Though the researchers are waiting for a green signal from clinical trials, yet they should further clarify the consumers on the addition of preservatives in the cream. The preservatives that are added to improve the shelf stability of the product report that they do not interfere with the workings of the cream.