Nails are one of the first and the most important things that make a good first impression. The ideas that can be implemented in order to create creative nail art designs are limitless. And social media has made it really easy and accessible for us to check out these designs online. So, before getting a manicure, it is important to check out the nail art design trends in 2018. The ones that the professionals are flaunting are some of the most unique designs in nail art. Hence it is important to keep up and check out these nail art trends 2018 to watch out for.
Some nail art design trends in 2018: 
1. Chrome studs: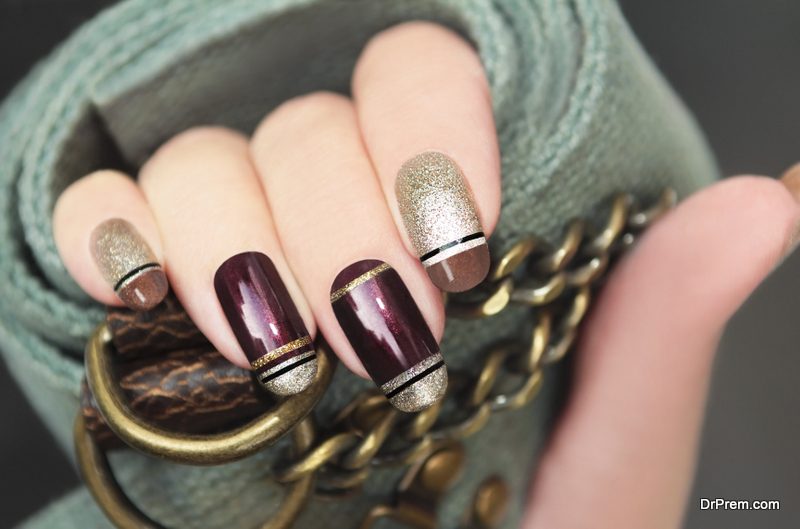 Are you fond of feminine designs while being a little grungy as well? Then pairing chrome studs with feminine nails in rose gold is definitely your thing. This is one of the most unique designs in nail art and can really make the nail colour pop. The key is to space out the usage of studs. Maintaining some negative space without designs and creating some texture in between is also important.
2. Graphic greys:
Another one of the abstract and unique designs in nail art to watch out for, uses graphic greys. Grey, in this case, is used in geometric patterns and is arranged in different graphic shapes. Also in this case, negative space is quite important. These negative spaces accentuate the areas of the different shades of grey and black. Hence it softens out the edges and gives it quite a classic look. The key here is to use polygonal patterns such as those used in graphic designing.
3. Polka dots: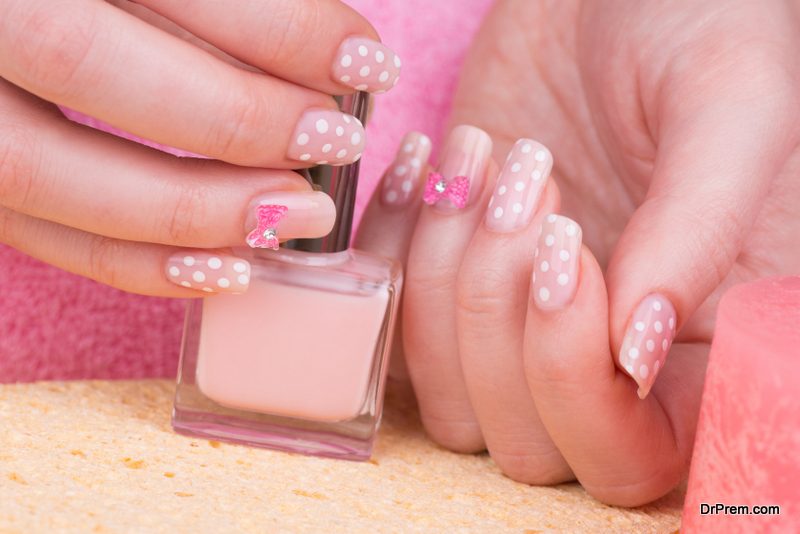 If you think that the polka dot trend died with the 60s, then think again. Some of the most creative nail art for parties uses polka dots in myriad ways. The nail art design trends in 2018 demands the usage of a lot of colourful polka dots. The more vibrant they are, the more it makes the nail art pop. The use of a nude, white or black base colour is best for this trend.
4. Squiggles:
Are you the kind of person who enjoys doodling? Then this trend is definitely meant for you. From paper to nails, squiggles are in all the trends of 2018. All you need to create this nail art is some black nail polish and some other colourful nail paints. After painting vertical stripes with the candy-coloured nail polishes, apply the squiggly lines. And that is all there is to it! So, what is the best part about this trend? It is easy. And you can do it of your own!
5. Mismatched nails:
 
One of the biggest nail art design trends in 2018 is the mismatched nails. The mismatching trend has been reigning since the mismatched earrings were introduced. Since nobody dictated the rules of wearing nail polish, you can definitely wear two different patterns on both hands. The best way to mix and match is to use contrasting shades of nail paint. But instead of using the most common black and white combinations, try out something new like black and pale pink. Different nude base colours also look really good on the nails.
6. Galaxy Designs:
With cosmetic companies coming up with galaxy-themed range of makeup, nail art cannot remain far behind. Hence, if you are a party animal, this is one of the trends in creative nail art for parties. Metallic shades in different colours and gradients form the base for this nail art. Then stars are drawn on it using black nail paint. The reversal of the colour schemes is also one of the unique designs in nail art.
7. Bold shapes and colours: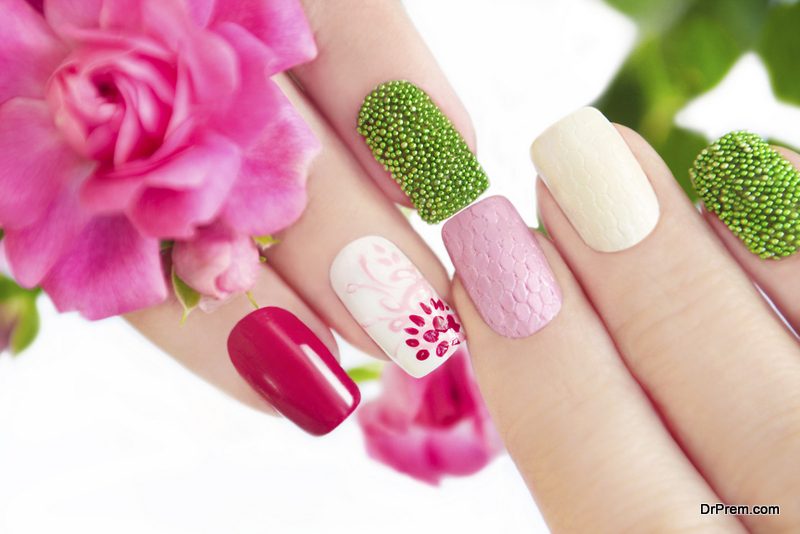 Usually, we keep the usage of bold shapes and colours limited to the summer months. But this year there has been another reversal. Nail art design trends in 2018 demand the usage of pop colours and designs throughout the year. Especially, if you are a person, who likes to wear nude coloured clothing. Using bold patterns ensures that your nail colour stands out from the rest of your outfit.
8. Minimalist floral:
Minimalism will never really go out of fashion. That being said, one of the nail art trends 2018 to watch out for is minimalist floral nail art. The base used for this design should ideally be nude. Tiny floral designs should be made only on one finger for each hand. Nails should be kept at their natural lengths and no nail extensions are required for this.
9. Cloud-patterned nail polish: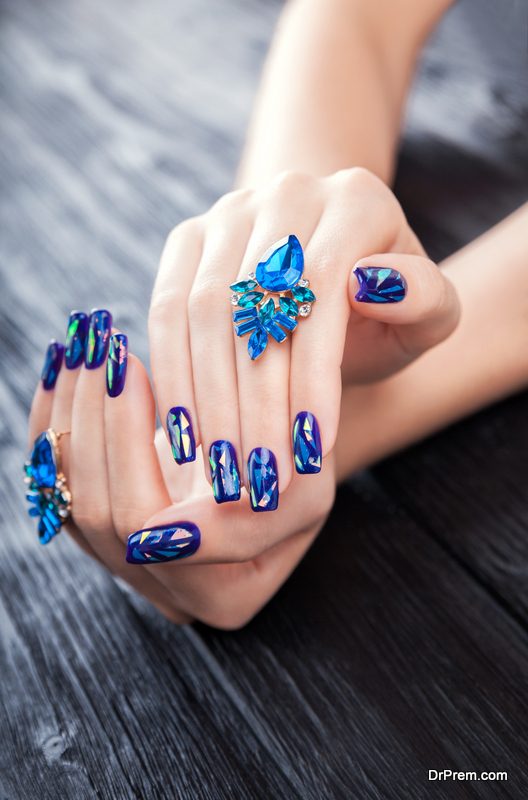 Using clouds on nails had become one of the biggest nail art trends 2018 to watch out for. With Nikki Tutorials opting to draw clouds with eye shadows, nail art couldn't lag too far behind. Different shades of azure nail polish in different gradients should be used as the base. This can be topped off with fluffy white clouds being drawn on with white nail paint.
10. Metallic dots on pastel backgrounds:
If the added texture of chrome studs is not your thing, metallic dots are the next best thing to try. Pastel backgrounds look best with this trend and contrasting shades of metallic nail paint should be used. In the colourful polka dot trend, the dots were piled on in clusters. Whereas, in this trend, they are spaced quite far, apart from giving it a vintage look.
11. White triangles: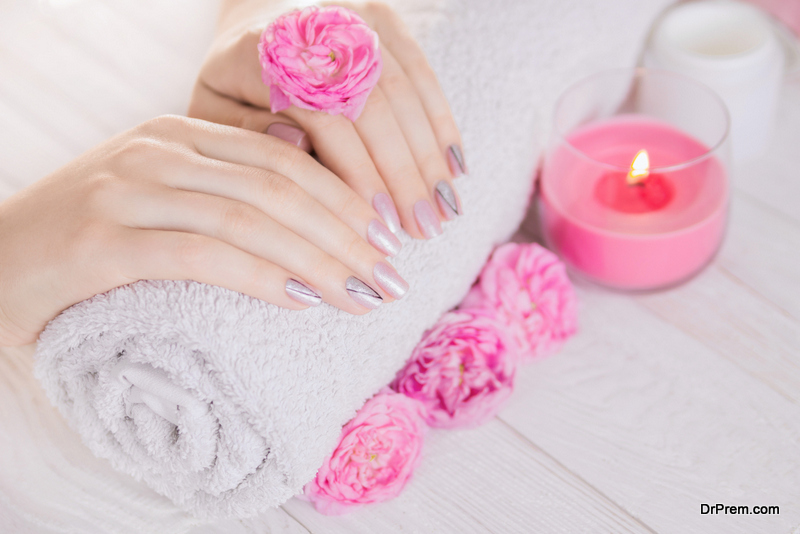 This is definitely one of the edgiest and more abstract one among the nail art design trends in 2018. Creating negative space has become quite a trend for nails as well. Using bold triangles painted in white on a clear nail bed looks quite sophisticated. But this also imparts an edgy vibe to the look.
12. Glitter details:
This is definitely one of the most sophisticated trends among the nail art trends 2018 to watch out for. They look extremely chic and this is accentuated by using contrasting colours on the same base. Nude pastel colours can be teamed with sparkles in gold or silver to add to this chic trend. Other combinations are mostly achieved by juxtaposition of one colour against another contrasting one.