While it is good to add some fun to the boring things, nail art is almost doing the same. Nail art is not all about adding fun to those boring dull nails that otherwise look as pretty, but it adds to the style as well. With the increasing trend of nail art, its demand has also increased. Nail art looks quite pretty and everybody seems to wear it for different purpose. While some wear it to add colors to life, some others use it to make look different from others.
General guidelines to add funky designs to the nails are as follows.
Design nails with musical notes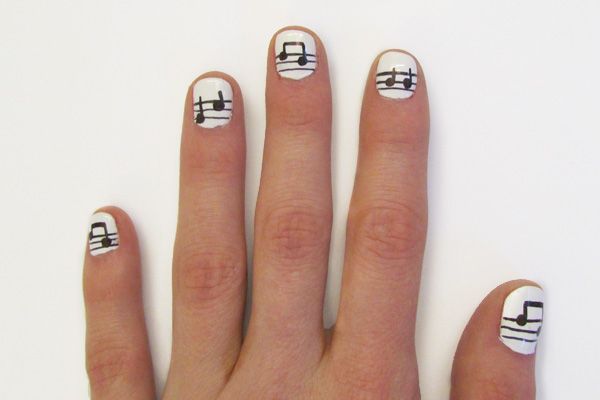 If you are a music lover and want to show it off to the world, then this nail art is perfect for you. All you need is two different shades and a shiner. Take two shades, black and white suits this design well, though you can pick a color combination of your choice. Start by applying white as a base color and let it dry for few minutes. Do not apply other color until the first one is completely dry, as it can spoil the whole design. Once the first shade is dry, get to work with the second shade and make musical notes at the top of the nail. After completing the design, allow it to dry completely. End it by applying nail shiner for giving rich look to the nails.
Undone nail design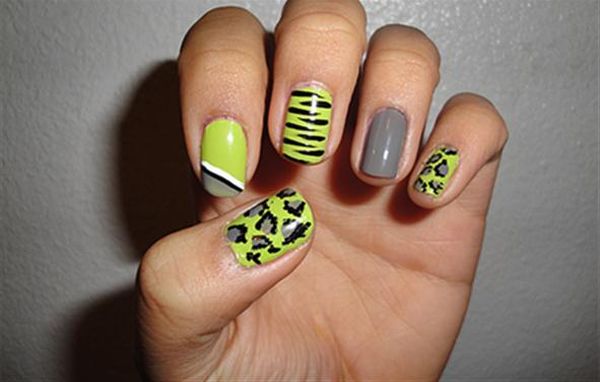 Experimenting with colors and making mistakes is okay when doing nail art. Undone nail art does not bother about straight lines; the more it is uneven more will be it beautiful. Get ready with two shades, one light and other dark. Begin the art by applying two coats of lighter shade. As it dries, take brush of dark one and draw uneven lines on the sides of the nails. Do not cover the lighter shade completely. Let it dry completely and add few more lines to the end if required.
Zebra pattern 3D design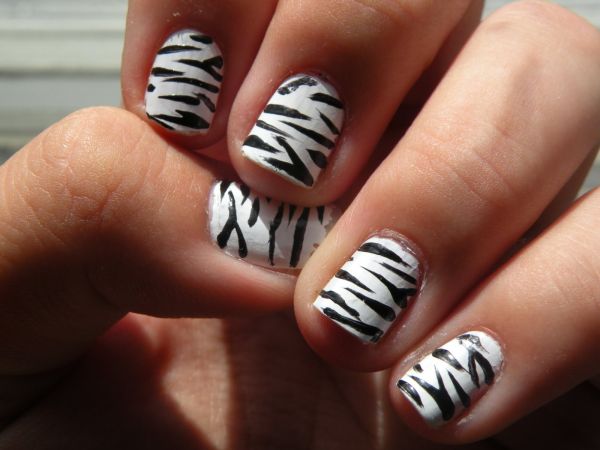 Animal pattern is trending these days for designing nail art. Either it is two colored or multi colored it looks stunning. Single colored also looks amazing. All you need to do is just make zebra prints. For two colored, apply first shade on the nail. Let it dry and make zebra stripes with the other shade. Making this design with multi colors also looks good. It is one's choice to decide the colors.
Elegant glittery nail art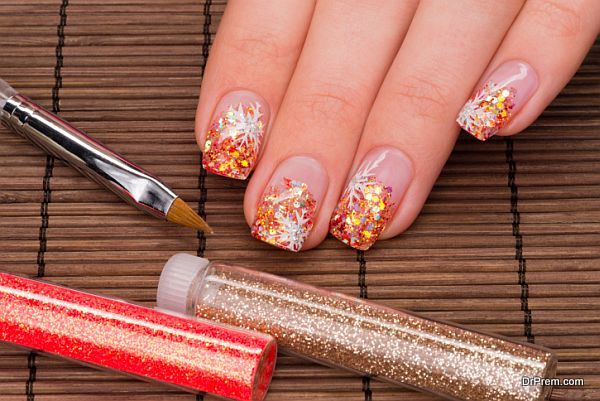 If you are fond of glitters and bright colors, combination of them can make nice designs for nails. Just choose an elegant shade and apply it on the nails. While it is drying, place glitters on them and let it dry until it completely stick to the nails. Making different designs with glitters will make the design prettier.
Summary
Whatever is the reason of wearing nail art, it has its some own benefits to one wearing it. Designing nails is spending time with you. Spending time to make you beautiful soothes the mind and body. It not only boosts the ego but an impressive nail art can improve the confidence as well.