Before scrolling down the list of brushes, you should know a certain criteria for choosing the best brush for you. Remember, the size and shape of a brush matter as they will be the only factor deciding the area on your face to be covered with the help of that brush. Then, there are purpose-specific brushes available too that will let to achieve only a specific job. To save more in your budget, you can even go for the all-purpose brushes. Below, you check out the 10 Best M.A.C make-up brushes and decide which one would work best for you.
1) The 217 Blending Brush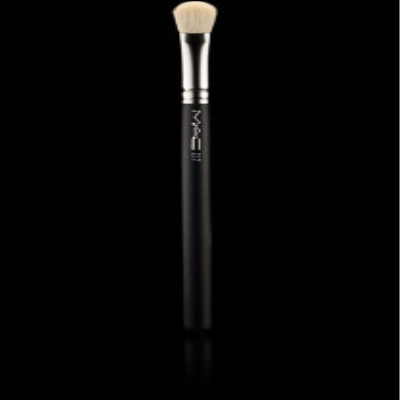 The M.A.C 217 blending brush has fine densely packed fibers that are arranged in an oval shape. You can use this brush for shading purposes and even for blending of color or creamy products. For beginners in make-up art, you can consider it a must-have. It works very well for the basic everyday eye shadows and allows you to go for multiple blending options. So, you would love to have this one in your collection if you are looking the right brush for blending, shading and applying products. The brush features good quality wood handle and nickel-plated brass ferrule. What makes it one of the favorites of MAC lovers is the fact that it belongs to one of the inexpensive range of products from MAC.
Product USP:
A perfect tool for blending, shading and applying. It has just the right stiffness that is required to make it a perfect blending brush.
Pros:
It is reliable and one of the most demanded products among the M.A.C's collection of make-up brushes. Yet, it is so inexpensive making it more attractive to the buyer.
2) The 224 tapered blending brush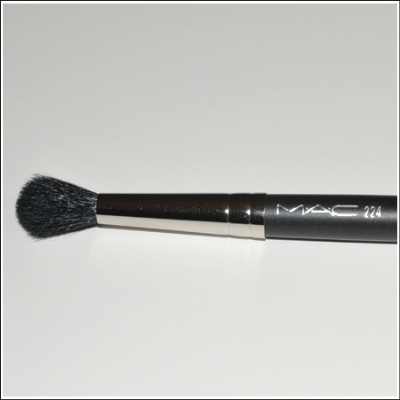 In a long list of M.A.C's make-up eye brushes, the 224 tapered blending brushes will satisfy your need of controlled eye shadow application. It is so natural for it to pick just the right amount of color which makes it an adorable product for so many MAC users and make-up artists. The soft fibers of this brush taper to form a medium size dome shape. You can use to shade your eye lids with a favorite color or two and do it with the least efforts and full comfort. Now, apart from its use in application of colors, make-up artists also use it for cleaning up a certain color between a client's crease and brow bone. Additionally, the 224 brush works wonders in blending as well, so much for mere 30 US dollars.
Product USP:
Its medium dome shaped arranged fibers work best in making you apply the eye shadow in a controlled fashion.
Pros:
Not only you are going to use for eye-shadow application purposes but you have multiple other options to work it out with. You can even use for cleaning purposes or go for blending creamy products. The fibers are really soft and would not shed much even after long and continuous use.
3) The 219 Pencil Brush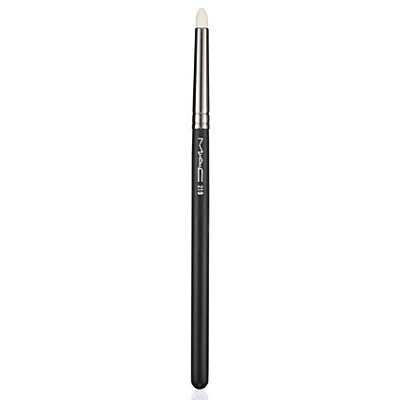 As its name suggests, the MAC 219 pencil brush has soft and smooth fibers that are gathered into a pencil-shaped tip. Its job includes precise shading on lid, in eye crease or along lash line. Like all other MAC brushes, this too is hand-sculpted and is assembled using the finest quality materials. You can create that smoky looking eye by blending an eye-liner into any eye shadow of your choice using this brush. The sturdy tip of the brush helps creating intricate lines, a quick smoky look and it also works well for applying a product into the crease. Also, it is useful for smudging cream or powder eyeliner at the waterline. For best results, use it with eye-kohl liners and eye shadows.
Product USP:
A double-duty brush that works equally well with precise shading applications as well as for smudging.
Pros:
This eye-make-up brush offers the particular utility in area of precise application of products. You can use it for areas like the waterline, lower lash-line and even for application on your inner lid. Again, it comes under the affordable range of trusted MAC products.
4) The 130 Short Duo Fiber Brush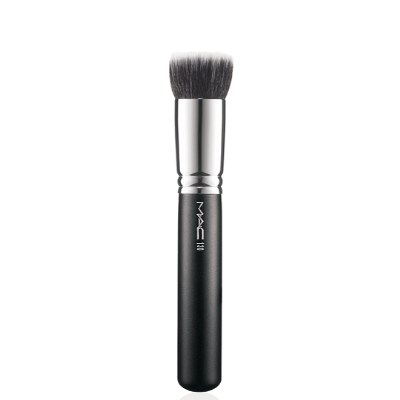 Among the range of make-up brushes you have in your make-up kit, the 130 MAC make-up brush has a specific role to offer. It's a short, round, flat-topped brush best-suited for smooth, easy application of foundations, creams, emulsions and select powder products. The brush features a blend of natural bristles and synthetic fibers. Use it for foundation and it will definitely surprise you with its air-brush finish. When using it with liquids, you can directly pump out a small amount on the bristles, dot the foundation on each area of your face and then start blending. You can also use it for blending in concealer as it helps the concealer blend seamlessly into the foundation which you have applied. It is easy to use and gives your make-up a natural look.
Product USP:
This small flat-topped brush works magic while using it for cream and foundation application.
Pros:
It's a versatile tool that can be used for all-over application of creams and foundation, highlighting and blending purposes. You can also use it for applying color to your cheeks. The bristles are dense enough to pick up the color and yet so soft so as to blend the same. With its great usefulness, it is worth the investment.
5) The 109 Small Contour brush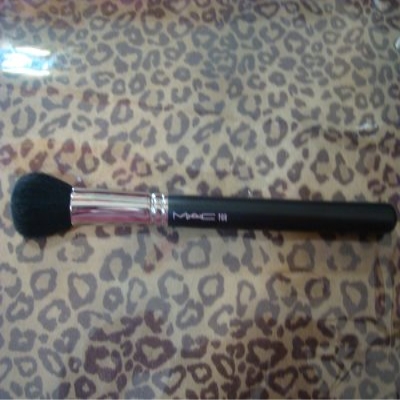 The 109 small contour brushes from MAC are made of smooth and soft natural fibers. They are arranged so as to form a dome shaped tip. It is suitable for blending, contouring and high-lighting applications. The rounded some tip delivers just enough color into the face and allows you to get under the cheekbones for creating a 'chiseled' look. It buffs the make-up right into the skin without creating the typical brush lines which you normally get while applying with other brushes. It works equally well with liquid applications and is great for the small to reach areas like your nose. It's small enough to apply a specific color on a specific area of your face. This helps in highlighting your features and giving you a flawless look.
Product USP:
It is ideal for contouring and highlighting purposes.
Pros:
It makes contouring look flawless by letting out the right amount of color. It can work with powdered or even liquid products. You can use it for applying darker powder under the cheekbones to make them stand out and give an appearance of a slimmer face.
6) The 168 Large angled contour brush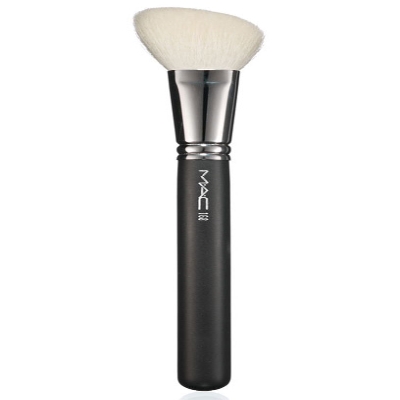 For expert contouring of your cheeks, this large angled brush serves the purpose well. The fibers of this brush form a buffed edge and are firm and softly bundled. You can even out and blend the colors just the right way using this brush. It is super soft and picks the correct amount of color. The angled tip makes it easier to blend blush or any color. It just facilitates your work by more specific contouring and sculpting. You may also use it for applying liquid products on your face.
Product USP:
The angled tip makes it perfect for contouring and applying blush over your face.
Pros:
The bristles are dense yet so soft and as per the users' reviews, the brush does not shed much. Just dab on the color on your face and start blending it using the angled brush and you would get it easily and impeccably done.
7) The 188 Small Duo Fiber Face Brush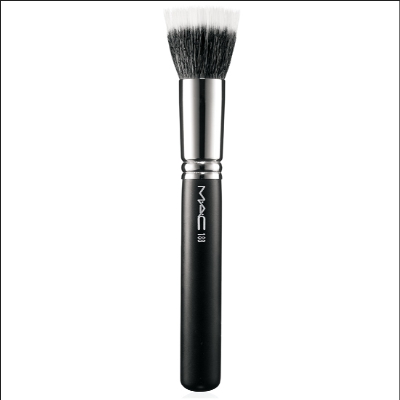 Made from a soft blend of goat and synthetic fibers, this flat-topped, full-circular brush is ideal for light weight applications and blending of any formula color-fluid, cream, powder or pigment. The 188 and 187 are the only brushes from MAC that contain animal hair. Though goat hair is used but it is essential to know that no harm is being done to them. The hair is clipped off the goats during summer months when even the animals like it.
You can create soft layers or add textures using this brush. The bristles are soft and pick up little color. If you need to apply a small amount of blush to the cheeks or a light foundation to your face, then this is the brush for the very purpose. It is good for getting into smaller areas of your face because of its small size. So, if you are applying shimmer with this face, it would not cover your entire face.
Product USP:
Meant specifically for light weight applications.
Pros:
When you just want to cover specific smaller areas for buffing foundation or even for blushing your cheekbones, you can use this small face brush.
8) The 208: Small Angled Brow Brush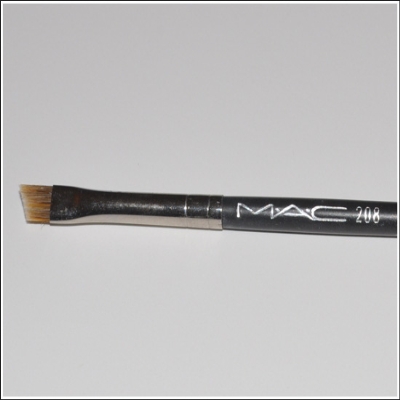 Beautifying your eye-brow adds a touch of completeness your eye make-up. The 208 angled brow brush is used to apply color to the brow. Its angled tip provides a pro-style application that gives your eyes a definition. The brush has a blend of synthetic and natural fibers. You can use it to apply powder, liquid or cream products. This brush is very precise and does not take a lot of product in unlike other brushes. The body is really thin that makes you have full control over it while lining, shading or applying.
It fills your eye brows and gives you an appropriate precision to shape them up. Not an expensive product for your pocket. It's very soft and you can neatly apply liners on the lash line and waterline of your eyes. You can make a winged-eye liner faster using this brush and as it is really small, making thick and thin lines is a lot easier. Additionally, the brush works equally well with pencil liners. So, if you are heading out within minutes and you need to do an eye make-up before that, this small angled brow brush makes it quick for you.
Product USP:
Great precision while lining.
Pros:
It would do wonders even if you have thin eye-brows. The angled tip of these make-up brushes provides you with the right precision for coloring/filling in your eye brows. Makes you work quickly with the eye brow lining and is an inexpensive deal.
9) The 138 tapered face brush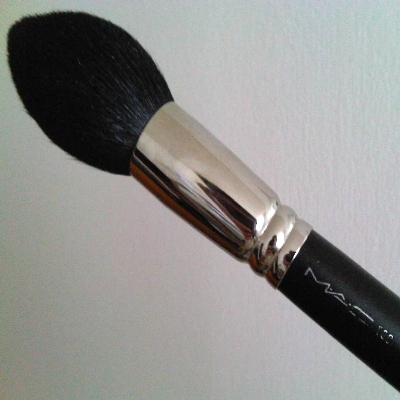 The 138 tapered make-up brushes are made up of ultra-soft and natural fibers arranged to form a dome shape. It has a slightly pointed tip with round chiseled sides. When you will swirl the brush into the product, you will notice that the product gets only onto the tip of the brush which makes it perfect for streamlining and thereby, it enhances the make-up technique of sculpting and shaping. The brush is very well made for handling and it is not too heavy to use.
You can use the chiseled side for contouring while the pointed tip can be used for applying and blending powder blush or highlighter. Since the tip is domed, you can cover areas like corners of your nose and under your eyes while applying the face powder. It works well as a bronzer applicator as well. Though it is slightly expensive r as compared to other MAC brushes but you will know that it's worth the pay once you get it for yourself and start using it.
Product USP:
Ease of application of face powder even in hard-to-reach corners of your face.
Pros:
This is an all purpose powder product brush will save on your costs by preventing you from getting separate brushes for different purposes. For contouring purposes, it's a dream come true as it can actually get into the hollow of your cheeks. It is a must-have for enhancement purposes.
10) The 195 concealer make-up brushes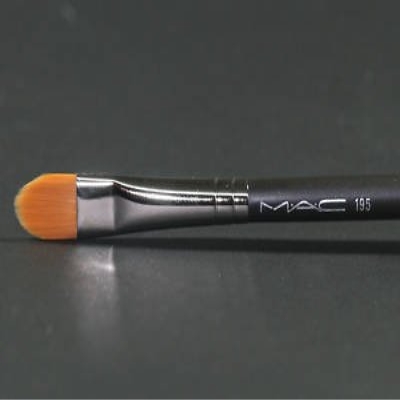 Covering blemishes or dark circles under your eyes by applying a concealer with your fingertips can sometimes make your eyes look cakey. But, by using the MAC 195 concealer brush you can precisely apply and blend all concealer formulas and other emollient products. For precise application, this flat brush comes with a flexible synthetic fiber and tip that is slightly pointed. You can use it for camouflaging every tiny little flaw your skin which otherwise was not possible to cover with your fingertip.
Moreover, if you have larger areas of blemishes, the flat sides are just perfect to conceal them. The bristle area is thinner and you can get into the hard-to-reach areas of your face using it. So, you do not have to worry if you have huge under-eye dark circles. For this brush works miracles by perfectly covering the under-eye area without leaving streaks which other brushes normally create.
Product USP:
Its flat sides are perfect for concealing blemishes, moles and under eye dark circles.
Pros:
These make-up brushes have soft natural bristles and can work equally well for foundation as well.
Conclusion
The art of make-up is incomplete without keeping a complete set of make-up brushes. These brushes come in handy while  applying, contouring, highlighting, lining and shading your make-up. MAC's eye and face brushes have a huge demand in the market and they seldom disappoint their users. This guide will help you shop for the best MAC eye and face make-up brushes that have been given good reviews and ratings by users so far and also those which are pocket-friendly.