Dandruff is one of the most nasty hair problems which many people deal with at least once in their lives. It could be permanent or temporary dandruff, whatever may be its status, it is an immediate turn off. Spotting dandruff flakes on your favorite dress might be a nightmare for many. Well, in order to take care of this problem, it is important to choose the right dandruff shampoo. The market offers various dandruff control shampoos which help in combating the dandruff trouble. Read on to know about ten best dandruff shampoos which will do little hair damage and ensure that you have healthy hair and scalp.
1. Nizoral dandruff shampoo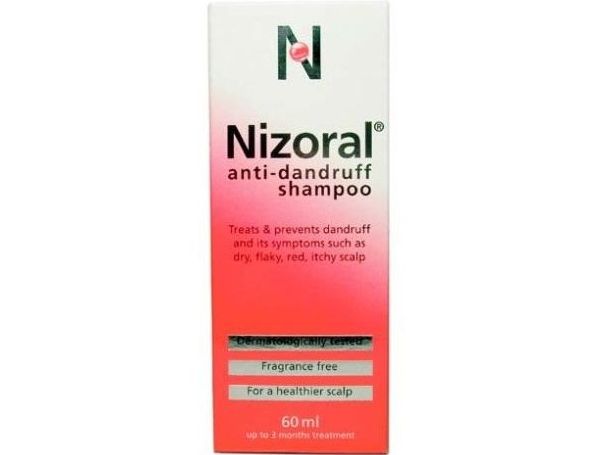 Many a times for dandruff control, you are recommended to quit using your favorite shampoo and sick to a particular brand of anti-dandruff shampoo, in case of Nizoral there are no such strings attached. You can continue using your favorite hair products with this shampoo. Including Nizoral dandruff shampoo in your hair regime is more than sufficient. The best thing about Nizoral is that it can be used on any kind of treated hair, you need not worry if you have colored or rebounded hair.
Nizoral shampoo is extremely gentle on the hair as well as the scalp and has a lingering beautiful scent unlike other dandruff shampoos which smell like tar. Nizoral does not act on the surface, it ensures that you completely get rid of dandruff by attacking the fungus Pityrosporum ovale which causes the dandruff. Ideally you must use Nizoral twice in a week to reduce the amount of the fungus P Ovale.
Always allow the shampoo to stay in the scalp for at least three to five minutes, this will ensure that the shampoo gets time to act on the scalp. Rinse and follow your regular hair care regime. Nizoral shampoo not only helps in doing away with the dandruff, it also helps in keeping dandruff at bay. For this you can use the Nizoral shampoo once in a week.
USP:
The USP of Nizoral dandruff shampoo is the fact that it has a gentle scent and is still very effective in getting rid of the nasty dandruff.
Pros:
It works well even on chemically treated hair and acts quickly.
This shampoo is quite affordable.
In comparison to any other anti dandruff shampoo, it has a pleasant fragrance.
2. DermaZinc dandruff shampoo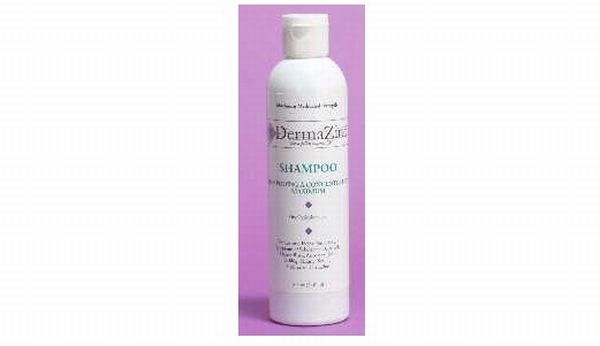 DermaZinc shampoo is a one stop solution for hair problems like dandruff, eczema, psoriasis and seborrheic dermatitis. It tends to act fast and reduce the symptoms and discomforts of hair problems. DermaZinc shampoo is surely one of the best anti dandruff shampoos available in the market. This shampoo will not only terminate the nasty dandruff but will also curtail flaking, itching, scaling and redness.
It controls recurrence of any symptoms or problems. The DermaZinc products are known for their effectiveness. This shampoo can be used for a period of 14 days only, beyond that its usage is not recommended. The main element of DermaZinc shampoo is Micronized Clobetasol Propionate.
For people who wish to maintain a clear and clean scalp, DermaZinc has come up with an OTC DermaZinc shampoo which can be regularly used without any issues. The shampoo is mild and acts quickly. Experts would recommend using DermaZinc drops/spray along with the DermaZinc shampoo, this helps in removing the remnants of the shampoo leaving the scalp clean.
USP:
The USP of the DermaZinc shampoo is that it acts efficiently on hair issues like dandruff, eczema, psoriasis and seborrheic dermatitis. The shampoo is gentle and shows instant results.
Pros:
This shampoo will not only remove dandruff but also curtail flaking, itching, scaling and redness.
It is quite effective in curing hair problems.
3. Davines Purifying Anti-dandruff shampoo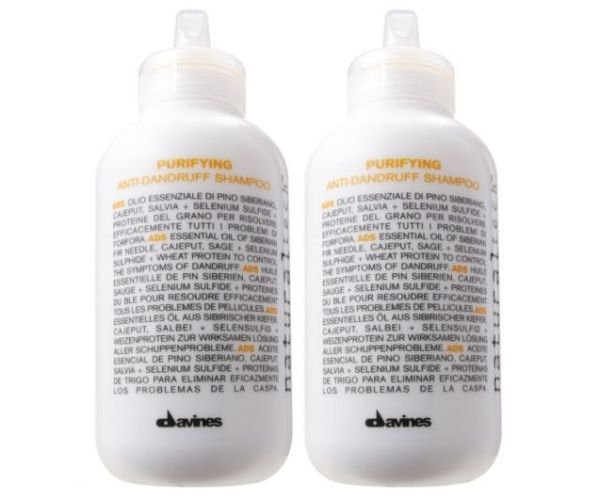 The Davines purifying dandruff shampoo is a perfect solution for both permanent as well as temporary dandruff trouble. This ultimate dandruff shampoo will easily resolve the dandruff issue within a short span of time. Not only does this shampoo combat the bacteria attack on the scalp but also purifies it so that no other hair trouble crops up.
It regenerates healthy clean scalp cells which make your hair and scalp amazingly clean and clear. The prime ingredients of the Davines purifying dandruff shampoo are essential oils of sage, cajeput and Siberian fir needle along with anti bacterial selenium sulphide, etc. The wheat protein in this shampoo helps in moisturizing the hair and scalp, leaving the hair shiny smooth.
Ideally you can use the Davines purifying dandruff shampoo two times in a week for a duration of a month, and be sure to get rid of dandruff by the end of the month. If you want to keep dandruff at bay in the future it is recommended that you use this shampoo four times in a month.
USP:
The USP of Davines purifying dandruff shampoo is that it acts very quickly. You will get rid of the hideous dandruff within a few weeks.
Pros:

It makes the hair smooth and shiny.
The shampoo moisturizes the hair and the scalp.
Moreover, it will prevent dandruff trouble in the future as well.
4.
Skin Cap dandruff shampoo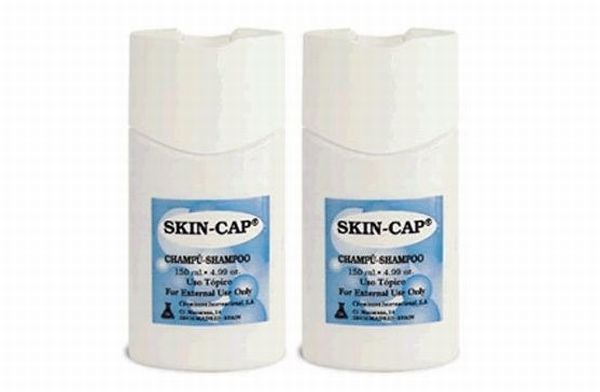 The Skin Cap dandruff shampoo is wonderful shampoo which will never let you down. It works on the scalp very efficiently and ensures that you do not get embarrassed ever. This one is a clinically proven dandruff shampoo and is known for being highly effective. It not only helps you deal with dandruff but also several other skin problems like seborrheic dermatitis, scalp psoriasis, psoriasis, skin fungus, atypical dermatitis, eczema, etc.
The Skin Cap shampoo can be used to combat various types of skin disorders and it is extremely safe. This easy-to-use shampoo works on the scalp quickly ensuring that you get shiny clean skin. It eliminates itching as well as skin inflammation. You can get excellent results with this amazing Skin Cap shampoo.
This shampoo takes very little time to cleanse the affected areas totally. It relives the itching after a single use. The Skin Cap shampoo will gently eliminate the excess skin fat and moisturize the skin of the scalp. The zinc pyrithione present in the Skin Cap shampoo tends to exert high action on bacteria and fungus, it eliminates them gently without affecting the hair growth.
USP:
The USP of the Skin Cap Shampoo is its gentle nature. It is odorless, colorless and will never leave any kind of stain. It acts quickly and ensures that you get a clean and clear skin after its application.
Pros:
Deals with several skin problems at once.
The shampoo acts on bacteria as well as fungus.
It does not have any odor.
This shampoo also contains alcohol which acts as a disinfectant.
Leaves the scalp moisturized.
5. Skin Plaque dandruff shampoo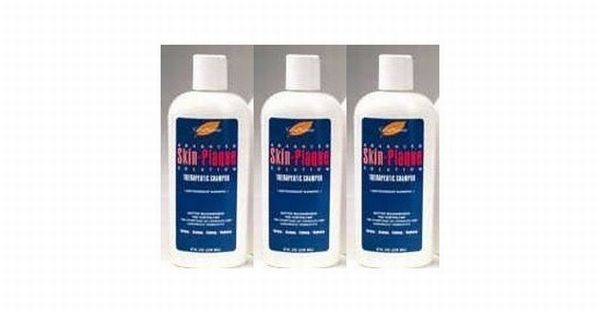 The Skin Plaque shampoo ensures that the hair gets advance therapy. This shampoo fulfils the need of aggressive and effective dandruff treatment. It also fights against flaking and itching caused due to skin psoriasis. You can use this shampoo almost daily as it is extremely gentle. It has a light pleasant fragrance. It has great cleansing and conditioning properties which will add shine to your hair and add to the health of the scalp.
The Skin Plaque shampoo is quite affordable and dependable. It clears the scaly build up in a period of just seven days, you will be amazed by the results this shampoo will offer. Within weeks you will forget about all your hair issues and can also be sure about a dandruff free future with its continued usage.
The Skin Plaque is an advanced therapy shampoo which will help you get rid of dandruff and other related issues like scaling, itching, etc. Symptoms of flaky dandruff, psoriasis and seborrheic dermatitis can also be controlled by the amazing Skin Plaque shampoo. It contains salicylic acid which works perfectly on fungal infections. You can use this shampoo twice a week for getting rid of nasty dandruff and getting a healthy scalp.
USP:
The USP of the Skin Plaque dandruff shampoo is its ability to act quickly on the dandruff and the fact that it does not smell bad. It leaves the scalp moisturized and cleaned.
Pros:
Cleanses and moisturizes the scalp.
Eliminates dandruff quickly.
Works well for fighting symptoms of flaky dandruff, psoriasis and seborrheic dermatitis.
6. Dabur Vatika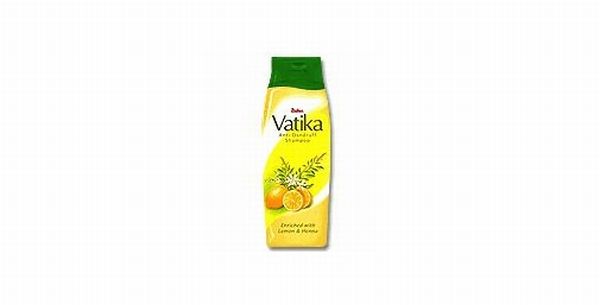 Dabur Vatika dandruff control shampoo is one of the most gentle and effective dandruff shampoos in the market. It is extremely gentle on the hair and acts in no time. This shampoo brags usage of natural ingredients, what better way to do away with dandruff than to use a nature derived product. Vatika is suitable for combating persistent dandruff issues. This herbal treatment shampoo is 100 percent safe for the hair as well as the scalp, it has the ability to cure the dandruff from within.
It not only eliminates dandruff but also increases the sheen and beauty of your hair. It contains goodness of henna and lemon which are extremely mild and act perfectly on the dandruff issue. Vatika dandruff shampoo cleans and cures the dandruff efficiently and adds to the body of the hair. This shampoo will help you forget about all other chemical shampoos which do more harm than good.
USP:
The USP of Dabur Vatika dandruff shampoo is its natural ingredients which include lemon and henna. It works perfectly in removing all specks of dandruff and is extremely mild on the hair.
Pros:
The shampoo is nature derived and thus very gentle.
It works efficiently on removal of dandruff.
7. BioKap Dandruff Shampoo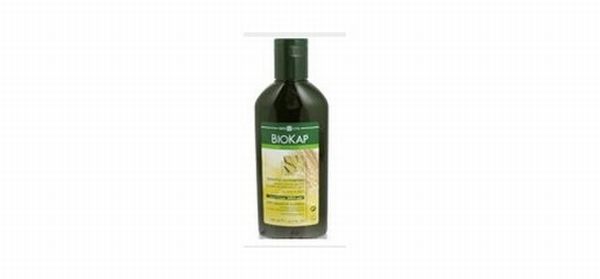 The BioKap dandruff shampoo is a very effective formula in dandruff control. It is refreshing and has a regenerating effect on the skin. It also balances the sebum on the scalp which helps in curtailing hair loss. BioKap basically comprises of herbal extracts and essential oils which improve the overall health of the hair and scalp. It can also be used for keeping the scalp clean and dandruff free as and when the season changes. The shampoo is very mild on the scalp and can be used regularly. The BioKap shampoo contains cactus extract, burdock, menthol, sunflower essential oil, rosemary, willow, agave, etc.
USP:
BioKap dandruff shampoo is made up of 100 percent organic ingredients and is extremely mild on the hair and scalp. It works efficiently in fighting dandruff and keeps the hair healthy.
Pros:
It is 100 percent organic and silicone free.
8. Biovera Terrapeutic shampoo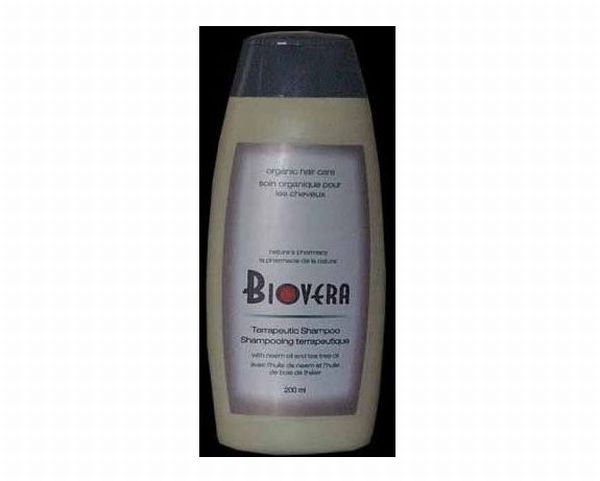 The Biovera Terrapeutic shampoo is a dandruff shampoo which will do wonders to your hair and scalp. It fights dandruff effectively and is purely nature derived. The ingredinets of Beovera Terrapeutic shampoo comprise of aqua, neem oil, reetha extract, shikakai extract, tea tree oil, sabadilla extract, chlorophyll, ginseng extract, rosemary extract, nettle extract, calendula extract, sandalwood oil and vegetarian product.
This shampoo is not animal tested and is recommended by many leading hair experts. It works well for itchy and irritated scalp. It also targets the head lice and removes them with continued application. You can use Biovera shampoo for treating Psoriasis and eczema of scalp. You should use Biovera Terrapeutic shampoo twice-a-week. Do not worry about the hair, this shampoo is nature derived. By the end of treatment you get silky smooth hair and clean scalp.
USP:
The USP of the Bioveraa Terrapeutic shampoo lies in its ingredients which are 100 percent nature derived. Since this product has natural ingredients; it will help to reduce the dandruff effectively.  You do not have to worry about hair loss while using this product because of the natural ingredients.
Pros:
It is nature derived and is mild and gentle.
The shampoo does not harm the hair or scalp in any way.
9. Dermon Anti-dandruff Shampoo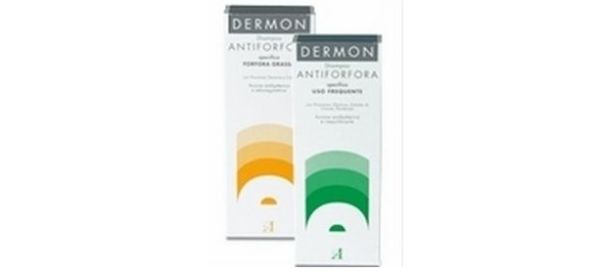 The Dermon anti-dandruff shampoo is very effective in fighting dandruff. It contains aqua, sodium laureth sulfate, decyl glucoside, profumo, linalool, Amyl cinnamal, cocamidopropyl betaine, etc.; this makes it a super hit formula in dandruff control. You can use this shampoo  twice a week for fighting dandruff effectively. It also works well for other scalp issues like eczema. Dermatologists believe that this is one of the best dandruff fighting shampoos and is extremely good for the hair.
USP:
The USP of the Dermon anti-dandruff shampoo is that it is extremely gentle on the scalp and helps in fighting dandruff perfectly.
Pros:
Acts instantly for dandruff removal.
Is very gentle on the scalp and hair.
10. Komenuka Bijin – Hair Shampoo – 8oz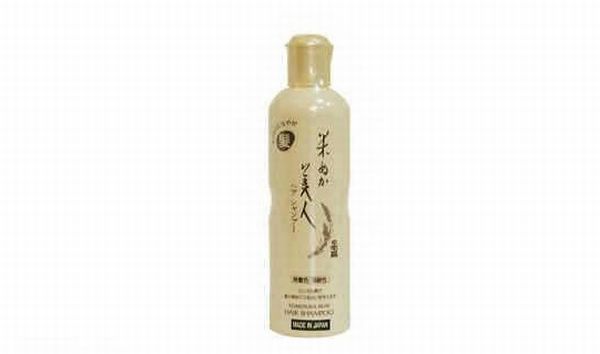 The Komenuka Bijin dandruff shampoo is surely one of the best dandruff shampoo. It contains ingredients like rice brans, coconut oil, rice oil, swertia herb and collagen. Not only does this shampoo curb the hair dandruff but also prevents split ends and future recurrence of dandruff. It is suitable for people with any hair type. This one is a natural nourishing shampoo which will help in cleansing and adding volume to your hair. The shampoo is extremely gentle and makes the hair shiny smooth. It shows great results within no time.
USP:

The USP of Komenuka Bijin dandruff shampoo is that it does great justice to your hair; it will add to the shine and volume of the hair and also prevent split ends.
Pros:
Does wonders to the quality of your hair.
It is a natural product and is gentle and mild.