The usage of perfumes dates back to the earliest human civilizations. With evolution the packaging and production methodology might have changed but the purpose remains the same. Many celebrities, off late are coming up with their exclusive fragrances. These fragrances are very popular among their fans and also does work as marketing tools for the celebs. When it comes to selecting perfumes for oneself money and individual likes or dislikes play a major role. The scent which might please some might be a total turn off for others. For those on a tight budget following is a list of ten perfumes for women under $100 .
1. Sarah Jessica Parker Covet Eau De Parfum perfume spray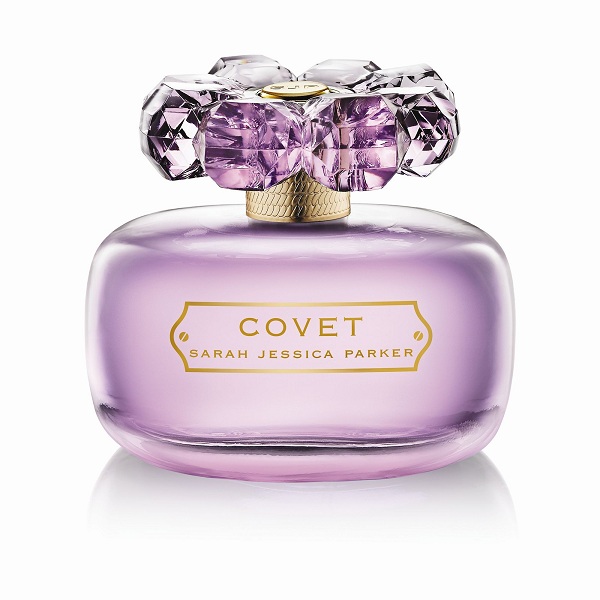 This perfume by the famous film and television actress and producer Sarah Jessica Parker is quite a hit among her fans. Covet is quite an aggressive fragrance as compared to the previous perfume that Sarah came up. This perfume was developed by a world renowned perfumer Frank Voelkl. Covet; and is one of the perfumes for women under $100. The perfume has a beautiful feel with combined scents of amber, musk, teak-wood, honeysuckle and chocolate. The perfume notes also include wet greens, sicilian lemon, geranium leaves, lavender, magnolia, vetiver, muguet and bois de cashmere. The aroma is quite inviting and lasts for long hours. On the test strip you would feel that the perfume is quite high pitched, but on body it works just fine giving a sweet woody musky fragrance. Covet is suitable for almost any occasion.
USP:
The scent is quite subtle unlike other celebrity perfumes. Covet's appeal lies in its dark woody musky scent which makes it quite exquisite.
Pros:
Covet has a long lasting power, you need not spray the perfume every now and then. This fragrance will keep you smelling pleasant all day long.
The packaging is quite aesthetic and appealing.
Cons:
The fragrance can be quite misleading in the beginning. The scent takes time to settle and thus you might find the fragrance a little stark at first.
The fragrance might not appeal women who are more fond of sugary scents. Also some find this perfume slightly over-priced.
2. Eternity by Calvin Klein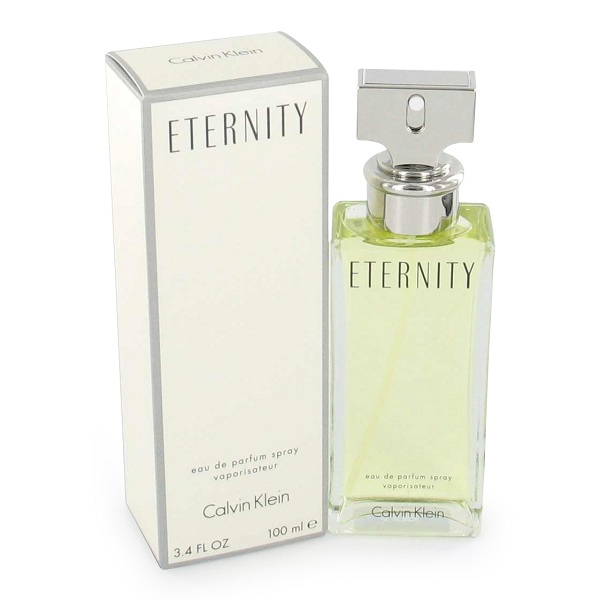 Calvin Klein is a brand known for coming up with exquisite scents which appeals most of the people. Eternity has a sophisticated time-less scent which makes it all the more desirable. This perfumes work for any occasion at any time of the day. The basic ingredients of this classy feminine perfume are freesia, white lily, mandarin, patchouli and sandalwood. These ingredients combine to give a beautiful majestic scent. This perfume has a lingering fragrance so you will not have to spray it more than once in a day. The same reason allows the bottle to last very long, thus you will not have to spend dollars buying perfume every now and them. The best part of this fragrance is that you will never get bored of it.
USP:
The scent is in market from past many years and has stood the test of time in a perfect way.
Pros:
Eternity has a long lasting fresh scent which makes it a popular choice.
The product is quite decently priced which makes it affordable.
Cons:
This perfume is in the market from over two decades, so your scent might not actually stand out in crowd.
3. Juicy Couture Eau de Parfum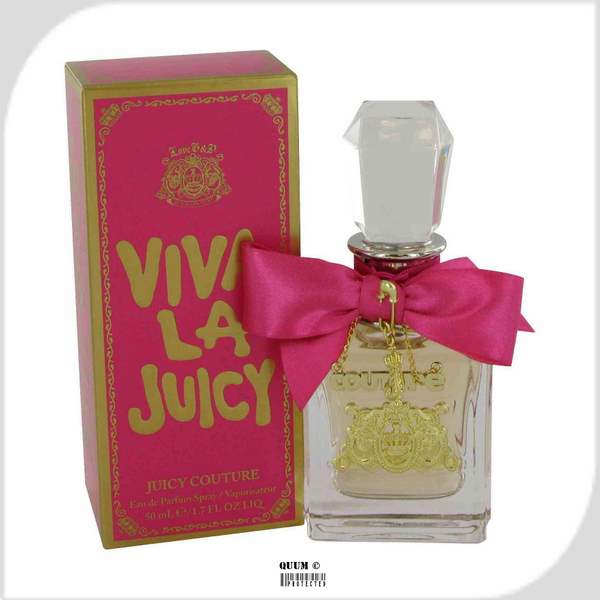 Juicy Couture Eau De Parfum perfectly complements the hidden fashion diva in every women. For the fashion savvy women this perfume is a priced possession. The stunning scent compliments thee femininity in every way and is a head turner. The perfume has refreshing scents of mandarin,watermelon, pink passion fruit, caramel creme brulee, vanilla meld, patchouli and tuberose. All these ingredients give this perfume is a stunning feminine smell.
USP:
Thanks to the sophisticated fragrance, Juicy Couture Eau de Parfum is perfectly suited for any special occasion.
Pros:
The scent is highly feminine.
The price is totally worth the fragrance of this perfume which is lavishly high profile.
Cons:
The bottle of the perfume is quite heavy.
The scent does not stay for too long, you will have to re-apply every now and then.
4. Angel By Thierry Mugler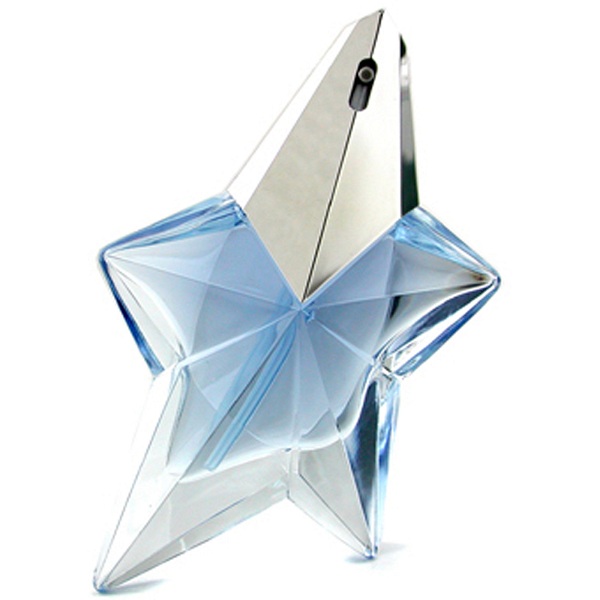 French fashion designer, Thierry Mugler is creator of a range of stunning perfumes. The Angel is a beautiful fragrance by Thiery Mugler which comes in an attractive star shaped bottle. The perfume has combined fragrances of hedione, bergamot, helional, deberry, honey, red berries, caramel, patchouli, chocolate and coumarin. Angel has a sexy and sweet scent which clicks instantly. This fragrance is specially loved by the young teenage girls. The scent is totally intoxicating and very exquisite. This fragrance is also available for the men.
USP:
The USP of Angel would be the sweet sexy scents which is a perfect partner for the females.
Pros:
The Angel compliments the femininity is best possible way.
Cons:
The too sweet scent might not appeal some who might find it extremely repulsive.
The fragrance is mild and might require re-application every four to five hour.
The perfume is quite expensive when you consider the quantity of just 1.7 ounce.
5. Armani Code for Women Eau de Parfum Spray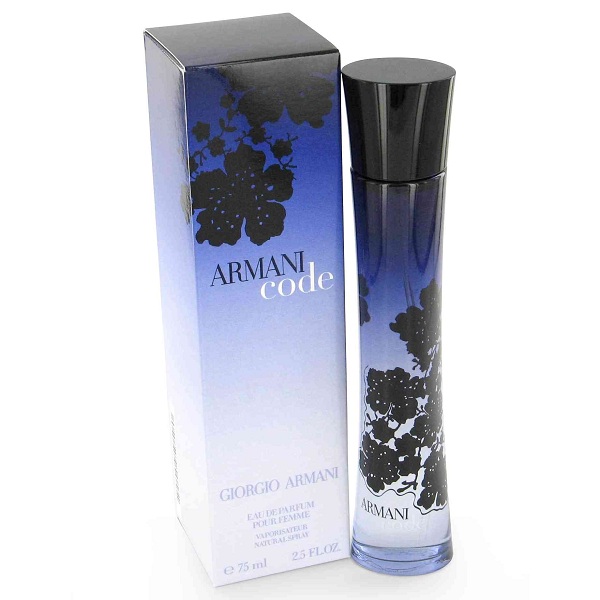 Armani Code Eau de Parfum is a perfect scent for almost every occasion and any time. It will help you stand apart in the crowd and woo people with a graceful scent. The alluring fragrance comes in a slim and tall beautiful glass bottle which is very attractive. The packaging shouts out the sophistication the scent has. The scent combines exquisite ingredients like orange, ginger, sandalwood and honey which offer a seductive appeal to you. The name of the brand itself is a label of sophistication which is extremely appealing. This perfume by Armani code is totally worth the price and is thus a definite contender in the list of best perfumes for women. This perfume is meant for women with class and ultimate fashion sense.
USP:
The fragrance offers a high romantic note, giving a seductive edge to the perfume making it a perfect companion for the uber-stylish and classy women of today.
Pros:
The very label spells luxury and class.
The scent is a perfect combination of sweetness and subtelity.
Cons:
The fragrance is extremely sexy but still not quite over powering.
6. Issey Miyake Lâ€Eau D†Issey Eau De Toilette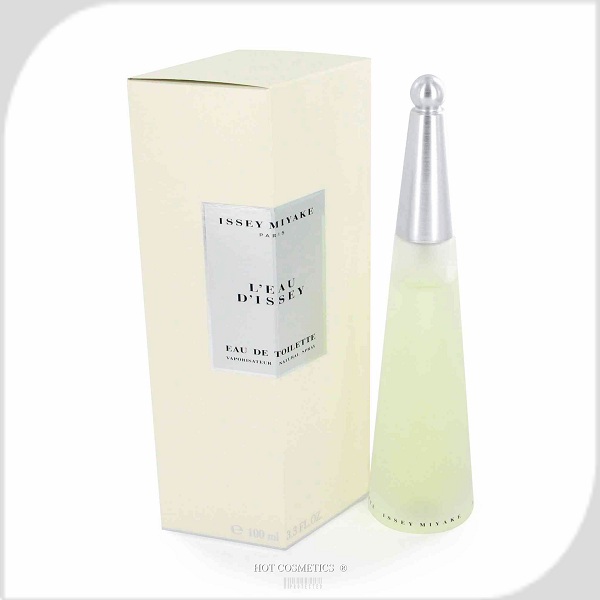 This beautiful fragrance awakens a stunning feeling within you. The fragrance has superb floral scent with woody and musky notes. Issey Miyake L'Eau D'Issey Eau De Toilette combines a wide variety of floral scents including cyclamen, lotus, freesia, white lilies and carnations. It also has dotting hints of musk and amber seeds which adds to the complexity of this perfume. The sparkling warm scent of this perfume is very alluring. This one is dream fragrance created by Issey Miyake. The bottle is extremely elegant and attractive. The price is totally worth the perfume and thus this perfume is a sure shot contender in the list of best perfumes. The low cost is just the icing on the cake.
USP:
The complex flowery scent is the USP of Issey Miyake L'Eau D'Issey Eau De Toilette, which makes it a popular choice of many women. The scent is subtle even with the presence of scent of many flowers.
Pros:
The floral scent is quite suitable for the females who are fond of mild flowery scents.
Cons:
The fragrance is not quite long lasting which makes it a little less preferred by women.
The bottle is quite tall which makes it difficult to fit inside your handbag.
7. Ralph Lauren 'Romance' Eau de Parfum Spray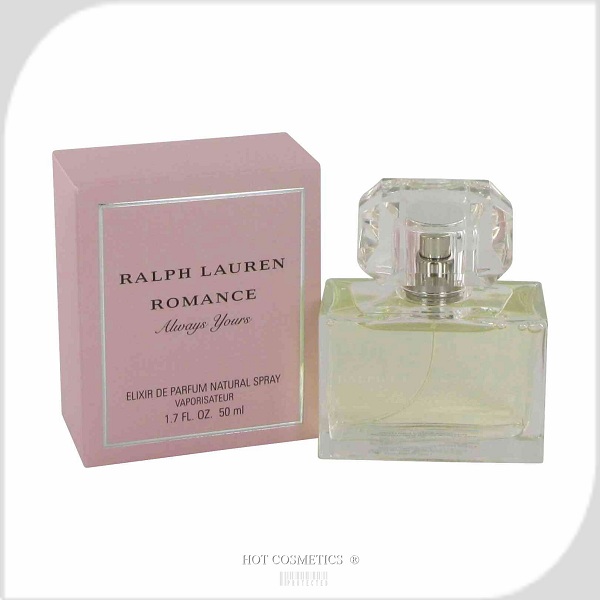 The timeless fragrance by Ralph Lauren is a favorite of women being clean yet classy. Romance is a perfect choice for a romantic evening and will definitely evoke your senses with its beautiful scent and great feel. This fragrance combines scents of freesia, tangerine, marigold, ginger, lily, chamomile, lotus flower, violet, exotic woods, patchouli, oak moss, musk and marigold. The blend of so many ingredients make Ralph Lauren Romance a hot favorite among fashion conscious women of today. With superb fragrance and perfect pricing Ralph Lauren 'Romance' Eau de Parfum Spray is surely one of the best available perfumes for women under $100. This fragrance is favorite of some of the top class women who do not compromise with their class.
USP:
The USP of Ralph Lauren 'Romance' Eau de Parfum Spray is the sensuous velvety woods essence which the scent offers.
Pros-
This timeless fragrance is extremely sensuous and thus very appealing to one and all.
The beautiful packaging makes Ralph Lauren 'Romance' Eau de Parfum Spray all the more desirable.
Cons:
Some women might not like this perfume simply because of the complexity of its fragrance.
8. Christian Dior J'Adore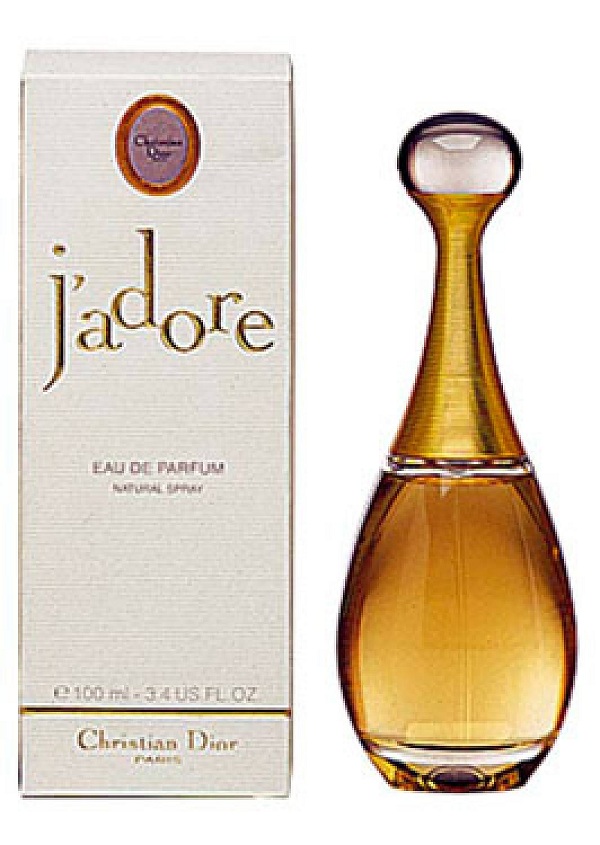 The first thing anyone would notice about this sensuous perfume is its stylish bottle; that spells luxury and sophistication in every way. The golden and glass bottle is extremely appealing and so is the beautiful fragrance inside the bottle. This perfume smells wonderful with subtle notes of scents of various flowers and other aromatic compounds. The key notes of Christian Dior J'Adore are; mandarin, African orchid, Damascus plum, buttercup, jasmine, rose, magnolia, ivy, bergamot, amaranth tree and blackberry musk. All these ingredients combine to offer a seductive tender scent. This is one of the best perfumes for women under $100 which you can wear at any time of the day.
USP:
The USP of this lovely feminine fragrance is the unique amalgamation of tree and fruity accords which makes it irresistible.
Pros:
This long lasting perfume by Christian Dior is extremely feminine and is a must have for all women.
The scent is unique and can be worn for any occasion at day or night.
Cons:
Some women might find the scent a little on the over whelming side.
The Christian Dior J'Adore does not last very long and might require re-application.
9. Balenciaga Paris Eau de Parfum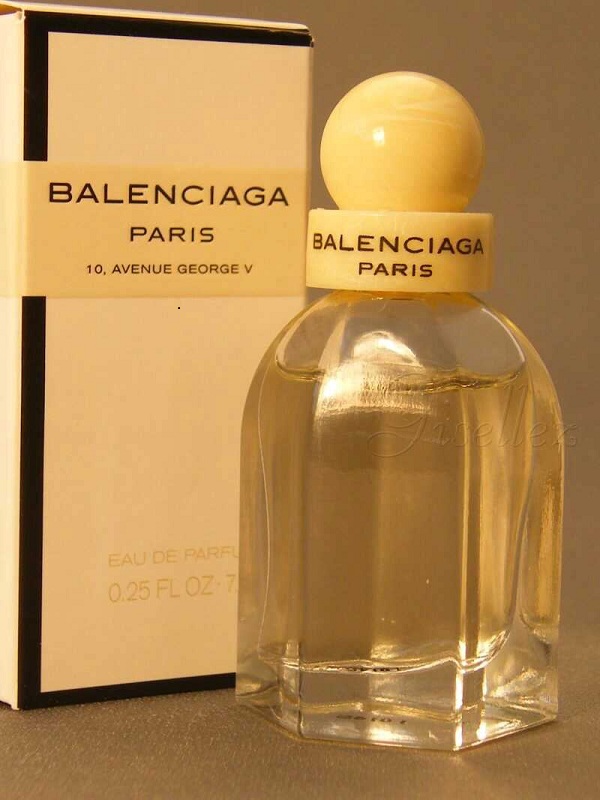 Balenciaga Paris is a latest fragrance from the famous label Balenciaga. This trendy chypre violet fragrance is perfectly suited for the classy and modern women. The scent is surely going to be a head turner; even though it is one of the perfumes for women under $100.
USP:
The rich spicy scent of this alluring perfume is a definite turn on.
Pros:
Balenciaga Paris Eau de Parfum has a long lasting feminine fragrance.
The bottle is stylish and looks great.
Cons:
Some women might not get appealed by this perfume while trying it for the first time.
This fragrance takes time to develop.
10. Fancy by Jessica Simpsons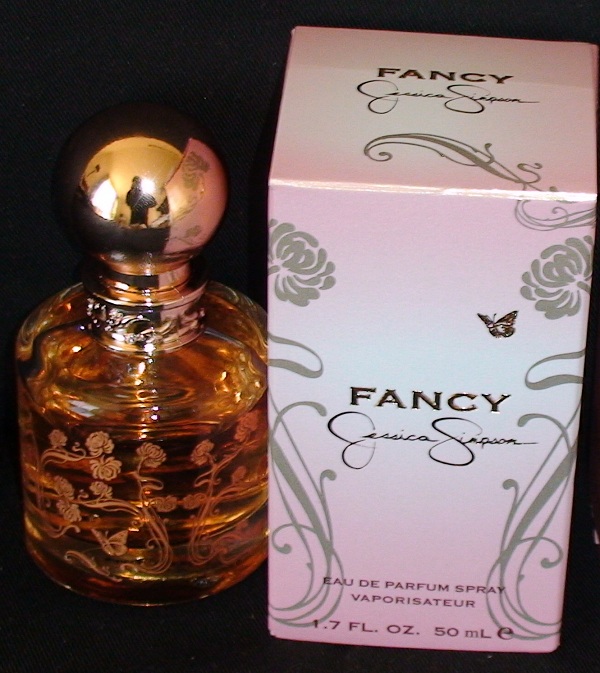 Fancy perfume by the famous singer Jessica Simpson is one of the best celebrity perfumes that the market has to offer. You will simply love the fragrance with the very first sniff. This fragrance is highly feminine and extremely versatile. Combination of appealing scents like that of fruits, caramel and vanilla makes Fancy a sweet smelling fragrance. This ultra feminine fragrance is loved by women and does not hurt the pocket much. Decently priced Fancy is a sexy and mature perfume which has a celeb name as well.
USP:
The sweetness of fruits and not flowers like other perfumes makes Fancy stand out.
Pros-
The mild fruity fragrance is simply lovable.
The perfume is quite lingering.
Cons-
The packaging is not quite unique or stylish.
Selecting your own fragrance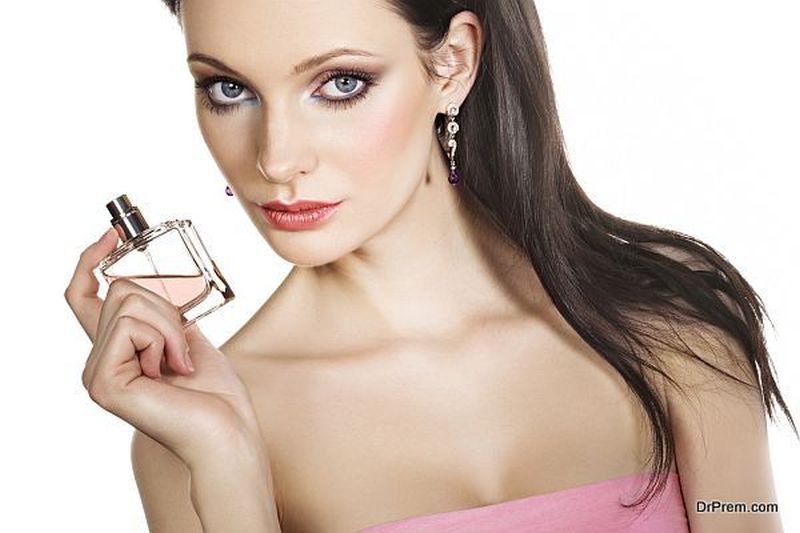 It is always seen in your day to day life that fragrance in the form of so called perfume plays an integral part in defining the character of a person. With varying nature of persons, you can now find a range of perfume available in the market. You can predict a person's mood by the perfume that he or she uses. Perfume has nowadays became a thing of daily use. Patrick Suskind said beautifully that perfume word itself has its central character scentless. He said that it is a condition that feeds one's madness and compels him/her to try the perfume of humanity. Choosing a suited perfume for yourselves is not a matter of joke. You cannot rely on any perfume as it may prove a matter of your identity later on. You should always try to use a perfume that suit your mood and have a good impact on the person standing near by.
Perfume: A key of attraction
Apart from regular use, scent, which is a synonym of perfume, is also an important key to bring attention of others in a party or in any other occasion. A perfume of a named brand is a perfect thing to get every one's eyes on you. A perfume's or scents importance cannot be ignored. It is the smell by which people can recognize you before they see. It does not make any difference whether you are beautiful or handsome or rich, but if you smell bad then surely it can give you a mental agony for lifetime. Scents are similar to tastes, even if a person forgets your face, he or she can remember you from your good smell.
A perfume is an investment for the skin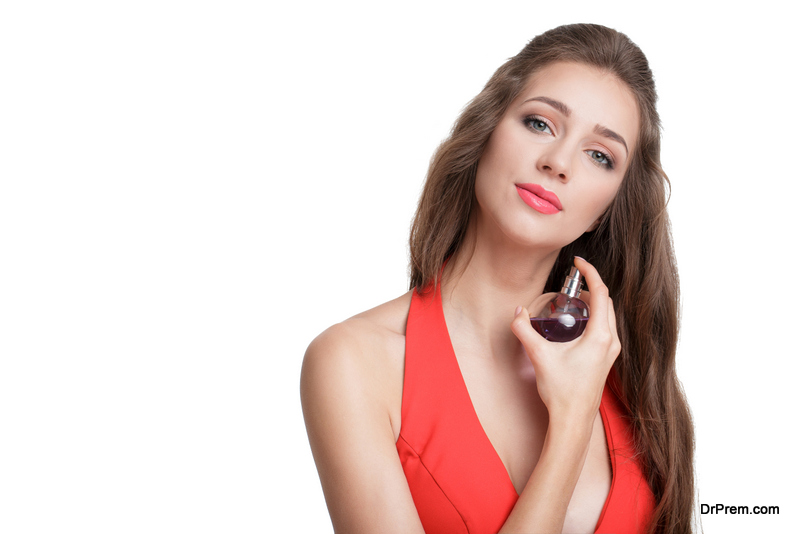 For a person who has just started using perfume, it is difficult in his or her part to select a good scent with good smell. It is important for you to make a signature scent rather having a wide range of collection. You should try to use a perfume which suits your personality and does not irritate others standing near by. You should skip using the perfume which you used earlier before going to buy a new perfume as suggested by an owner of Perfumerie Nasreen in the Alexis hotel named Nasreen Rehmat. LauranceRahme, a perfume expert and founder of Bond No. 9 scents, suggests that it is not necessary to use a perfume just because it has been launched. Rehmat also says that a high quality perfume is like an investmentwhich develops slowly on the skin. Both the experts, Nasreen Rehmat and LauranceRahme suggest that we should avoid using perfume of quick spirit.
The big names
Annick Goutal is a well known perfume brand which is opted by a large number of people. It is popular for its wide collection of perfume with very good quality smell. When you decide to buy a perfume, you should be bothered about the cost but you should be cautious about the brand and the way it smells, too. You should always fix a brand to use its perfume. The most romantic of all perfume is the perfume with floral scents. Statistics have showed that most of the people tend to select the perfume with floral scents. Paul Smith Rose, Woods Of Windsor True Rose, Yardley English Rose, Jo Melon White Jasmine & Mint Cologne, Marc Jobs Perfume Daisy are some of the most popular world class brands which provide best range in floral scents.
The trend of perfumes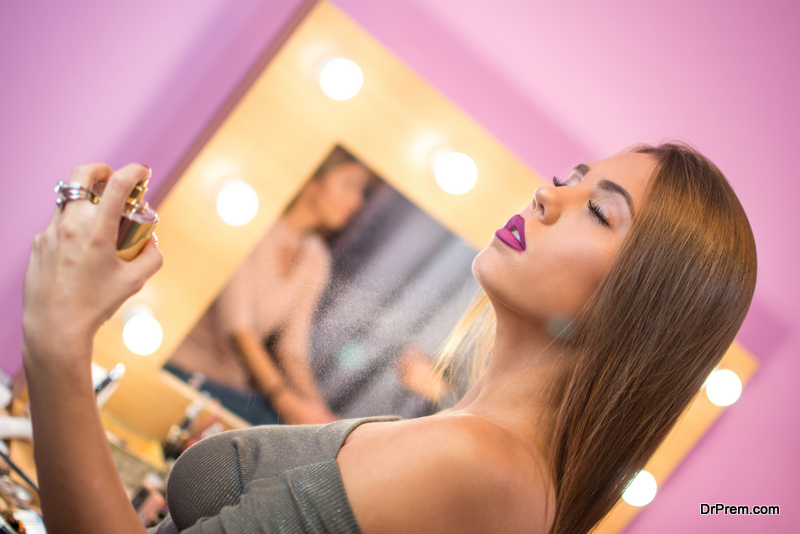 The young teenagers are often seen to get attracted more towards the crisp scent of oceans and green scents. These perfumes are mostly reliable in summer. The world class brands like Givenchy Summer Collection, Ralph Lauren Summer Romance, Burberry Summer, Kenzo Perfume, Calvin Klein Escape are perfectly made for the refreshing mood in summer.
Stick to one or two perfumes
It is always suggested that you should always stick to using one or maximum two kinds of perfumes. The more number of perfumes you try, the more your senses get worst and thus result in bad decision. It is also advisable to wait for ten to fifteen minutes after you spray perfume to know the better scent with better smell. Better idea is that you can take a round of the shop or mall where you go for buying these perfumes. You cannot predict the actual scent of a perfume with its initial smell. Similarly, it is also not a good way to judge a perfume only by smelling the nozzle of the perfume's bottle. You should make the habit of judging the perfume by spraying it on your wrist near the pulse point, as because the chemicals in the perfume may react with your skin and it may give a change in smell. There are some available perfumes in the market which do not costs much and are made with high chemical contain which afterward prove to be harmful in a way that they may be allergic or you may feel burning sensation when used over.
The trend of universally demanding perfumes for women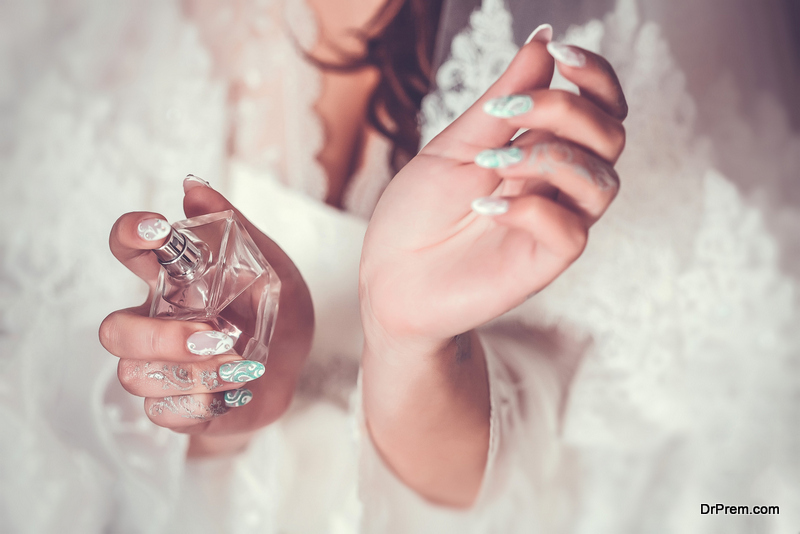 It was also revealed that Bond No. 9 scents like Chinatown with floral scent and Madison Soiree are the perfumes which are regarded as the best selling perfumes in United States. Rehmat who has a wide range of perfumes in her big store suggests that Royal Water by Creed which was actually created for Princess Diana and costs about $178 per bottle is among the most universally demanding perfumes. Its key ingredients like verbena, peppermint, bergamot more make it a scent of your choice. It is refreshing aroma burst out with a sweet smell and later fades into a mellow.
Summery on perfumes for women under $100
These are some of the points that you should keep in your mind, if you want to smell good and establish your own identity before others. You should be cautious enough, when you are opting for a perfume for yourselves. You should not care about the money it costs, if you are really concerned about the way you are going to smell. You should be extra cautious about the perfumes reactivity towards your skin. It should not be harmful for your skin. Moreover, it is always said that like a good wine, a good finish is what you expect from your perfume.
A Perfume is a must have utility item which nobody can do without. Women are more inclined to usage of perfumes as compared to men. Women from almost any part of the world belonging to any income category love spending money on the quintessential classy fragrances. Perfumes are basically mixtures of aromatic essential oils along with fixatives and solvents. They tend to give the body a pleasant scent eliminating all sorts of odors. The above mentioned perfumes for women under $100 are perfect for women on a budget.