The party season is around the season and glittery makeup is all the rage, while it looks good to wear a lot of it on the runway, how does one use this look everyday without look like you are about to perform in a show. When applying eye glitter, you can get carried away and end up using too much glitter or too many colors.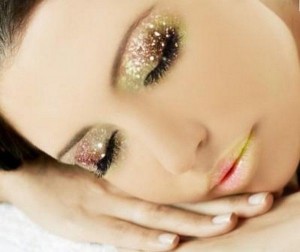 Minimalist:
While the big and bold glitter look only looks good on the runway, you can wear it at parties but on trick is to follow the minimalist look. Glitter is supposed to look glamorous but if you overdo it, it can look too messy and is dangerous as the eye area is very delicate. So be careful about how much of glitter you use on eyes and lips, use just enough so that it looks tasteful.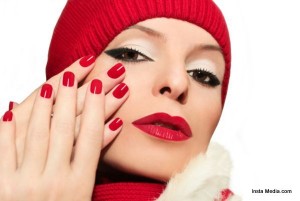 Glitter should be applied on a specific area:
When using glitter make up, pick a specific area on which you want to use the glitter. This can be either your eyes, lips, cheeks or even applying body glitter. The trick is to focus on one area, is you wear glitter nail polish, glitter lipsticks, glitzy eye shadow all at the same time; you will only resemble a disco ball. This same rule applies to your clothes, is you are using glitter makeup it is best not to match it with glitter shoes or clothing. Try experimenting with different cosmetics to find your match in terms of color, it could either type of cosmetics or buy as many as you like but make sure that you wear one at a time.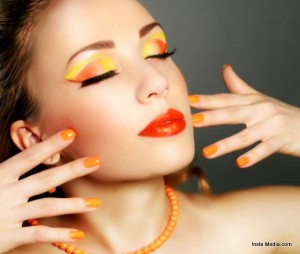 Glitter suits some occasions;
Glitter make up looks best during some occasion like a night out with your best friends or weddings; complement your look for school or shopping. Glitter may be pretty abut does not look good in business meetings, professional surroundings or perhaps spending time with your boyfriend.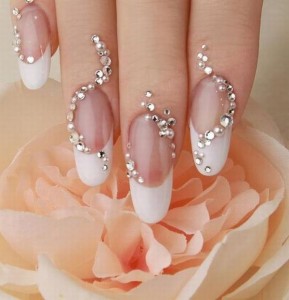 Correct application:
This is important if you are using loose glitter; always apply it with after you have applied a setting agent as this will prevent any of the particles from falling into your eyes. If you find this tims consuming, buy glitter gels.
Look at the options available:
Glitter makeup is available in the form of glosses, eye shadows, eye liners, nail polishes and glitter body pastes that are scented.