It is only few week back Kate Middleton-Duchess of Cambridge has given birth to Prince George. She always dresses elegantly and won the heart of fashion followers. Even during her pregnancy she managed to dress elegantly and always had a sense of style of her own. During her pregnancy period she was mostly seen in designer frocks and charming coats. She neither wore too tight or too loose outfits. She stick to classic silhouettes simple dresses, pretty coats etc. She was never eager to show off her baby bumps by wearing skimpy clothes. She wore blue polka dress after her delivery which was exactly Princess Diana wore after delivering Prince William. She looked excited and always stylish even though her post pregnancy baby bump was showing. Now it is hardly a month and it is really amazing to see Duchess of Cambridge back into action.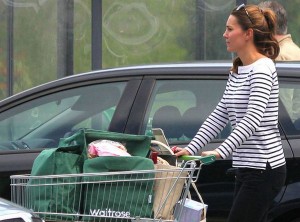 Kate Middleton Just One Month after Delivery of Prince George            
She delivered Prince George on July 23 and it is hardly one month and she totally shed down post pregnancy weight. Her post baby body looks slim and lovely. She was spotted doing some grocery shopping and she looked superbly gorgeous. She was dressed in black skinny jeans and white striped shirt that showed off her slim figure. Her stomach was flat and it seems she hardly did anything to lose her weight. The only thing she did is yoga and with that whatever weight she gained during pregnancy she easily shed it off. Another thing she did was to spend lot of time in nature and doing activities like walking which helped her easily to lose the weight. She is back in shape with flawless and radiant skin. Through the nine month of her pregnancy media was eagerly following her to know the kind of dress she is wearing. After her delivery it is just after one month we got a glimpse of her. The photo that showed of her, Prince William and Prince George immediately after delivery clearly revealed post baby bump and the Duchess of Cambridge never shied away from the camera. In fact she was happy and was still glowing as a new mom. It is just one month and she has slimmed down and completely lost the post baby bump. Now you can see this beautiful young lady back in action with her charming and elegant style.