High heel shoes are always in fashion and it is more popular than any other footwear. Whether it's a night out, any occasion or a get-together, it is always the first choice. But as you wear high heels regularly, people often complain about pain in the foot, back or knees. Regular wear can affect the health of your foot. So it is very important to always choose the right heels for your feet which can provide your feet comfort without compromising on style. Let's check out and see how you can choose most comfortable high heels which can make your life easier without any pain or sprain.
The perfect fit shoes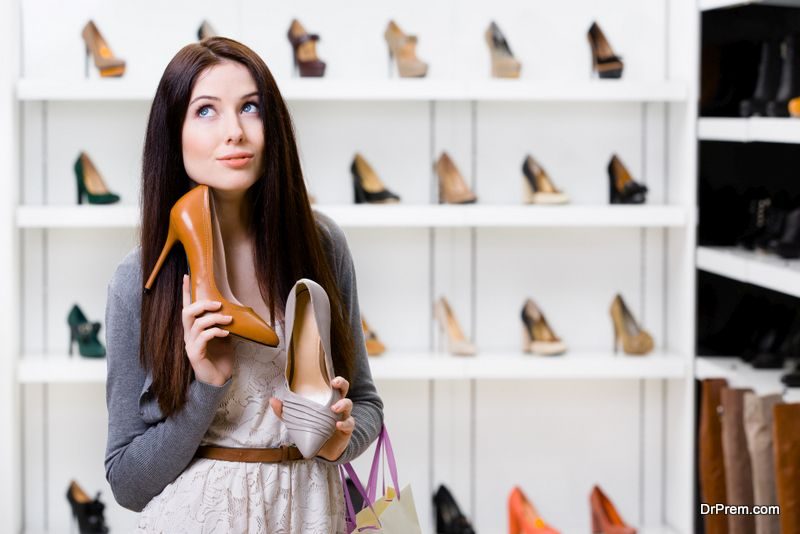 The foremost important aspect while choosing the right heels is a perfect size. As per the fashion guide, keep in mind the gap between the shoes, from the heels to the arch areas. If there is a gap, then you are wearing long and wide shoes. Wearing wrong size heels can make your feet tired too early and it can also cause budge around the shoes while you stride, and later cause pain and discomfort. To avoid this, pick a right pair of heels.
The right size shoes help in maintaining the heels properly giving your feet a proper comfort and balance. One of the common and surprising factors is your foot size keeps changing with the time because of the hormonal changes and also the changes in the soft tissues change the size of your feet. So as you shop next, do not forget to check and measure the size of the foot before picking your favorite pair of heels.
Shoes with perfect coverage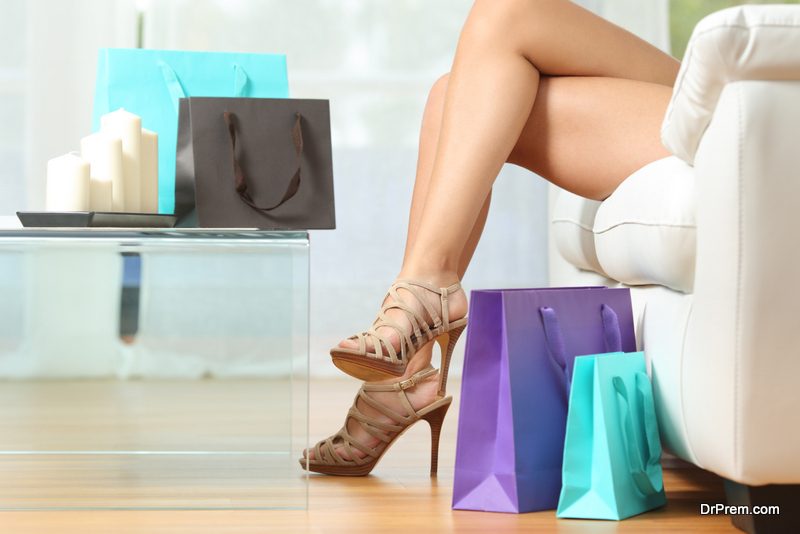 Always select the shoes with heels which provide your foot with the right amount of coverage. Too much strappy or lesser amount of material across the toes can put the weight on your foot. Any shoes should give proper support to your foot. Long periods of walking in lesser coverage shoes will make you tired, resulting in sore feet and increase the effect of ankle sprain too for a longer time.
To avoid these issues, select a heel which gives an adequate amount of material which can hold your foot well and support to lessen the amount of sprain and tiredness. You can also go for high heeled boots or platform heels with a proper strap in the arch and area. These types of shoes fit well giving you comfort and style.
Pressure on toes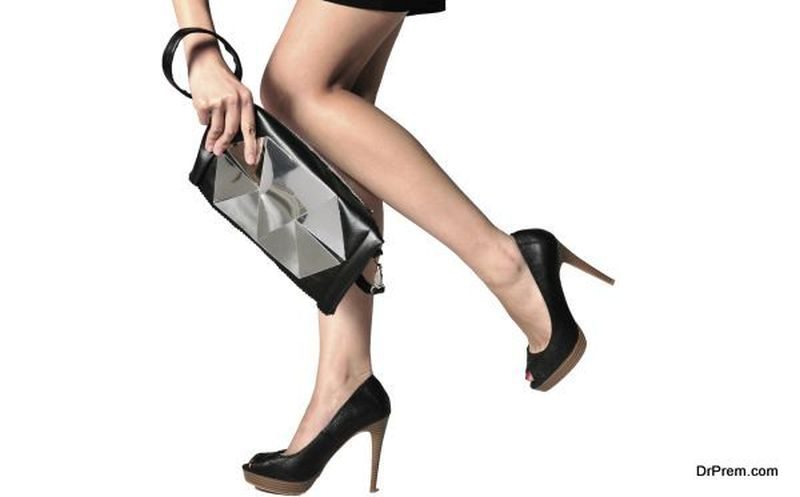 At the time of buying new shoes, it's important to try both shoes and have a walk. It is said that each foot is slightly different in size and shapes from one another. So it's important to check with both the shoes on to see how it works on your feet. Secondly, to avoid pressure on your toes, which we often neglect is to check the length of your shoes if it properly fits in your foot. Always buy right length shoes. Do not go for too fitting heels as again all the pressure comes to the toes standing all day making it painful. If you find your toes are being pressed or it is giving you pain, then you must change your shoes and go for the bigger size to maintain the balance on your foot.
Get yourself a solid pair of heels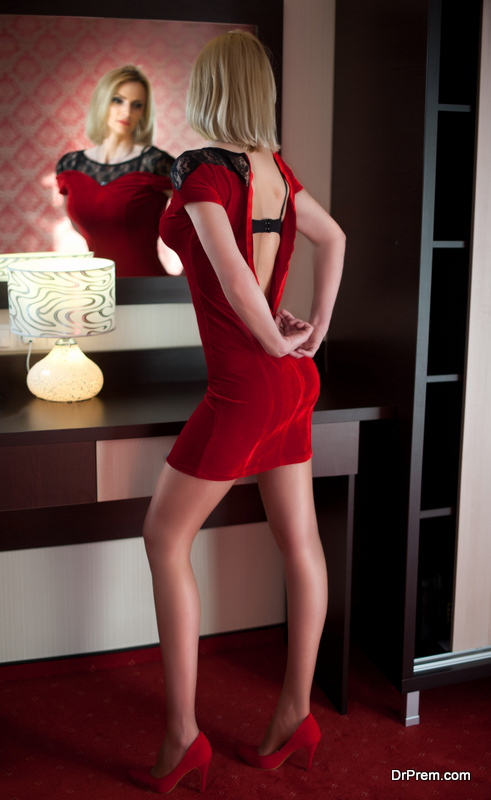 Always opt for the right and good quality shoes for yourself. Pick high heels made up of a good quality and soft leather materials. A heel with the quality material is very important in order to maintain the good health of your foot. Choose a good quality pair of heels to avoid any skin problem and irritation and do not compromise on it.  Always remember it is better to have one or two good quality and a well-trusted pair of heels than having numbers of bad ones. Choose quality over quantity after all health of the skin is more important than anything.
Avoid extreme height heels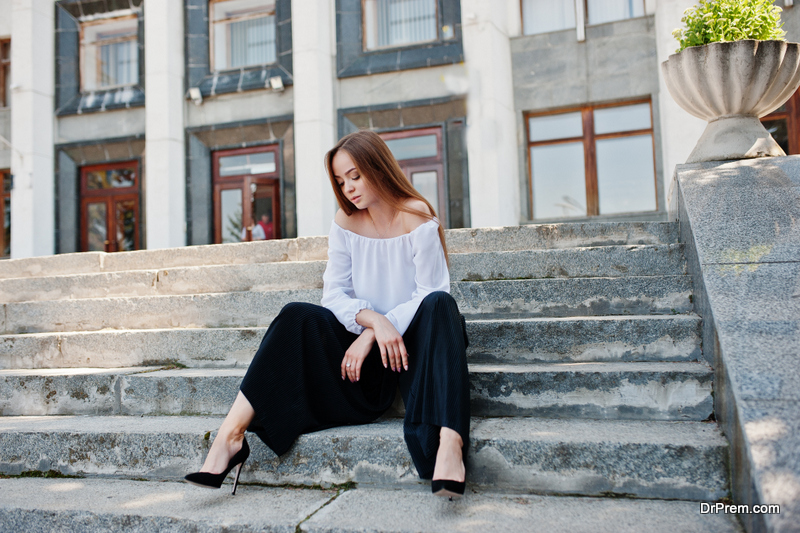 The most common problems with high heels are it is painful and can give the ball of the foot the painful experience. The balls of the foot, ankle, and knees get more stress when you wear higher heels. The higher the heels, the more pressure, and stress it will provide on your foot. However, if you wanted to have high heels, choose a heel which is manageable for you.  Choose a thicker heel height. Thick soles give you more comfort than the thinner soled shoes and stilettos. You can also go for platform shoes, wedges which provide lesser force in your foot. It is stable and supports the shoes and gives your feet a comfy walking. Hence, it does not affect the balls of the foot much.
Foot exercises you can try to help with the pain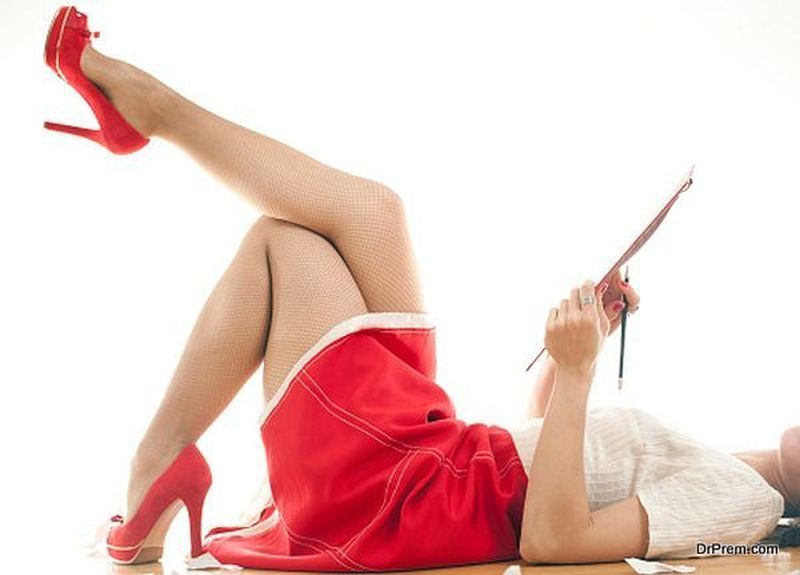 Foot exercise is must have before you are going to wear your favorite pair of heels. It makes your foot strong and helps you increase foot flexibility to have a comfortable walk all night. The simple exercise helps build your feet to cope in heels for a longer period. Stretching is the best way to deal with foot stress and do not forget to give your foot a nice message to make it relax and refresh.
Try it before going out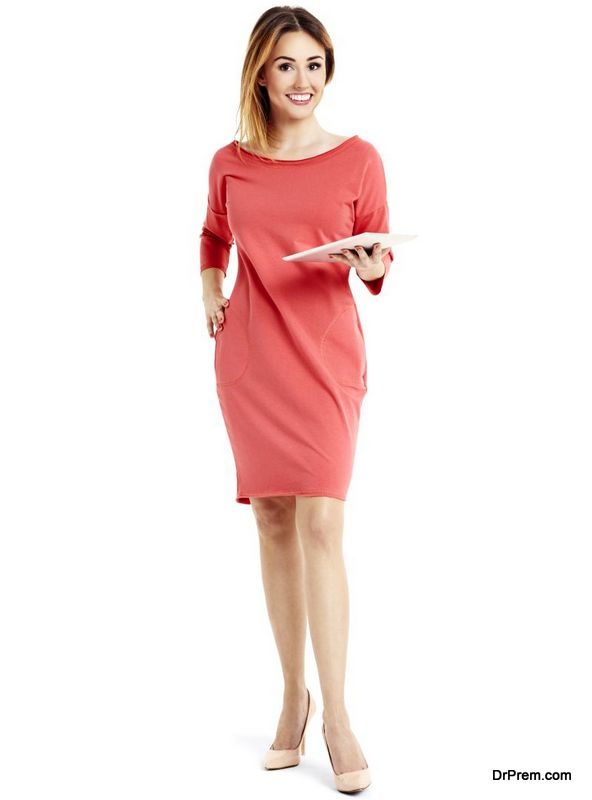 Before going out with your favorite heels, do not forget to try it and walk at home for a few times. Giving a trial can actually help you loosen up and adapt to your feet. Just walk around your house while chatting on the phone or watching TV.
The most effective method to choose most comfortable high heels for Your Mini
A smaller than usual could be ideal for any event gave you wears the right shoes. Here's the way you pick the ideal shoes for your little.
How to choose most comfortable high heels  for formal events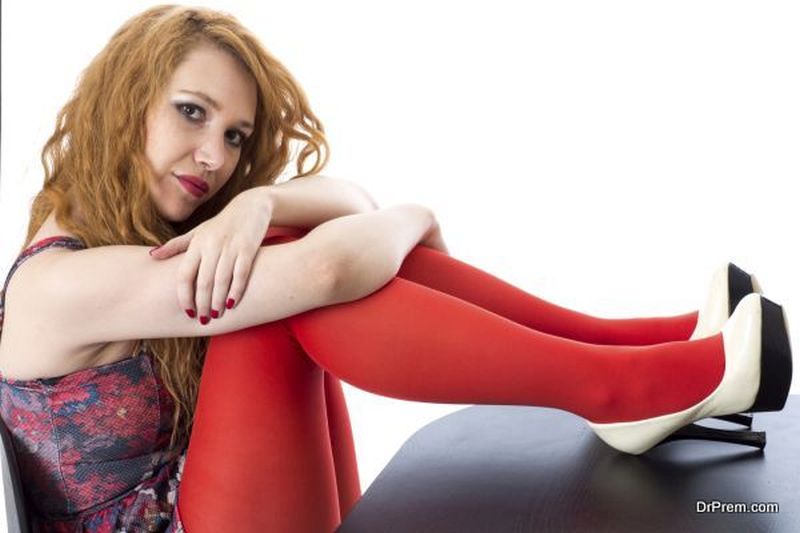 A formal smaller than usual might as well give off humble stylishness that is delightful without requesting consideration and The ideal fabrics are glossy silk, silk, ribbon and those with a delicate metallic sheen. Keep the remove organized yet direct from tight-fitting.
Tips to carting away a formal small-scale dress:
– Look for dresses in excellent dark or bare shades which never happen.
– Pair with high heels or dance flats.
-Look for odd skirt shapes, such as trapeze or air pocket.
– Highlight a formal small with a bit of true gold or proclamation jewellery.
– Look for odd skirt shapes, such as trapeze or air pocket.
– Throw on a sheer cape or delicate jacket.
– Balance out the leg indicates by toning down with a higher neckline or long sleeves.
Here's choose most comfortable high heels for cool wear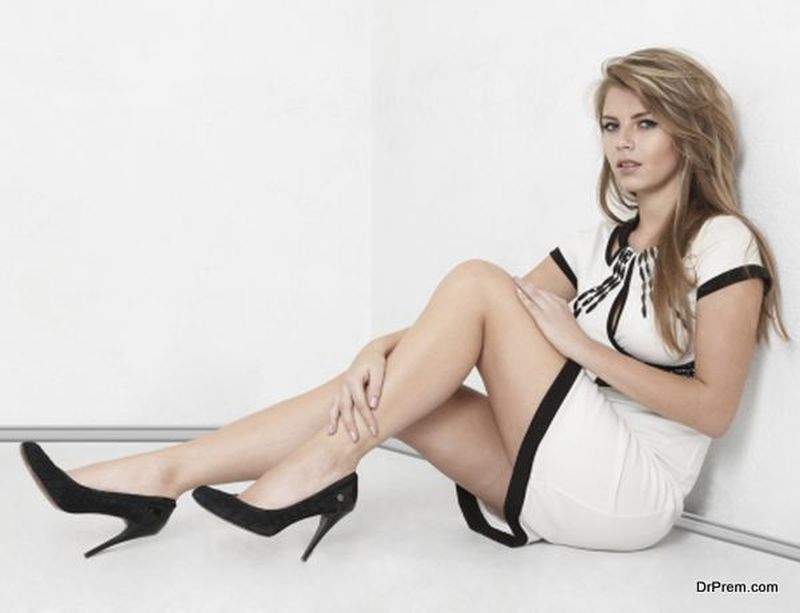 An easy approach to turn a small scale cool is through fabrics like cotton, denim or corduroy. Search for short T-shirt dresses or weave tank dress. Other every day choices are short shirtdresses or sweatshirt dresses. In short, if your dress searches agreeable enough for a store run, its a cool smaller than expected dress and keeping the feel of a smaller than expected cool includes some fundamental accessorizing expertise. The shoes can and will convert your entire look. Don't sweat it and accompany these tips:
– For an easy look, group your little with tennis shoes, flip-slumps or wedges.
– Layer on a cardigan, vest or oversized shirt.
– Don't wear tights.
– Don't wear high-heeled pumps.
To make a go at clubbing
This is one event for which you release your hair down and all wild with a smaller than expected. Go for with sequins, remove stresses, plunging necklines or an open back, not all together in the meantime. You would prefer not to go over the edge. Pick party minis in fabrics like spandex, metallic's, cowhide or PVC.
Tips for an extraordinary club wear little:
– Steer far from cool or formal minis.
– If the smaller than expected dress is sequined or metallic, don't wear an excess of bling.
– Avoid layering.
– Don't wear level shoes. Your shoes ought to be awesome and enchanting – think stilettos or strappy shoes.
– Go hard and fast with color and high sparkle as long as you don't run over the edge with
– Keep it as short as you are agreeable with.
What to wear with red shoes: 6 outfit combinations for you
Red itself is a vibrant and bold color which adds personality and distinction to any outfit. It is also one of the common colors that most women own. The beauty of red heels is that you can wear them on almost most colors and create your own fashion tread if worn correctly. Nevertheless, a lot of women try to avoid donning red shoes because they simply can't figure out what to wear with them. Well, have no fear, we've got your back covered! In this article, we are going to provide you with a list of 6 stylish ways to wear red shoes and look incredibly amazing. We borrowed some ideas from Ukrainian girls for dating, which are truly into stylish combinations.
Let's get started!
1) Red shoes + white outfits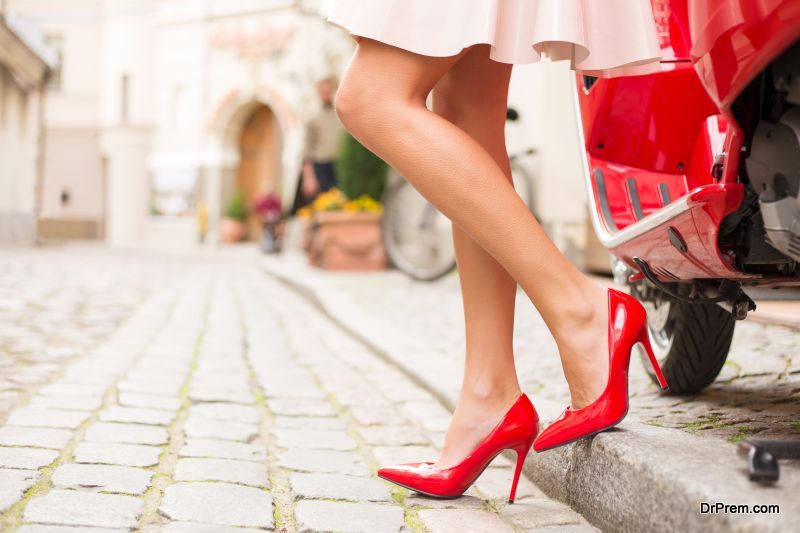 The white color is a brilliant choice to combine your red shoes with. You can opt for an all-white look or just some parts of your outfit such as skirt, trousers or white jacket. If you are still worried about the pure red and white contrast, think of getting a pair of maroon or burgundy heels, which will reduce the acute brightness.
2) Red shoes + nude outfits
Another elegant option of wearing your red shoes is to combine them with a neutral color like nude (beige). As a rule, when wearing a nude dress it is recommended to complement it with other brightly colored garments to reach a better-finished look. Add your favorite red lipstick or red clutch and, we promise, you will make heads turn!
3) Red shoes + all black outfits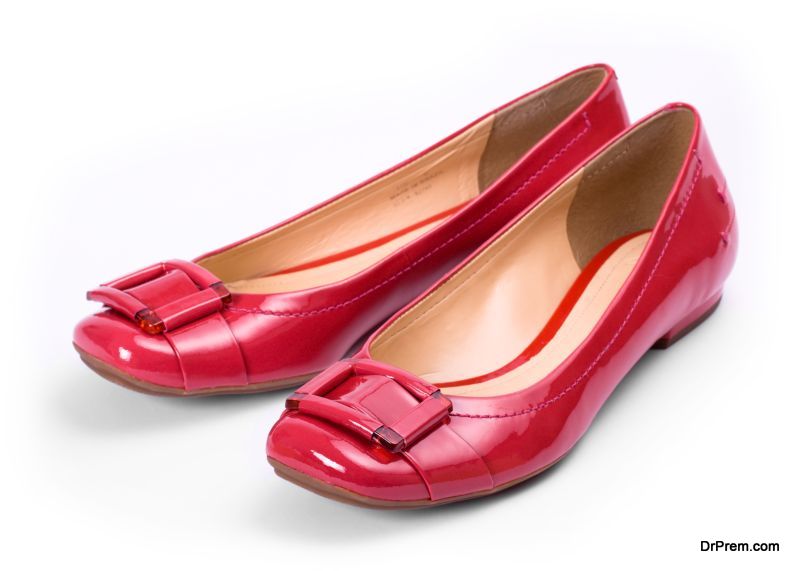 Your red shoe matching dilemma can be solved very easily with a help of all-black colored garment. This option is one of the most classy and elegant fashion statements, which is perfect not only for your daily outfits but for special occasions as well. Whether it is a little black dress, jumpsuit or a skirt with a blouse, your red & black look will make you stand out from the crowd.
4) Red shoes + blue outfits
The color palette isn't restricted to only blacks and whites. There are actually a lot of other colors which can look great with a pair of red shoes. Go on and try combining blue/navy blue or sky blue outfits with your red heels, especially if you want to create a very bright, fresh summer look. Nevertheless, make sure that you finish your look with a contrasting purse color (red/beige).
5) Red shoes + mixed prints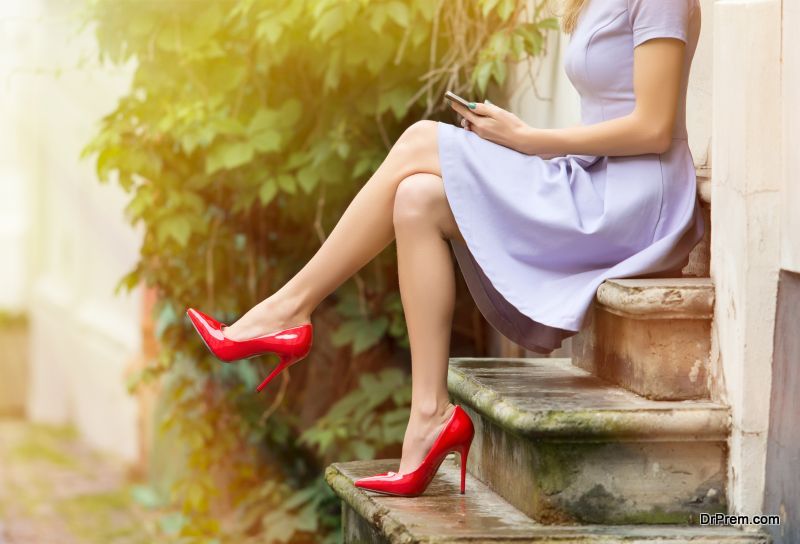 Even though many women try to steer away from pairing their red shoes with colorful outfits, but it still happens to be another great option to style your look. You shouldn't be afraid of wearing red shoes combined with different prints and patterns as long as they contain a hint of red themselves. Let's say if the pattern has red flowers on a white base, it will perfectly work with red heels.
6) Red shoes + jeans + white t-shirt
Another red shoe styling solution that never fails is combining them with your favorite pair of jeans: long, short, rolled up, narrow and wide. Honestly, anything goes! Make your look even trendier by adding an elegant white blouse along with contrasting accessories such as hats, scarves, bags, etc.
Of course, there are a lot more other outfits which look great with a pair of red shoes such as of grey or (if you are more daring ) completely contrast pink color. But whatever you opt for to combine your red shoes with, it will definitely make a memorable impression.