Panasonic has recently come up with its compact premium beauty steamer that can come handy for all the women who find it grumpy to visit a sauna.The EH-XS10-Kmodel of the steamer can work great when you need to moisturize your skin and take good care of it. Find out more about this appealing product here.
The design and appearance
Panasonic Premium Beauty Steamer looks smart and sleek, as well as modern and elegant in its shiny black body. This steamer comes with three different ports for steaming and moisturizing actions.Several modes in this steamer include warm steam, buoyant skin, clear skin, cleansing,and sebum care.The steamer also has a Rhythm Kassa unit with three rhythms and four curves for precise skincare.
The features and ease of use
Panasonic Premium Beauty Steamer has dimensions of 19.5 x 27 x 19.2 cm. Its tank has a capacity of around 8.1 fl oz. This is sufficient for an effective skincare session. Further, you can handle this unit with ease, as it is not very heavy. It just has a weight of around 6.2 lbs. However, its 4.9-footpower cord carries an additional weight of around 0.28 lbs. Still, you may not find a similar product lighter than this.
The steamer has a power of around 810 W, and it usually produces steam in around 11.5 minutes.While you may have to wait a little for the steamer to make steam, it will just take a minute for the steam to come out.This wonderful steamer costs you around $1,179, and its product kit includes a waterproof sheet and cleaning brush. However, you may have to buy two AAA batteries to power its Rhythm Kassa unit.
Benefits of Panasonic Premium Beauty Steamer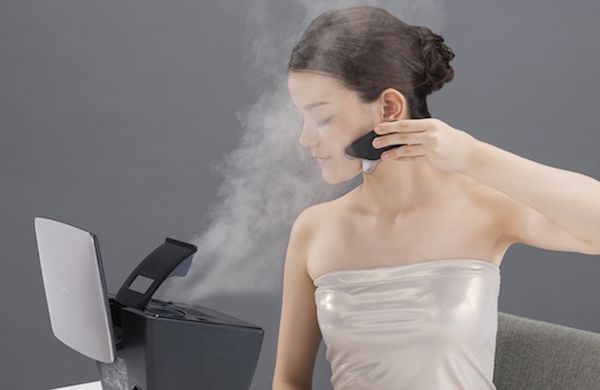 It is a regular need to take care of your skin through massaging and moisturizing. While you may otherwise go to a sauna when you require giving some mist and steam to your face, you can do all these tasks at home with Panasonic Premium Beauty Steamer.
The product is great for having a professional sauna experience anytime, anywhere. It can give you a triple steaming sensation, as well as cool and warm cleansing mist sprays of different types. It diffuses skincare mist in all directions, and thus, you can have concentrated moisturizing that provides your skin a refreshing feel. You can easily have accurate massaging of your neck and face using this steamer.
Panasonic Premium Beauty Steamer can be an amazing product for those women who want to have a domestic sauna experience in a professional way. The product is easy to handle and well usable in any setting.