Everyone wants to follow the latest fashion trends. There are many style stanzas for the world to choose from, and this is accompanied with the ever changing fashion with introduction of new trends and styles one after the other. But today, let us talk about hair. There had been many hairstyles that attract attention being downright sexy, fun to do and at the same time amazingly elegant to look at. One of these hairstyles is the Double French Twist or simply the French Twist, which has been tried on by many celebrities in the past few years including Kate Winslet, Kim Kardashian and Jennifer Lopez. Still, the glamorous style never seems to go out of fashion and manages to stay timeless and as well as sophisticated.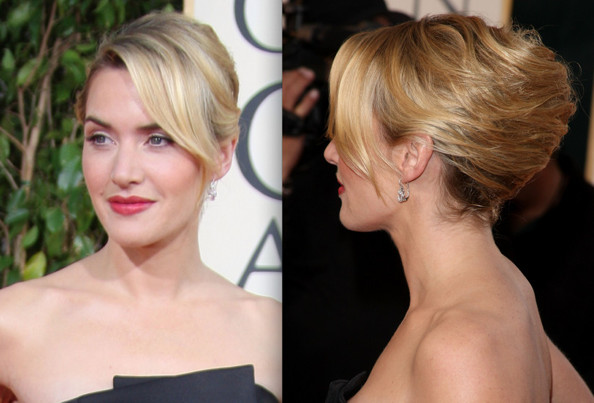 The French Twist is an ideal choice for a wedding, for brides, bridesmaids, and for occasions like homecoming, prom and thanksgiving. More recently it has been subjected to more attraction after the Titanic star Kate Winslet walked the Red Carpet with Double French Twist styled hair at the Golden Globe Awards.
So this post will tell you how to get this chic and elegent hairdo with the help of step by step instructions.
But first you need to make sure you have some things ready. These are
a) Long Hair
b) A lot of pins
Here we go.
1. First you need to prep up your hair for the style, brush them a little bit to make sure that they are free of any tangles.
2. Carefully separate your hair into three parts that are the top hair and the lengths at either side.
3. Now what you need to do is take all the hair from the top of your head and section them off from the side hair. Hold this section of hair up using a clutch.
4. Now, you will use all of the remaining hair to form a Double French Twist. Collect all of the remaining hair from one side and start twisting them; while you keep twisting they will naturally take the shape of a French Twist. Then, tug the ends of your hair inside the twist and use hair pins or bobby pins to secure them in a way that the pins get concealed within the Twist.
5. Repeat the above step for the other side of your head.
6. Now release the top hair which you secured in Step 3. And brush them to make sure they have not tangled.
7. Separate this group into several sections. Pick up section by section. Gently tease the picked up section of your hair near the roots and put them behind your head, near the twist. Do this for all the remaining sections of the top hair. Keep on brushing each section after you put them behind just to make sure they don't get messed up.
8. When you're finished with this, use hairspray all over your hair to make sure that they stay in place.
9. Hold the ends of the hair you have just put at the back, twist them a bit so that they come together and tug them inside either of the Twists you made behind your head in earlier steps from the center and use pins to secure this once again after you make sure that the twists are all tight enough.
10. You have successfully attained the Double French Twist hairdo.
11. Now you have two choices for the front section of hair that are a little short to be tugged behind.
a) You can leave them resting on the top of your ear while going over your forehead for a more modern look.
b) Or you can use your hands to brush these hair up to the back, and use hairspray to keep them in place. You need to do this step carefully as it can mess up your already styled hair.
Note: You can do this style no matter what type of hair you have, but if you have thin hair, they will tend to fall off. To make sure that this does not happen, you should use as many pins as you can to secure the twists and even the littlest part of hair that needs to be tugged in place. Ladies with thick hair may use comparatively less amount of pins, but it is advisable that pins should be kept handy.
So, now you know how to make this elegant hairdo, right in the comfort of your home. So Keep styling.