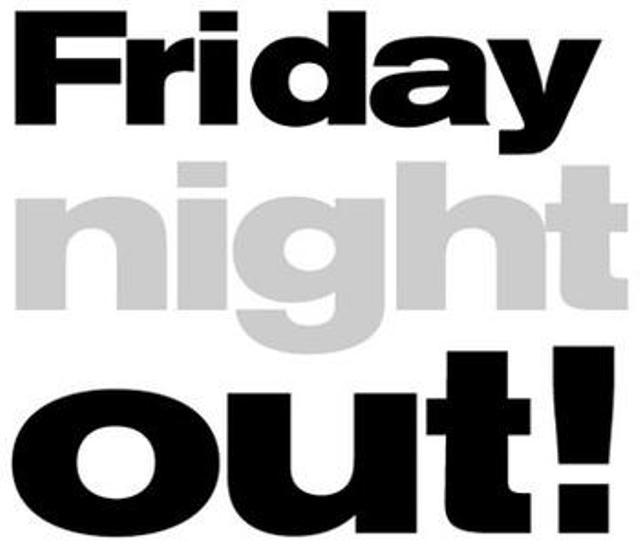 A tough week has gone by and you just cannot wait for a fulfilled Friday that is just round the corner. Probably there is a great party or that big date that you have been waiting for or the girls wild night out party. There can be a million things to do on a Friday night. But there is always one concern and that is, you have nothing to wear. But you don't need to buy new stuff all the time. The key is assembling your look in a way that stands out and reflects your own personality. Whether you are going uptown or going for a great dinner, attending one of the biggest parties or are out on a romantic date, you are sure to look like a fashionista with these looks. Here are a few coolest fashion tips for your Friday night outs.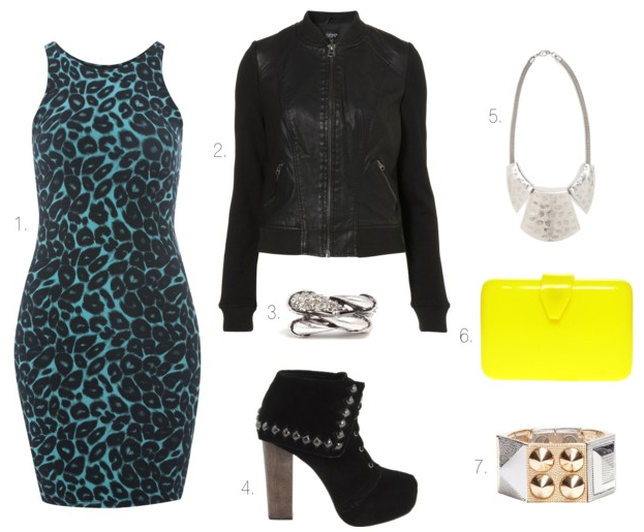 1. The wild look
Start your fun girl's night out with this wild look. You are sure to look fabulous with this blue leopard print dress. This edgy look is sure to draw attention to your wild side. Add an overall appeal by teaming this dress with a stunning black faux leather jacket. Add on some classy and chunky silver jewelry and studded booties. Add a dash of color with a chic clutch in neon. And don't forget that attitude to carry this look.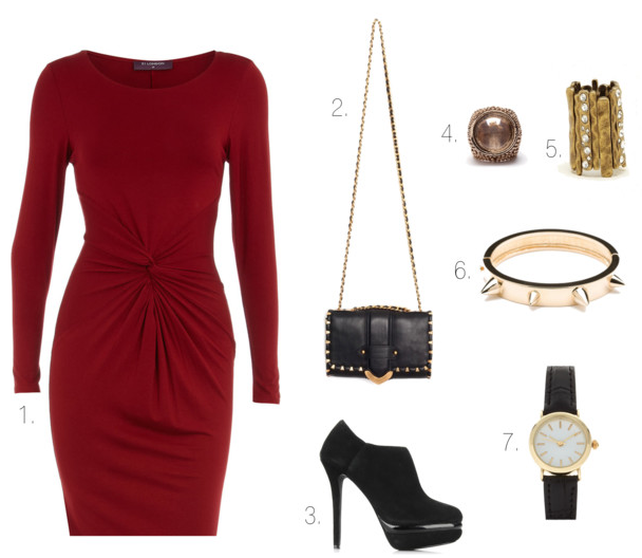 2. For a romantic date
This is a great look to carry if you are going on a romantic date. Nothing stands out like this red stunning body-conscious number. What makes this dress different is that it is all cornered up but still adds that chic and stylish feel. Its twisted front and long sleeves are truly marvellous. This classy look can be enhanced by adding the right accessories. Team this outfit with equally chic jewelry. A beautiful magnifier ring and a gold spiked bracelet will add a little bling without making it look cheesy. You can opt for black or nude platform ankle booties. A chain-strapped handbag will finish this look. Now you are ready for a romantic Friday night out.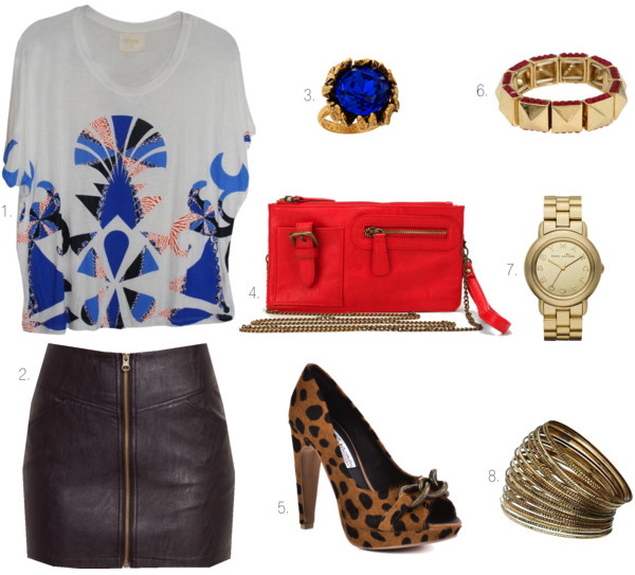 3. Casual and fun look
This is a perfect look for the fun girl. Add a cool, fun and bold look that perfectly reflects your personality. Try a bold printed crop top and team it up with a zip-front leather skirt. Raise the fun factor with a great pair of spot-on leopard heels. A classy bright red chain strap handbag will play perfectly with both the prints. Pull the whole look together by adding a beautiful water lily ring, gold and silver bangles and a pyramid bracelet. A classy gold watch will give this look a polished effect.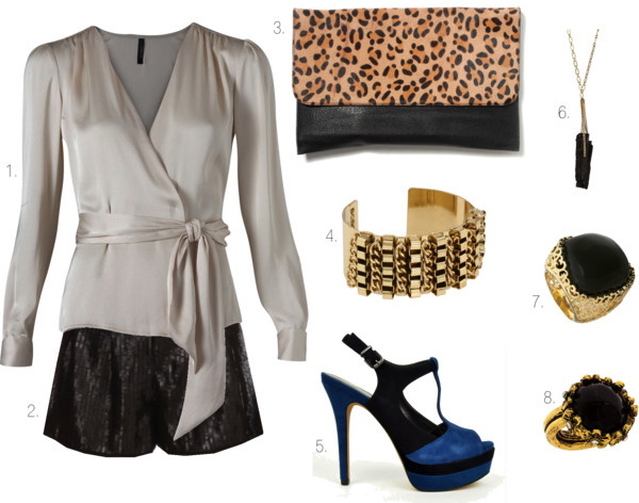 4. Smart and classy
This is a young, smart and classy look. These comfortable and loose black sequin shorts and a white wrap blouse are perfect for official meetings and parties. They also suit mostly all kinds of night outs in the city. Add sky-high blue and black platforms and a leopard print clutch for extra oomph. Add in some great chunky gold jewelry to complete the look.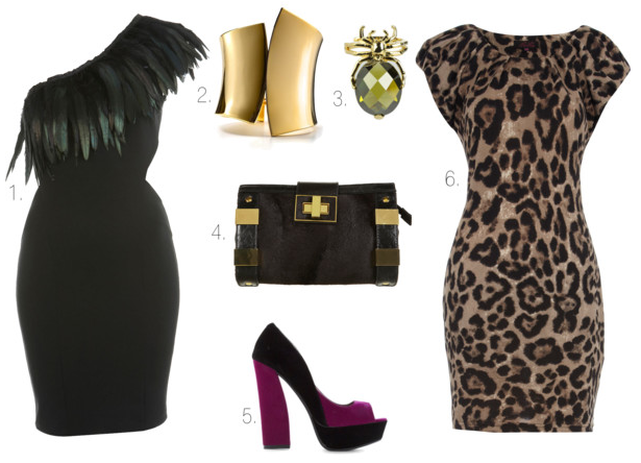 5. Be glamorous
If you want to add that glam factor to your wardrobe or want to spice up the existing wardrobe, try this sleek leopard print mini or a one shoulder black dress with feather detailing. Both the dresses are sure to bring out your inner fashionista. Add the trend of the season by teaming either of the dresses with a color-blocked platform. Add a bold, gold cuff and a crystal critter ring to complete this look. A simple gold embellished black clutch is the perfect accessory for a glamorous night out.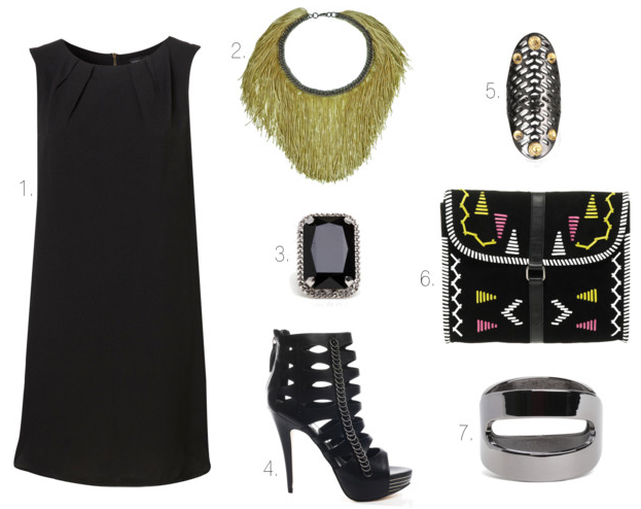 6. The bold tribal look
This tribe inspired look is truly for the bold. This look is sure to grab some eyeballs. These tribe inspired accessories truly lift this plain black dress. The fringe necklace itself will elevate the entire look. To finish the ensemble, add a cocktail ring on each hand and a cutout cuff. Accessorize with a black tribe motif clutch and chic zip-up and chain-embellished cage heels.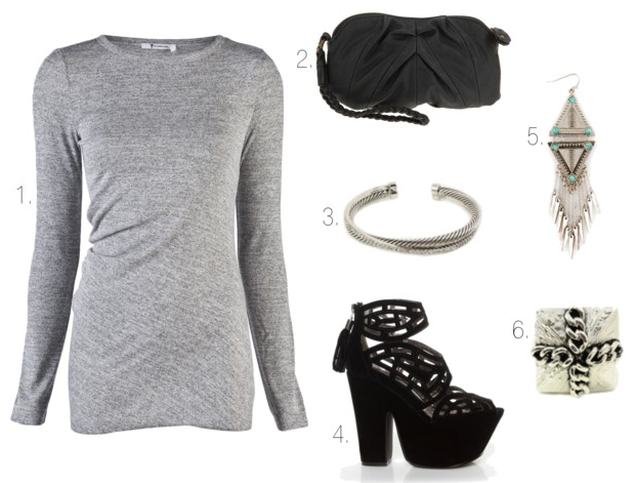 7. Simple is beautiful
This look is great if going for a casual dinner, to a movie or a fun party with friends. The long-sleeved jersey mini dress, though simple, looks amazingly sexy when worn. Pair it with black sky high platforms. Keep this look simple yet chic by adding a basic but stylish black clutch and a few subdued silver accessories. If the weather forecast predicts lower temperature you can even wear thick tights and a scarf. Add a long coat to help stylize and winterize this look. Add silver or a black belt it you want to accentuate your curves.