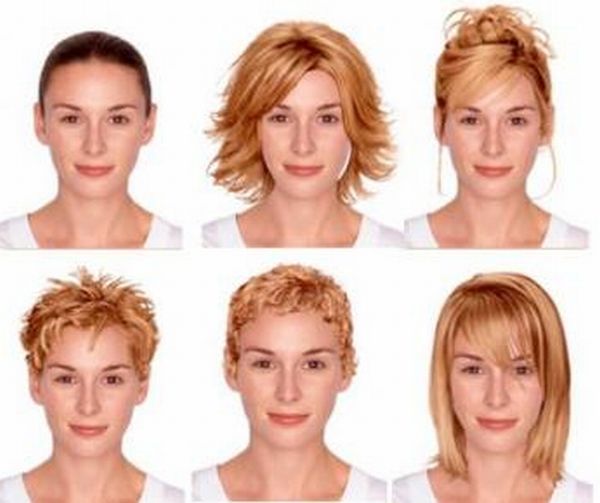 Hairstyles are very important if you want to get a desired look. There are numerous ways in which you can style your hair. But most of the times, we can see many people sporting an inappropriate hairstyle that may not be suitable to their face. This will spoil the whole look of the person. In order to avoid such situations, it is better to first consider the shape of your face and then choose a matching hairstyle. Given below are 8 fall hairstyles according to face shapes.
1. Heart shape face do's
If you have a heart shape face similar to Reese Witherspoon, you have to reduce the width of your face. The best way to do this is to have long hair past your shoulders. Include bangs or you can also have bobbed hair with bangs just below your chin. Both these types of hairstyles are great for women who have heart shaped face. Blonde hair with low lowlights and highlights or an ultra bond base is also perfect.
2. Heart shape face dont's
Some may like to have a central parting of the hair. This can make your forehead seem a lot wider. But you can still have a gorgeous look if have long curls. Jennifer Lopez has a central parting that makes her forehead more prominent. But her long curly locks add style to her overall appearance.
2. Round face do's
If you have a round face, you can look impressive with long hair. Most of the blondes have blonde hair without being stripey. The best thing is to sport an ombre hair with two tone locks of hair over your shoulders. The long locks of hair can add some length to your face and make it look more attractive by reducing the roundness of your face.
3. Round shape dont's
Short hairstyles are not meant for the round faced people. They may make your face look smaller and rounded. You need to choose different kinds of hairstyles by giving more importance to different angles and structures. If you need to get a crop for the fall, get a design that helps you to be sleek around your ears and a long side sweep. The roundness of your face can be greatly reduced.
4. Square do's
If you have a square face like Jennifer Aniston, you need to be very careful about the edges. Have the edges of the hair cur rounded and soft. Short angles round your face will help you to frame your face in a nice way. Layers are also a good option because they can make a feel of roundness on your face. For a trendy fall hairstyle, choose red.
5. Square don't's
There are certain hairstyles that look good on any kind of shape. For example, long and blunt bangs can emphasize the squareness of your jaws. You can follow this style if you have a square face and want to bring in some fringe. Side swept hairstyles add to the softness. Recreate the masculine hairstyle trend as seen on the runway if you want to take advantage of your facial shape.
7. Oval shape do's
The best thing about oval facial shape is that most of the hairstyle work better. Whether it is long, short or medium a number of styles can be chosen by oval shaped face. One of the best styles for the oval shapes women is the fun pixie and short hairstyle like Halle Berry.
8. Oval don't's
If you have an oval face, the hairstyle that may not suit your face is the thick and heavy bang. This could easily smother your diminutive facial shape. Your face may look too long and open without fringe. Try for a half down or half up hairstyle if you want to look gorgeous and have a flattering face.
If you are not able to deice your facial shape, take the help of your professional at the salon. She may be able to tell the exact shape of your face. At the same time, she will also choose a particular hairstyle according to your facial shape. You can also refer to style and fashion magazines and gather more information on the hairstyles suited for facial shapes. You can also come to know about various celebrities who share the shape with you. See what kind of hairstyle they have and try to imitate it. If you are happy with the effect you can continue it for a while until you find a new hairstyle according to your facial shape.