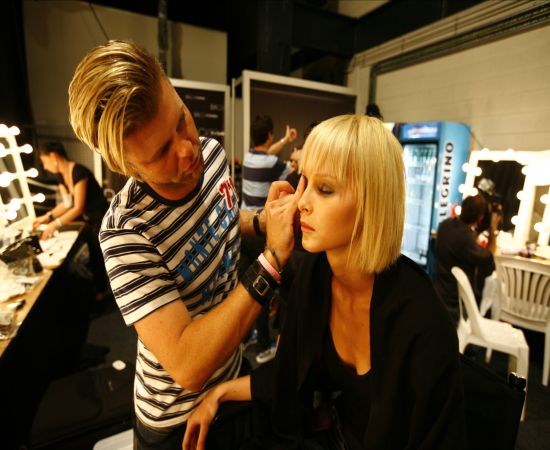 Looking beautiful is not just about good genes. It is also about right makeup and right maintenance. The celebrities we see on the red carpet look gorgeous not just due to their natural good looks. It is because they have actually mastered the art of looking good by using the right kind of make up. Here we share with you secrets of some of the most renowned make up artists, who work for celebrities and who have perfected the art of highlighting the best and covering the not so best features.

1. Tip for perfect eyeliner:
Genevieve is a famous make up artist with all kinds of celebrities on her client list at some point of time. Genevieve suggests that rather than applying eyeliner on the eyelid in one stroke, small dots should be applied on the eyelid first. This will help in defining your eyelids and will also prevent any kind of smudging. For best results, you must use a Q-tip and blend the spots well into a line. This will define your eyes without smudging or spoiling your eyelids.
2. Tip for perfect concealer:
Remember the beautiful face of Gwyneth Paltrow in View from the Peak and other films as well? If you want the same flawless effect, then pay heed to what Pati Dubroff has to say while applying the concealer. Well known for having Paltrow and Kate Bosworth as clients, Pati shares the secret of the right style of applying concealer. Choose a concealer 2-3 shades lighter than your natural skin tone. If you have eye bags, apply concealer there directly and blend well. Now you can use primer or foundation.
3. Tip for perfectly arched eyebrows:
The beauty of Nicole Kidman is ravishing and how can one forget those arched looks of the blond beauty. If you want the same arched eyebrows, then listen to what Angela Levin has to say. Levin is the makeup artist for Kidman among other celebrities. Pencil your eyebrows first and then use a highlighter above and below the eyebrow. Use a flat eye shadow brush for best results.
4. Tip for perfectly natural blush:
Mullholand is known as a makeup artist who knows how to use natural-looking make up for the best possible effect. If you want to have that healthy glow on your cheeks, always use a large blush brush and apply a shade that compliments your natural complexion well. Apply a tiny amount of pigment on the apples of your cheeks and blend it well, giving upward strokes for a couple of minutes. It will bring a beautiful glow to your face.
5. Tips for perfectly plump lips:
Linda Cantello, a well-known make up artist says that for bringing out that perfect pout use a lip liner to draw a fine line below the mid section of the bottom lip. Now apply your favorite shade to fill up the lips and voila, see that perfect pout which peeps through the pigment of your lips.