We all know and love her from her hit show at Disney-'The Wizards of Waverley Place', today she has an acting and singing career to boast of. Miley Cyrus isn't the only Disney star who got a shocking makeover; Selena Gomez was spotted at the Versace 2014 show at the front row. The star, who last appeared in the film Spring Breakers, was wearing a revealing Versace dress with dark lipstick. Selena is a big fan of the fashion brand and even wore a Versace gown at the Video Music Awards, held on 8th August, 2013. So obviously, she had to attend their latest show at the Milan Fashion Week. She had also posted a picture of herself with designer Donatella Versace on Instagram enjoying some white wine. She even went on a shopping spree while in Milan and stopped by the Versace store.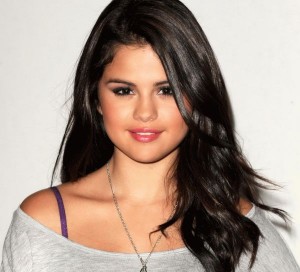 Selena's Darker Side:
Versace is known for their bad ass image which was shown in their latest designs. Their latest collection was inspired by the biker chick/rock chick look that incorporated chains on the dresses, there were also bra tops, pencil skirts completed with leather jackets. The colors of choice were black, white and pastels. For their more casual look, there was plenty of denim, leather shorts, low slung pants and muscle tees. Selena Gomez looked like she belonged on the runway by with the Versace number that she wore to show, she went for a full Goth look and even left her hair in a messy bun in order to strike a balance between rebel and Glam-Chic.
The Versace 2014 show had Nine Inch Nails playing in the background to add drama to the show, and for the finale Drake's Song, aptly named 'Versace. Front row guests included Leigh Lezark and Selena Gomez who stunned in a black dress by Versace. The show ended with designer Donatella Versace herself taking to the runway, looking quite rebellious in skin tight black leather pants and a rocker tee.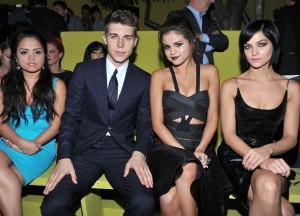 Selena Gomez is currently on the European tour of her tour 'Stars Dance' to attend the Versace 2014 fashion show. She has been keeping her fans updated by Tweeting pictures of herself about her whereabouts in Europe. She stunned everyone by wearing a gorgeous black dress to the Versace fashion show. Usually the "Come Out and Get It" singer would wear something that is sophisticated and glamorous, but ditched her usual look for a more gothic look that she completed with dark bold lipstick and plenty of eyeliner for an even more dramatic look.