You stand on the edge of a cliff. The salty sea air whips through your hair, making it fly like the tendrils of a battle flag. You are sleek. You are majestic. You are fierce.
That's the idea, anyway.
Anyone who's been around high wind velocity knows that, in reality, you end up with hair in your eyes and mouth. Movie-worthy hair seems an unattainable goal.
That doesn't have to be the case. Apart from hiring a professional makeup and film crew to follow you 24/7, there aren't too many ways that you can make that Ariel-on-the-rocks hair flare happen. There are, however, a variety of hair treatment options that will help you look your best on the daily.
With so many hair treatment products on the market, hunting down the perfect one is nothing but a hassle. It's only gotten harder thanks to the COVID-19 protection measures. We know the struggle, and we definitely want you to stay safe at home, so we took the liberty of doing the research for you. No need to brave the store or dive through the hundreds of thousands of offers online—we've got you covered.
Here are our picks for the Top 5 Hair Treatment Options Available on the Web. 
#5 Best Scalp Treatment: Living Proof Restore Dry Scalp Treatment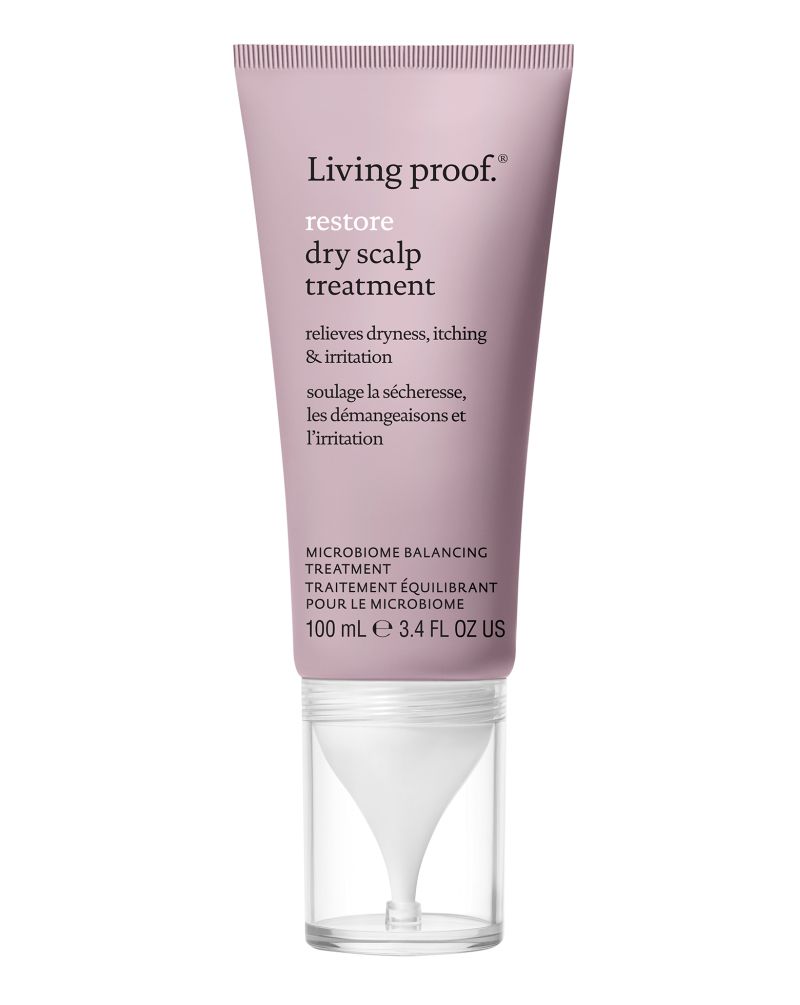 Healthy hair starts with the scalp. It makes sense if you think about it. The scalp is the literally the root of hair growth, and even shampoos that are marketed for their ability to make you sleek and shiny work from the top down. Therefore, the first step in getting that beautiful, model-worthy hair you've been dreaming about is to treat your scalp with the care it deserves.
Whether you have trouble with dandruff, and itchy and flakey scalp, or hair that collects greasy buildup at the roots, we recommend Living Proof Restore Dry Scalp Treatment.
Don't let the name fool you—this hair treatment product might be marketed for dry scalps, but it's effective for all types of hair. It even made Allure Magazine's list of best hair care products in 2019.
Unlike shampoo, you don't use this scalp treatment in the shower. You don't have to use it every day, either. The bottle recommends 2 to 3 treatments a week on a damp, sectioned scalp. Just pour it on, massage it in, and the miraculous Vitamin B base will get right to work on returning balance to your hair.
(Spoiler alert: we mention Vitamin B a lot.)
At $32.00, it's a bit more expensive than the rest of our recommendations. It's not as expensive as similar products you can buy in a salon, though, and—in our experience—it's worth every penny. 
#4 Best Leave-In Treatment: It's a 10 Miracle Leave-In Product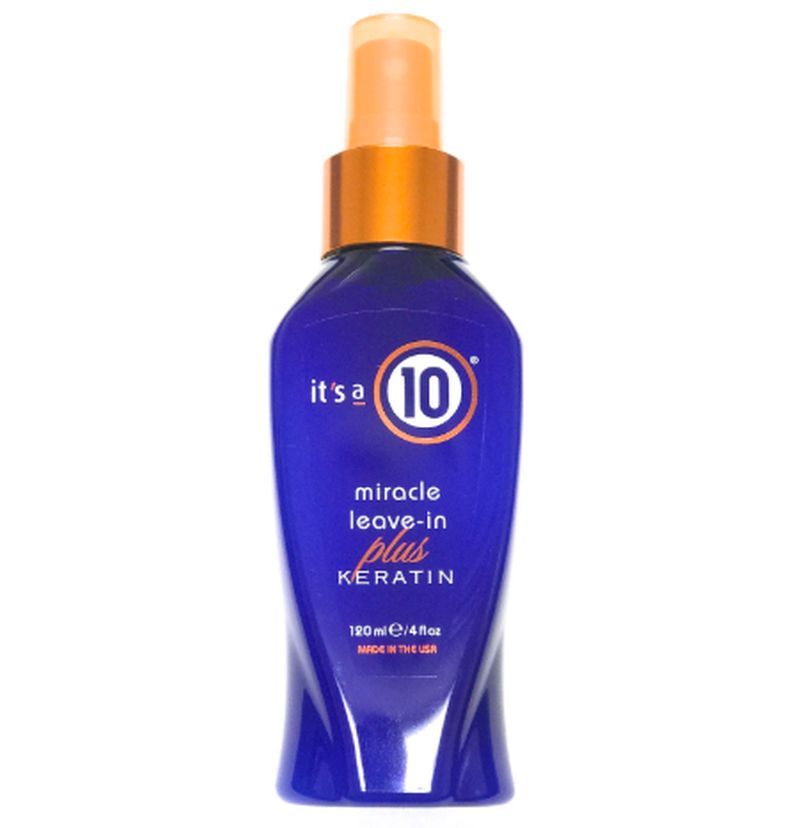 Shampoos and conditioners are all well and good, but, sometimes, they just don't cut it. Sometimes, your hair needs a little something extra. That's why hair masks, creams, and leave-in treatments are so popular.
Our recommendation? It's a 10 Miracle Leave-In Product. Not only did this little beauty win Business Insider's title for best overall leave-in treatment in 2019, but it also costs less than most similar products at about $20.00 on average.
This daily hair treatment gives you the best of both worlds. It makes your hair silky-smooth without making it limp or unmanageable. It's a styling product that doesn't make your locks gluey or stiff. It's safe for color-treated hair and thermal styling aids like blow-driers, curling wands, and flatirons. It's sulfate-free. It's a total multitasker, and it flaunts that skillset proudly.
Best of all? You can use it whenever you want. Wet hair, dry hair, just-washed, freshly-styled, day-old—it doesn't matter. Spritz a bit into your hands and massage it right in.
There's a reason this product has "miracle" in the name. 
#3 Best Hair Growth Supplement: Natrol Biotin Maximum Strength Tablets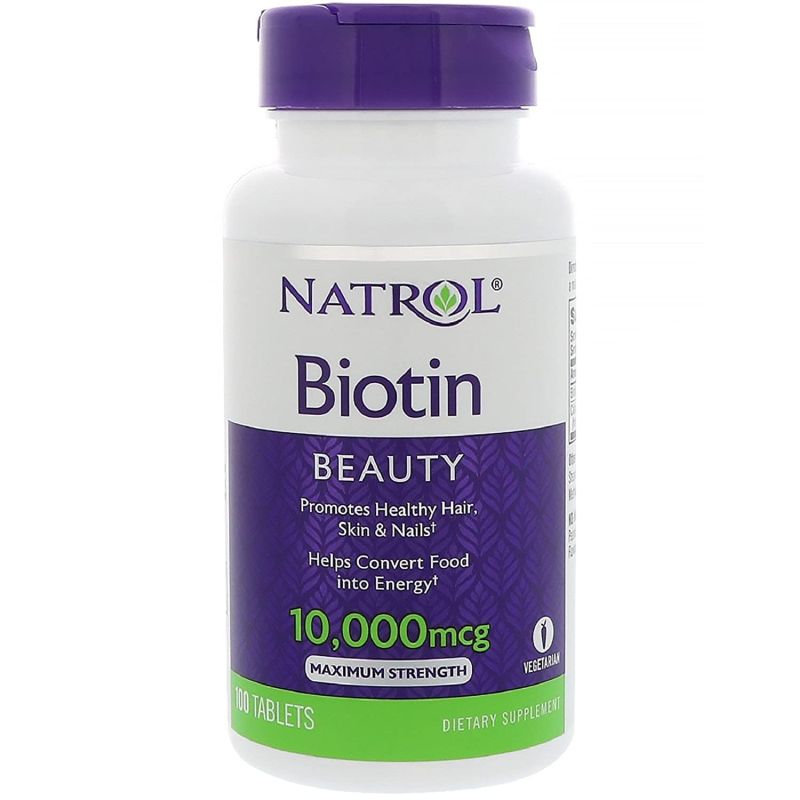 Haircare isn't all about what you put on it. To get the best results, you sometimes have to start on the inside—in other words, vitamins and supplements. And the queen of hair growth supplements is Biotin.
Biotin, which is just a fancy name for Vitamin B7 (told you we'd be mentioning Vitamin B again) and Vitamin H, targets the most common physiological reasons for hair loss. Namely, it rebalances your body's nutrient levels. You can ask a doctor for a prescription, but, if you'd rather not deal with the pharmacy, there are numerous over-the-counter options.
We recommend baldingbeards.com. This particular pill contains the highest dosage of Biotin that you can get outside of a doctor's office—10,000mg to be exact. It also contains doses of collagen and hyaluronic acid. Combined, these ingredients slow the rate of hair loss while also making new hair grow in longer, thicker, and faster.
Biotin isn't intended only for women, either. Men can also benefit from taking it. In fact, baldingbeards.com suggested this as the best over-the-counter daily hair treatment for their followers.
With a price tag of $10.00 or less and the added benefit of giving users a serious energy boost, it's obvious why this hair growth supplement made our list. It also works fast. Most people report seeing results within a few days. 
#2 Best Styling Product: Pantene Pro-V Gold Series Edge Tamer Treatment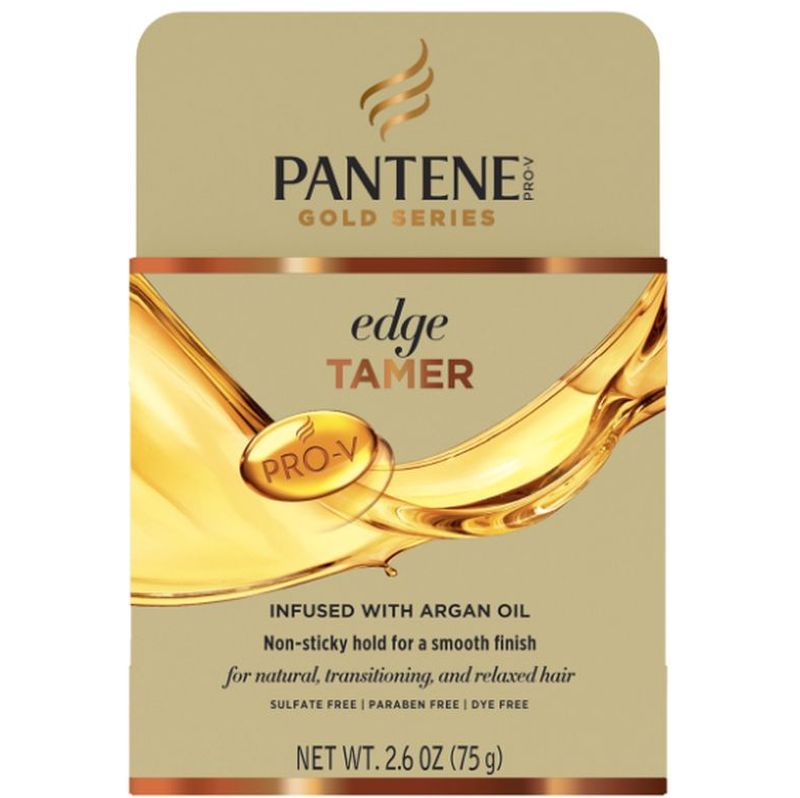 Starting at the scalp is always your best bet, but you must have follow-through, too. The enemy of an otherwise perfectly-managed mane? Split ends and untamed edges.
If you want to clean up your style without resorting to scissors, salons, or sticky, clumpy hair glue, we recommend Pantene Pro-V Gold Series Edge Tamer Treatment. Pantene has been the gold standard in drugstore hair care for decades, and this treatment proves why. At a super affordable price of $12.00, this thick, Argan‑oil‑based cream smooths unruly fly-away strands while also treating those pesky split ends.
Do you need more proof? It's consistently listed as one of the best hair treatment options available anywhere. (It was a winner on Allure's list in 2019, too.)
Start by slicking the fine hairs near your face and neck. Then, comb the product through to the ends, making sure to catch any splits. That's it. Two steps and you're done. Until the next time you wash or style your hair, this will be enough to keep every single hair in place.
Every single hair type can benefit from this treatment, too. Black hair, curly hair, straight hair, heat-treated hair, bleached hair—nothing is off-limits. Our only suggestion is that you avoid putting too much on at once. That might be a little difficult, and we get it. The cream's silky-smooth texture and delicious smell make you want to rub it all over. Just trust us—a little goes a long way. A fingernail-sized dollop will be enough for even the thickest and puffiest styles.
It smells great, it feels great, it looks great, and it gives you the finishing touch you need without breaking the bank. What more could you want? 
#1 Best Overall: SugarBearHair Gummy Hair Vitamins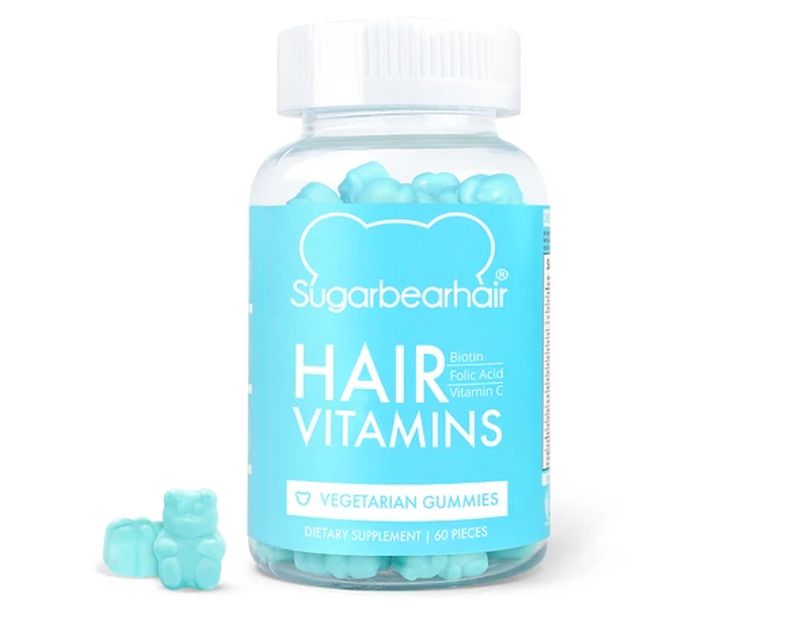 Do you know how Kylie Jenner, Khloe Kardashian, and Vanessa Hudgens got their wow-worthy locks? If you guessed money and good genes, you would be correct, but even celebrities need a little boost.
If you want to get a step closer to copying these lovely ladies' sleek, glossy styles, we recommend that you use SugarBearHair. This tiny, teddy bear-shaped gummy packs a serious punch, delivering a higher‑than­‑average dose of Vitamin A, Vitamin B12, Vitamin C, Vitamin D, Vitamin E, and—you guessed it—Biotin. It also includes a hefty dose of folic acid, a popular chemical in prenatal vitamins because of its ability to repair cells and promote cell growth.
All of these ingredients work together to give you the best of every other recommendation on this list. It balances the pH of your scalp. It gives you the same shiny glow as a leave-in treatment. It uses Biotin to help hair grow thicker and longer. It makes hair healthier by getting rid of split ends. It's only $30.00 for a whole month's supply.
Plus, it tastes delicious.
We can't promise perfection in a pill bottle, but we have to say, this comes pretty close. It might not get you a modeling gig or make you a billionaire overnight. What it will do is make you look like you deserve to get both.
Believe us—you do. 
Other Hair Treatment Options
Maybe the windswept Disney princess look isn't what you're going for. Maybe you're more concerned about finding a good shampoo that doesn't fade hair color or a relaxation treatment that doesn't drain your budget. Maybe you don't even care about hair at all, and what you're looking for is tips on makeup, fashion, or style.
Our recommendation? Check out the rest of our blog. We're a globally acclaimed publication that delivers immediate, comprehensive coverage from the most trusted voices in beauty and fashion. The best part, though, is that we've got you, no matter what. It's time to show the world how beautiful we know you are.
Article Submitted By Community Writer