It was an age of fashion, it was a time of old world charm and bling, it was an awakening of the paparazzi and the glitz, it was the epoch of Hollywood cinema.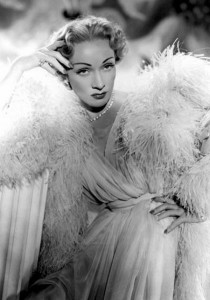 Gone are the days when we could see Gloria Swanson, exclusively dressed by Coco Chanel or Rita Hayworth wowing the front row seats in a Jean Louis' evening gown. We miss the Hitchcock thrillers where Marlene Dietrich would flow down the movie sets in dresses that were designed by the man, Christian Dior himself. Gone are those days!!
It was a time when Hollywood fashion converged with high fashion only to produce something that brought out the best of both worlds. With all the fashionistas of that age, and the equally qualified and glamorous actresses, not to mention their directors, it was a magical time.
Then, how could one miss out on the amazing duo of Audrey Hepburn and the one and only who considered her his muse, Hubert de Givenchy??
They both were an outstanding pair, and Hepburn wore his dresses in about 8 of her films.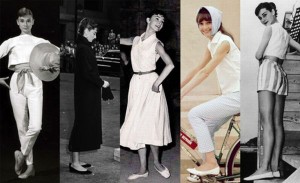 Many characterise the duo's relationship as the perfect match, since Givenchy's cutting-edge geometrical models greatly complemented Hepburn's ballerina physique in Cinderella-themed movies that often involved the transformation of a humble creature into a chic Parisienne, especially in the 'Sabrina'  (1954) and 'Funny Face' (1957) fairytales. The famous LBD (little black dress) is celebrated in both 'Sabrina' and 'Breakfast at Tiffany's' (1961), while Audrey's iconic mandarin collared coat, midi heels, pointed pumps, gloves and cat-eye sunglasses were famously noticed in 'Charade' (1963) among many other of her films.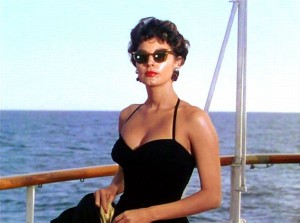 People have argued that any of the old time Hollywood movies have cut scenes that no way contribute to the entire plot of the movie, as in the catwalk of sorts by Ava Gardner in "The Barefoot Contessa" where she walks down and throws down her cover-up to reveal her black one-piece bathing suit. The scene is by nature that of a model walking the walk, but of course, lovers of fashion have argues that it contributes to the aestheticism of the entire plot.
All in all, costumes are something that are inadvertently glued onto a character in a movie. After all, if for nothing else, her dressing sense should imply the characteristic mind working beneath all those layers of clothes and make up.
Here's to a new age where we might see more and more of fashion as well as cinema and the mingling of the two.