This festive season everyone looks their best and part of looking your very best is to have your nails manicured and painted with the latest styles. Nail art and deep colors are the trend this fall 2013 and the brighter the colors are the, the better. Here are some tips on what the latest manicure styles are: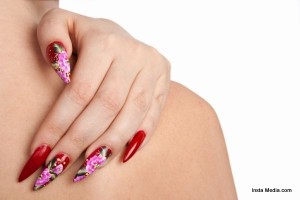 Vibrant colors:
These colors are inspired from the runway; it seems that fall 2013 is still hanging onto the brighter shades that are expected to be seen in summer and there were very little of the beiges, browns that we are used to seeing. The same rule also applies to nail color this fall, think of bright hues the next time you go shopping for nail enamel. These vibrant colors can include the traditional cherry red, deep wines, turquoise, purple, mossy emerald green; orange are some of the colors that are hot this season. The colors can be either glittery or metallic or pastel.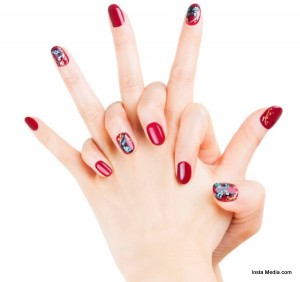 Nail art:
This another manicure trend this fall; although you might think that it is too much to wear bright colored nail polish with rhinestones and glitter on them, this is the trend right now. Nail art is the application of additional accessories and images or print patterns on the nail directly on top of the nail color. Paint your nails a bright yellow and then add those tiny little stones on your nails or stamp on a pattern, get creative this Christmas and paint a little bauble or Christmas tree to celebrate this festive season.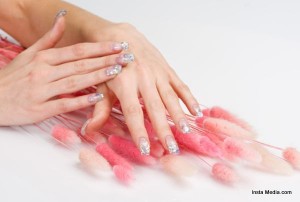 Conventional colors:
If you think that bold colors are not your thing, then there are conventional colors that can be worn like a deep wine red with a hint of metallic. For a more subtle look, you can try a light sprinkling of silver glitter on clear nail polish but just at the tip that look like a metallic version of the French manicure. Try this similar manicure with gold glitter on grey nail polish. Conventional manicures like the half moon method have been given an edgier make over with colors that contrast each other like black and beige or silver and nude.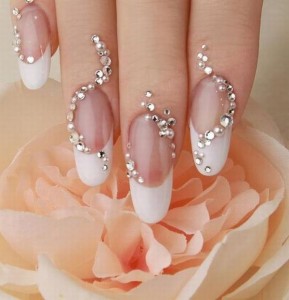 Patterns:
Either create your own patterns or get them printed onto your nails, you can paint one half of your nails in nude or beige lengthwise and the other half can be a wild patterns like squiggly line or polka dots.