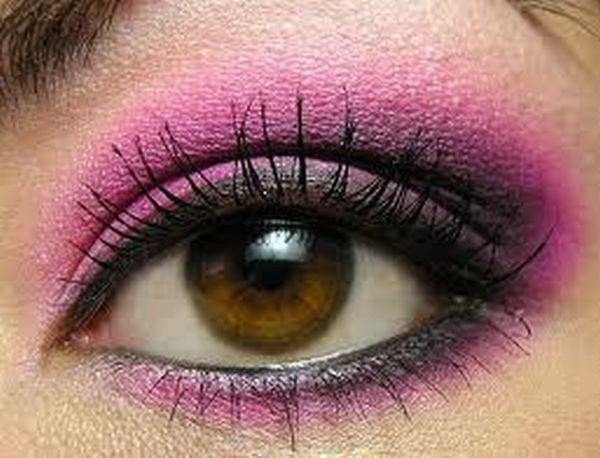 Sparkling eyes.. beautiful girls of town prefer to wear sparkles. It's a great look when you are hitting the clubs or just want to party with friends. With the comeback of a culture of retro looks, glitters have gained much popularity as an evening eye makeup. This is the way to look sexy and glamorous too. Glitter make up is a sparkly glitter powder which comes in a loose powder form. And what you need to know more about glitter make up is the proper technique to get it to stay for long without sparkly fall out.
Complexity level: Easy
Time required: 10 to 15 minutes
Resources required:
1. Eye primers like gel or Vaseline
2. Eye shadow brushes
3. Eye shadow and liner
4. Mascara
5. Water
6. Loose glitter
Instructions
1. Eye primers like, gel or Vaseline
Primers are the must have elements of a makeup kit. Putting an eye primer as a base on your eyes is the first step to save your glittered eye makeup for long. After this, you can safely apply anything like eye shadow, liner or mascara. This helps you to keep your shadow and liner from running and smudging, moreover it will also help to keep your eyes away from getting creased. The eye lids with a protective layer practically absorb the make up and secure its long lasting effects. Apply it to your eyes and wait until it dries completely because after that you will have a free hand to put on the eye shadow and liner.
2. Eye shadow brushes
You require both thin and big brushes for this make up. You can use a thin brush to make an outline, and a bigger on to fill in. By giving an outline, you can make a better space for filling. Moreover, it will go accurate and in a symmetry. To give a balance shape to the eyes and as well as to the glitter you will use, it is needed. You can take the eye brush from MAC, The 239: Eye Shading Brush or Mac 224 Tapered Blending Brush.
3. Eye shadow and liner
Glittering look to your eyes can be turned more attractive, if you apply both: eye shadow and liner. The best way to apply eyeliner is to start from the corner and then proceed towards the inner one. This will secure the entire application for this makeup. you should prefer a pencil rather than using liquid eyeliner. The first coat will draw the line and will help in the perfect coverage to preserve the liner. And the second will save it from getting melted. Using these two can actually help in achieving desired results.
4. A coat of Mascara
A coat of Mascara Top your look with a tint of mascara to get dazzling and curly lashes. After completing your eye shadow look, give a mascara treatment to your eyes. Glitter looks good with eyeliner and mascara together. But what you need to take care of is that your eye shadow and the color of the glitter must match well. In fact, the easiest colors to match are gold, silver, black and pink. You should choose bright colors and make sure it goes well with the glitter. Curl lashes and apply three layers of black mascara from top to bottom and let it dry as black is an exciting color to spice it up
5. Water
Just dampen your eye shadow brush with water and then dip it into the glitter powder. This is the last step to make your eyes ready for a glittered make up.
6. Apply glitter
Now, the surface is wet and perfect to apply the glitter of your choice. Pick some glitter powder with a slightly damped brush and press it against the lid. This wet surface will help the glitters to stay in place. Glitter particles should transfer to the eye shadow and must stay firm to stick on the place you desire to. The glitter particles can be easily cleaned up with scotch tape. And if you have got it stick at the place where you don't want it then a piece of tape will set it right. This will work better, even if you want more precise shape without ruining the rest of your eye makeup. Now, just leave the glitter to dry in place which will take few seconds only.
Frequently asked questions
What kind of mascaras one can buy, if one has sensitive eyes?
People with sensitive eyes may not be able to wear eye glitter.so, its better to go for a skin patch test before using it. And also make sure that the glitter which you are using is made for eyes only.
Things to watch out for
1. Clean your eyes with makeup remover or cold cream before you begin, to remove any leftover and then start this application.
Quick Tips
1. You can clean up glitter messes by using a stripe of clear tape so as to get a precise shape. This can help in removing the mascara which got spread on unwanted place.