Lipsticks accentuate your appearance. With sexy pouts, you can look super chic and attractive. Lipstick is an integral part of your makeup. The smooth and juicy shades not only look glamorous but also contribute in enhancing your looks. Clinique is one of the best known names in cosmetics. They offer interesting and gorgeous lipstick shades that goes well with almost every complexion. So, if you're ready to be a femme fatal with a Clinique Lipstick; we have collected 7 best  shades to provide you with that killer pout.
Dark or Light Lipstick-Which to go for?
These days, with technology and diverse fashion trends, there are different varieties of lipstick colors available. This makes it really quite hard to choose the perfect lipstick color. The best way to get the right color is to try and try again. Everyone is different and everyone has so many different variables to consider.
How to choose the right color lipstick?
You can make your choice easier if you consider on what you want your lipstick to do whether you need your lipstick to act as a moisturizer or you want to make your lip bigger or smaller or you want your lips to look natural. You need to look at the texture matte, sheer, cream, gloss, iridescent or a combination of any of these. Next, consider the shade whether to go for light, medium or dark. It is really up to you as to what you prefer, but think about these factors when deciding.
Dark lipstick will make lips look thinner.
Light lipstick will make lips look larger and gloss will add more dimensions, making lips appear fuller. In saying that, if you have a darker complexion, stay away from light shades, it will just look out of place and unnatural.
To find a neutral color, one that will look totally natural and give you a no makeup look, choose a lipstick color that is the same color as your lips but a shade or two darker.
Tips to keep in mind
Notice what colors appear in your lips naturally and look for something to match. If your skin has a pink undertone, stick to lipstick colors that have a cool base i.e. blue based pinks, mauves and reds. If your skin has a yellow or olive undertone, go for lipstick colors with a warmer base, such as warm browns, orange-based reds, bronzes or warm pinks. A good way to see how the color works with your skin tone is to apply it to the inside of your wrist. This area is usually a true indication of your skin tone because it hasn't been exposed to the sun.
And last but not least, consider your own personality.  Select and wear what makes you feel comfortable and confident.
1. Clinique Twilight Nude lipstick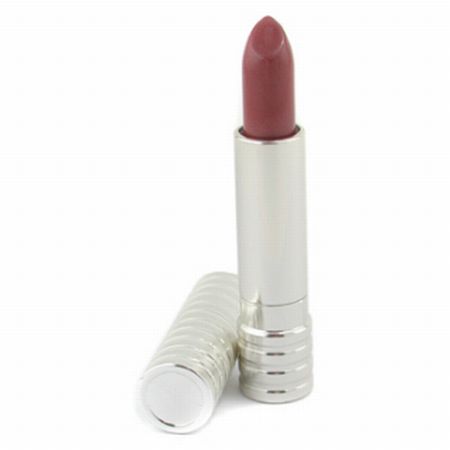 Clinique Twilight Nude lipstick inspired by the movie ˜Twilight happens to be a gorgeous shade. It's a stunning shade of pinkish brown that offers a very subtle and gentle hue. Moreover, it's a long-wearing lipstick that stays on your lips for hours.
USP
This shade by Clinique is a long lasting lip color that keeps your lips moisturized through out the wear.
PROS
It has a long lasting color.
2. Clinique Long Last Soft Shine Lipstick Golden Brandy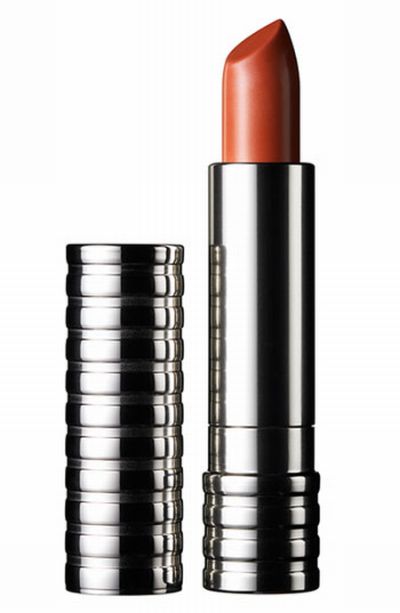 Flaunt that ultra gorgeous pout with the help of Long Last Soft Shine Golden Brandy shade by Clinique. It offers a matte look with a tinge of shimmer that makes it really exciting. Its long-wearing formula keeps it on your lips for hours, avoiding the need of applying it over and over again. In addition, it provides a moderate coverage that won't just feather, stain, creep or dry out.
USP
It is a long lasting lip color that doesn't dry out and provides your lips with a soft shine.
PROS
This lipstick is easy to use.
It has flattering smooth shade.
3. Clinique Colour Surge Butter Shine Lipstick Pink Goddess
Pamper your lips with the creamy and rich texture of Colour Surge Butter Shine lipstick. This lipstick comes in many enticing shades, but its Pink Goddess shade is simply fabulous. Its revolutionary gel formula delivers the shine of a gloss and the splendor of a lipstick. Furthermore, it keeps your lips moist and provides you with a rich color that smoothly glides on your lips.
USP
This lipstick comes with a revolutionary gel formula that plays the role of both, lip gloss and color.
PROS
The lipstick has smooth and rich texture.
4. Clinique 'Black Honey' Almost Lipstick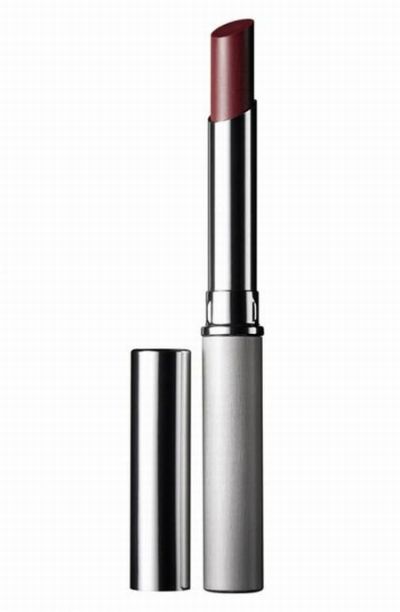 Sizzle in sheer, glossy slip of lightweight lip color in Clinique's exclusive Black Honey shade. It is a fabulous, universally flattering lip color that suits every skin tone. The emollient rich formula provides the wearer with a sleek, moist finish keeping their lips nourished. Clinique's Black Honey shade has also been the winner of Elle magazine's Hall of Fame for Best Beauty Products.
USP
This lipstick is enriched with emollient rich formula that helps keeping your lips moist and shiny.
PROS
The lipstick is non sticky.
It possesses a rich, creamy texture.
5. Clinique Colour Surge Butter Shine Lipstick Water Violet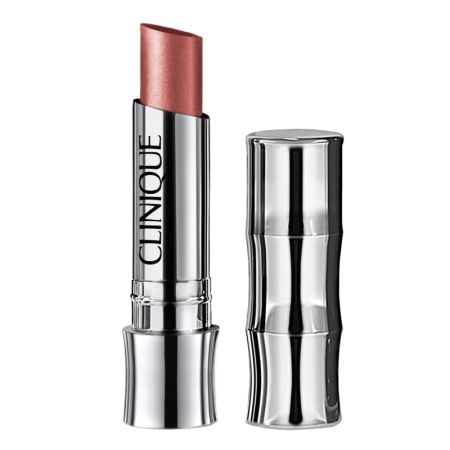 Butter Shine lipstick in Water Violet is an amazing shade by Clinique. It is the perfect lip color that isn't too bright or too neutral. This lipstick has a striking hue with the right amount of shimmer. Moreover, it runs smoothly on your lips and its creamy, buttery texture moistens them. Moreover, it stays for longer hours and doesn't even dry out easily.
USP
This lipstick holds a buttery and creamy texture that lasts long and hydrates the lips.
PROS
It has a lip smacking hue that is rich, creamy and buttery in texture.
6. Clinique Long Last Lipstick Blushing Nude Soft Shine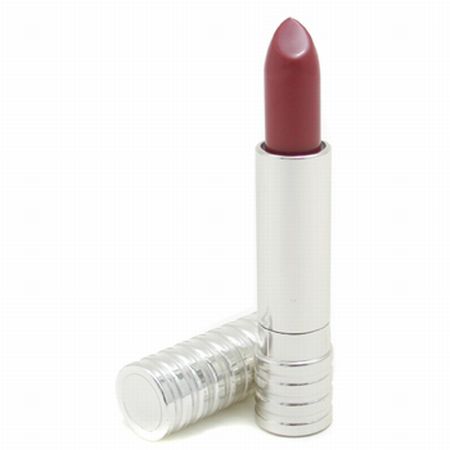 With Clinique's long last Blushing Nude Soft Shine lipstick, you're surely going to look ravishing. This long wearing lip color offers a high colorless shine with matte radiance. Besides, it keeps your lips moist for hours that help in maximum color intensity. It instantly creates a fuller, juicy look that lasts up to six hours.
USP
This lipstick comes with SPF 15 that protects your lips from harsh rays of sun.
PROS
This lip color is hundred percent fragrance free and allergy tested.
It offers medium to high coverage.
7. Clinique Colour Surge Butter Shine Lipstick Berry Blush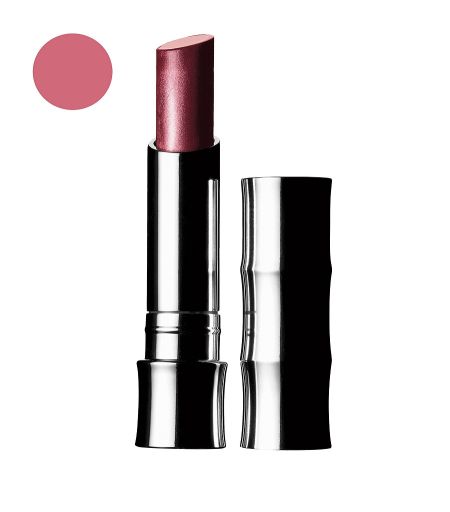 Drench your lips in the creamiest, richest and smoothest lip color ever. Clinique Colour Surge Butter Shine Berry Blush offers a deep, intense shade that makes you look like a diva. It is made by a revolutionary gel formula that makes the lipstick shine and glow beautifully. With its buttery, creamy texture, this lipstick is completely irresistible.
USP
Butter Shine Berry Blush has a deep, intense shade that compliments almost every complexion, making you look delightfully beautiful.
PROS
This lipstick is allergy tested.
It is 100 % fragrance free.
It comes in a 4g tube.