No time for make-up for after office Christmas party? Imagine, you just have to get ready in 5 minutes? Well, many girls think that they need to be pro in makeup to get ready in such a less time. That is not at all true. You should know certain makeup tricks that will help you get ready on time. Also, these tricks are useful, practical and give you flawless makeup look without wasting too much time. While going to the office, you need to carry certain makeup products that will help you do your makeup without much effort.
Here is the list of makeups that you need to get ready in 5 minutes:
1.     Facial Mist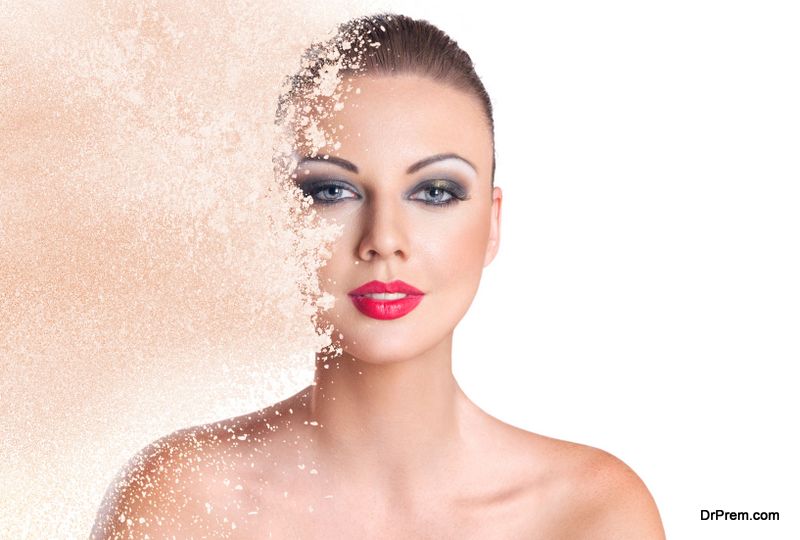 Office work can make you look dull, pale and tired. With that face you cannot go to any party. Hence, you need a good quality facial mist. The work of a facial mist is to brighten up your face instantly. It will make your skin hydrated, and all the tiredness will go automatically. The facial mist is made of minerals and rainwater. Just a few sprays on your face and neck and you are ready with a prep skin. Some facial mists also reduce redness and irritations. It is one of the popular beauty hacks that you should follow whenever your skin feels tired from inside. It also givesa shiny glow to your face.
2.     Kajal or Kohl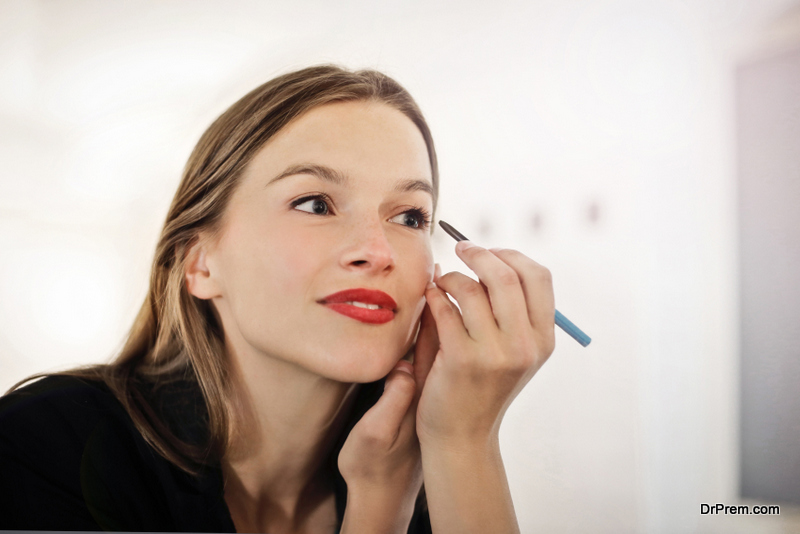 Eyes are something which catches the tiredness very fast. To hide those grumpy eyes, you should have a kajal or Kohl of intense black color. Well, a smudge-proof, water-resistant kajal define your eyes well. Also, use a kajal, which is smooth and has Vitamin-E in it. Choose organic and cruelty-free kajal for your eyes. Vegan Kohl does not give any irritation on eyes. The good thing about keeping a kajal is that you can draw the line on upper eyelid to complete your eyeliner look. You do not have to carry extra eyeliner for this purpose.
3.     Mascara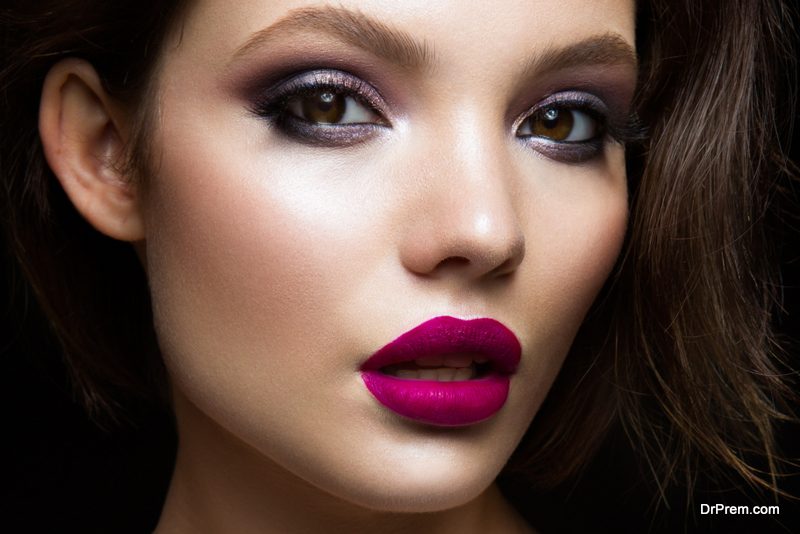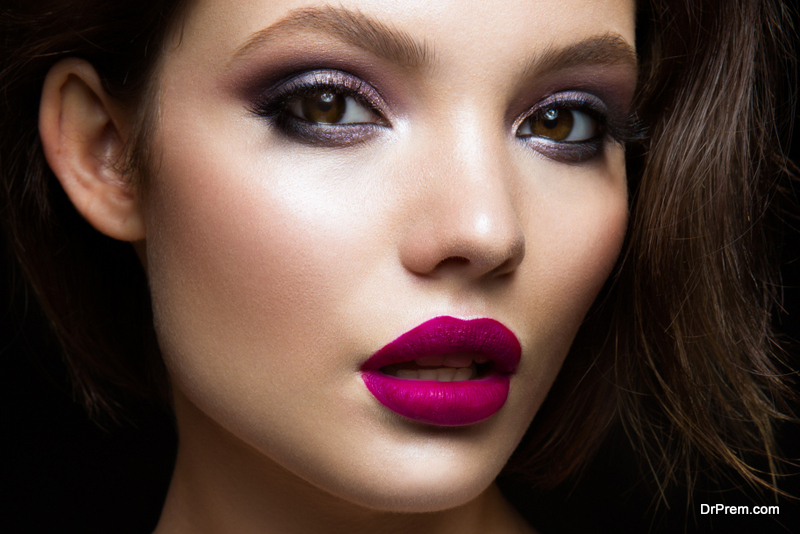 Eyelashes are something that needs a little definition while you go for a party. To achieve those healthy-looking eyelashes, apply two to three coats of voluminous mascara. Trust me, applying kajal and mascara will help you speak through your eyes. It will take away all the after-office tiredness and make you instantly ready for a party. Whatever outfit you wear, eye makes with mascara and Kajal will never go wrong. If you want to go little bold, then you can opt for color mascara for that night party look. So, it is yet another trick to get ready in 5 minutes.
4.     Glow on the face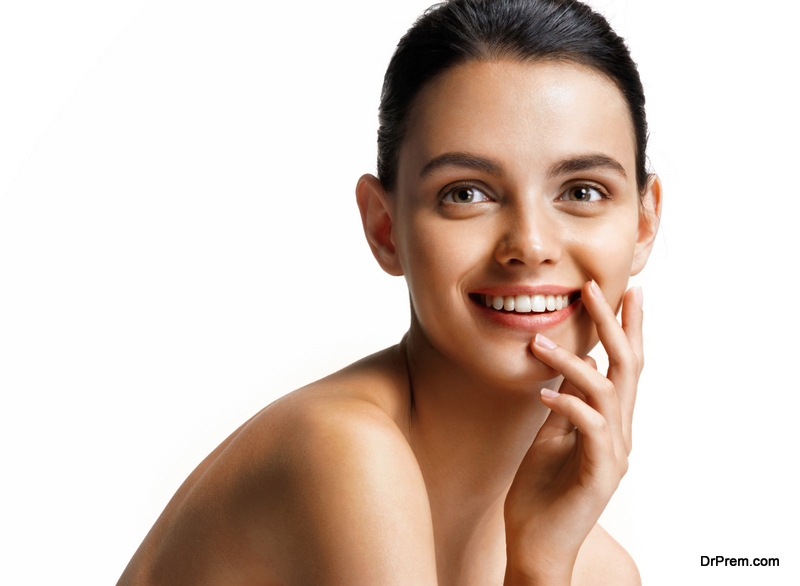 For a complete party makeover, do not forget to get the glow on the face. A contour highlight palette does all the job. If you do not want to carry foundation, compact and highlighter, then this contour kit is the ultimate solution. Use a brush to contour the face and jawline. It gives a good sculpt to your face. Highlight your face on the high points of your face. It will instantly glow your face. Highlighter easily blends in your face and give that dewy finish.
5.     Lipstick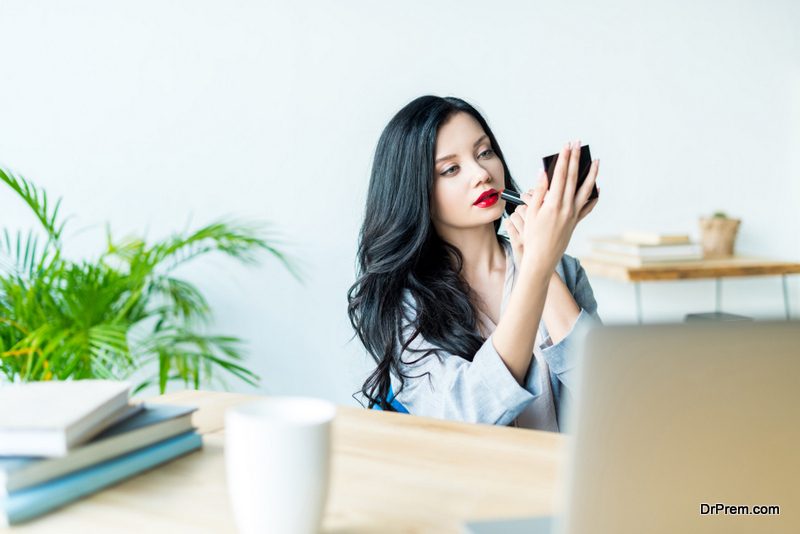 If you are someone who does not love too much drama in the eyes, then lips are your choice. Whether you choose matte lipstick, liquid lip gloss, creamy lipstick, you need a nice creamy matte lipstick in a bold color to spice up the look. If you are adding color to your eyes, then opt for a nude lipstick to tone down the makeup. A good quality lipstick is always a woman's best friend. So, do not forget to carry your favorite lipstick in your favorite shade.
6.     Blush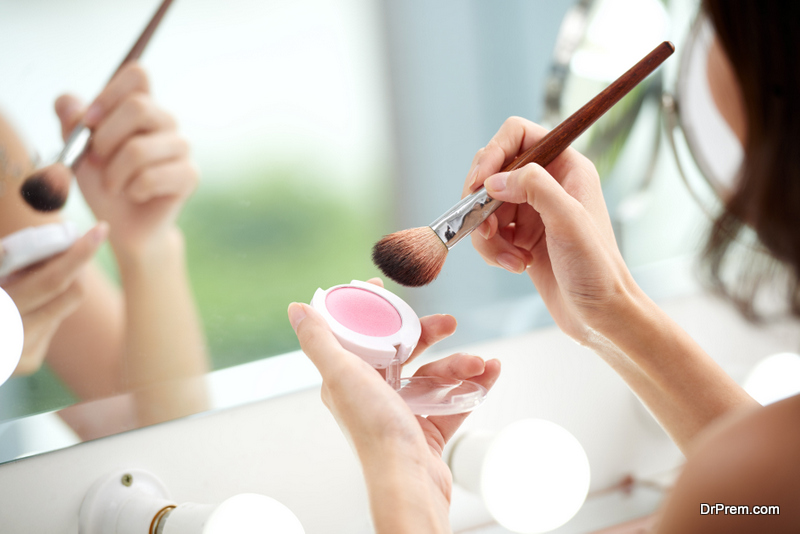 Don't you love those red apple cheeks? Well, then you should not forget to carry blush. Apply a little blush on the apples of your cheeks, and it gives that radiant look on your face. If you are using highly pigmented blush, then do not forget to dab little bit on your blush or else you will end up looking like a clown. So, here are the easy makeup details for you to get ready in 5 minutes. But there is another technique, which you can use as a pro-tip to complete your make with just a few products.
7.     Lipstick-in 3 different ways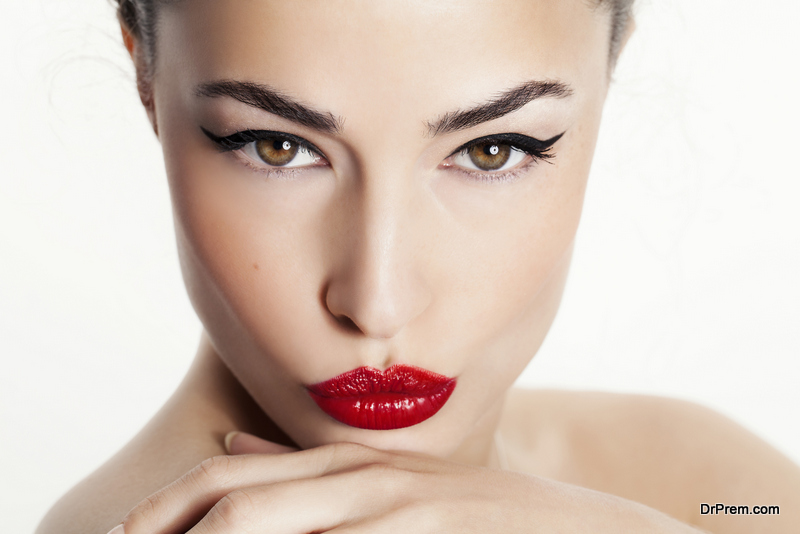 If you have a peach or pink lipstick in nice creamy and little glossy texture, then carry it with your compact, kajal and contour kit. You can use this lipstick in three different ways. First, apply a face mist, then let it dry and moisturize your face well. Then, powder your face with the compact. After that, take the contour palette and contour your face. Then, take the lipstick and rub it on the back of your palm. Now, use your ring finger and apply the lipstick on the eyelid to define the eyes. Apply the same lipstick on the cheeks to add a little pinkish color. Finally, apply the lipstick on the lips to define your lips. Complete the look by applying kajal on the lower lash line and upper eyelid. These makeup tricks are easy, quick and save your lots of time. So, whenever you want to get ready in 5 minutes, then these solutions work well.
Final Words
Now, if you want a quick party makeover, make no mistake, then these beauty hacks work just well for you. They are tried and tested methods that you can follow to get that instant party-ready feel. So, you should choose the best and hassle-free makeup products that will save your time and give you a flawless look. These days, there are various makeup brands available in the market. You should choose the brand that suits your skin so that you do not get any kind of harshness. You can apply the tricks are not only for after office party but also for any holiday season party where time is less.