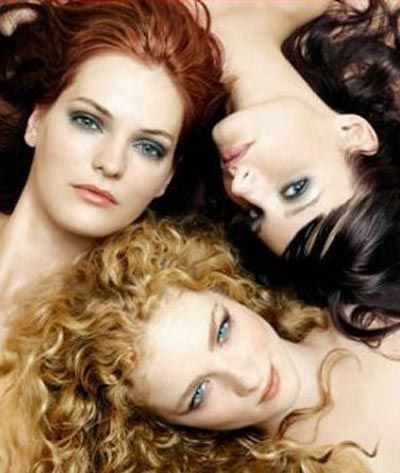 Wearing a good hair color does not ensure you good looks. Choosing to wear the right makeup for your hair color is as significant as your new hair color. Wearing suitable makeup helps you to play up your looks. Your makeup should either contrast or simply match the hair color. Ignoring the thumb rule, can spoil your looks no matter how gorgeous your hair color looks. Listed here, are a few makeup tips to suit your hair color.
1. Dark brown or black hair
Those with dark brown or black hair are at an advantage as far as makeup is concerned. Almost all makeup product colors can match well with dark brown or black hair. The hair color can suit both light and dark colors for makeup. You can get the best makeup look for your face with dash of red, plum lips, bold mascara and pink blush cheeks. The best makeup trick for dark hair is to highlight your eyes and lips.
Preferred makeup shades Violet & plum
2. Medium brown hair
For the medium brown hair, choosing makeup shades to suit skin tone and eye color should be the ideal rule. A radiant skin can help wear a suitable makeup. Select a nice bronzer for a radiant skin. And blush up your cheeks with pink tones. Do not opt for neutral shades. For the best look play up your lips with a dark color and highlight your eyes with a dark brown eye shadow with a dash of mascara.
Preferred makeup shades Tones of orange & red
3. Highlighted hair
Light brown highlights or light brown hair color would go well with earthy shades. Select natural and neutral colors for the perfect makeup look. Highlighted hair attracts a light look to your face. Soft makeup can do the magic for your looks. For the best look choose an eye shadow shade with shimmer and opt for nude lip color for your lipstick. Seal your lip color with a shiny lip gloss. Spice up the whole look with the choice of brown mascara and use a peach tone blusher for cheeks.
Preferred makeup shades Peachy pink tones or colors with tinge of red
4. Red heads
The best makeup tactic for deep red hair color is to play up your eyes and maintain a neutral tone for your lips. In fact, you can creatively mix up two three eye shadow shades and put up a contrasting color. Stained lips can work well too. Red heads can also carry off pink tones for makeup. Warm eye shadow shades like gold or copper can enhance the features of redheads. As far as blush is concerned, red heads should avoid using blushers. Too much play up with red can give a mask like look.
Preferred makeup shades Peat, olive, khaki, slight pink & warmer tones
5. Blonde hair
Selecting soft makeup pastel shades would work well for your light hair color. Paler shades should be the choice of the day for you. Pale pink blusher, pale pink lip color, light brown liner and mascara are perfect for the look. Dark shades, though would play up a contrasting look, but that would not suit your face. While wearing the makeup, putting a dab of bronzer on your forehead and cheeks can help to perfect your makeup.
Preferred makeup shades Warm peach undertones, pale pink, slight gold & shimmery light brown