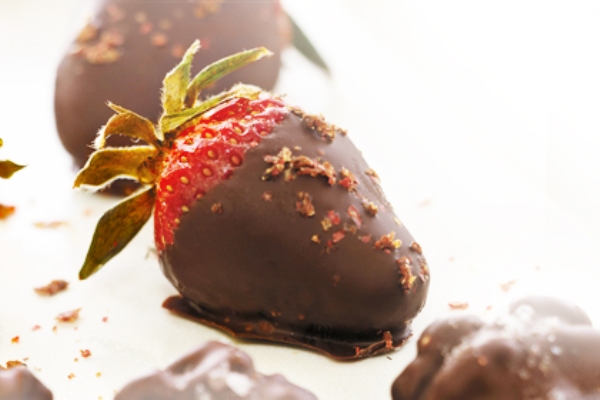 Every woman on this earth wants to be the owner of a healthy, shiny and beautiful skin and for this she goes to every extent – from buying expensive cosmetics to applying harmful chemicals on her skin. Well, you need to understand the fact that our Mother Nature has wonderful surprises in store for us, all we need to do is to use them in a right way. Nothing but eating right and healthy could do wonders to your skin. We bring you few delicious recipes that make for a healthy skin diet and you can make them in just 15 minutes. Interesting? Read on, make and eat and become a proud owner of an extremely gorgeous skin:
1. Curried deviled eggs
Ingredients:
6 large eggs
4 teaspoons mayonnaise
1 teaspoon Dijon mustard
1 1/2 teaspoons curry powder
Salt to taste
Ingredients for garnishing:
Paprika
Chopped fresh chives
Freshly cracked black pepper
Method:
1. Boil the eggs on high flame for 13 minutes. Drain them and run over cold water.
2. Now peel them off and cut in half. Remove the egg yolks and keep them in a bowl.
3. Mash the yolks well. Now add mayonnaise, mustard, and curry powder. Now mix them well and add salt.
4. Now with the help of a small spoon, fill the egg white halves.
5. Now it's time to garnish. Sprinkle paparika, chopped chive flowers and freshly cracked peper to garnish. And the dish is ready.
Skin health benefits: According to experts, eggs are a lean source of protein. Protein is considered as one of the most important nutrients for skin health. Many of us must not be aware of the fact that our skin is made up of protein. So, you need a plenty of protein for a healthy skin.
2. Steamed HAlibut with Greek Salad Salsa
Ingredients:
1 1/2 cups seeded and finely chopped tomatoes
2 tablespoons capers, drained and coarsely chopped
3 tablespoons finely chopped red onion
3/4 cup cubed feta cheese (1/4-inch cubes)
12 finely chopped Greek olives
1 teaspoon minced fresh thyme
1 tablespoon olive oil
Salt and pepper to taste
Six 8-ounce halibut fillets
1 cup white wine
10 whole peppercorns
6 whole fresh basil leaves, plus 4 leaves, thinly sliced, for garnish
Method:
1. First of all make the salsa. Mix tomatoes, capers, onion, cheese, olives, thyme, olive oil, and salt and pepper together in a bowl. Keep it aside.
2. Now, using cooking spray, spray a collapsible steaming rack. Then, place 2 halibut fillets on it. Sprinkle salt and pepper over the fillets.
3. Put one cup water, peppercorns, whole basil leaves and wine in a pot. Bring it to boil. Keep the rack in the pot, cover and steam the fish for 9 to 10 minutes. Now, keep the halibut fillets in a plate. Keep a lid over it in order to keep it warm. Repeat the process twice and cook the rest of the fillets.
4. Now serve the dish. Keep the salsa on the top and garnish with basil ribbons.
Skin health benefits: Halibuts are rich in omega-3 fatty acids, that maintain elasticity of your skin. They work as a guard against the harmful UV rays. Tomatoes are rich in vitamin C, which is good for skin.
3. Dark Chocolate-dipped trio: Strawberries, Black Olive and Walnuts
Ingredients:
One 3 1/2 -ounce bar dark chocolate
12 strawberries, with stems on
1 teaspoon red peppercorns, crushed with a mortar and pestle or peppermill
12 walnut halves
1/2 teaspoon pink Himalayan salt or another flaky gourmet salt
12 Moroccan olives with pits
1. Line a serving tray with parchment paper.
2. Melt the chocolate. Stir it well.
3. Dip each strawberry from the tip and put on the serving stray. Sprinkle crushed red peppercorns.
4. Now add the walnut into the melted chocolate and stir. Now take out the chocolate dipped walnuts with the help of a spoon and put them on the serving tray. Sprinkle some salt over it.
5. Similarly, put the olives in the chocolate and put on the serving tray.
6. Now place the serving tray in the fridge and leave fr 1 hour. Take out from the fridge 15 minutes before you serve it.
Skin health benefits: Strawberries contain antioxidants in large quantity. Antioxidants, as we all know, help fight aging. Walnuts are rich in fatty acids, that help your skin look smooth and hydrated.