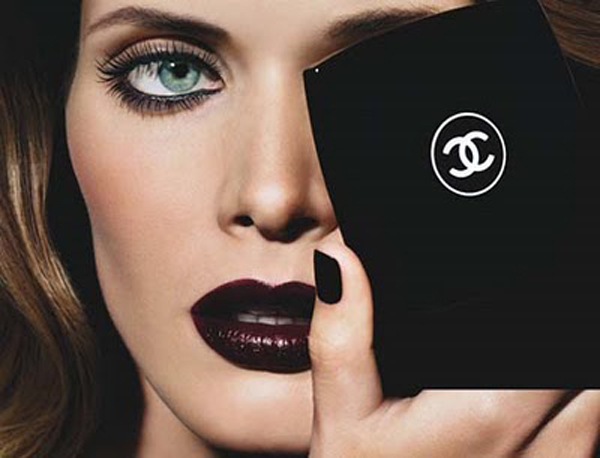 Inspired by the gothic trends, dark lipsticks have made a foray into the fashion scene. The vampire and witch frenzy and fixation with fantasy epics is boosting this fad. The grungy look that is catching up fast has brought the dark hues into the limelight. There are so many colors to pick from when putting on a dark lipstick and don't forget to keep a few pointers in mind while putting on dark make up. Also, you should pick the right shade of the dark lip color. It should blend into your skin tone and bring out your complexion. To ensure that you have picked the right shade, test it in daylight while making the purchase. Dab it on your lips or fingertips while testing.
Black is for the authentic ghoulish appeal while a deep shade of burgundy also looks quite eccentric. Dark tints of purple are mesmerizing; pick a heavy looking berry, a deep indigo, complex plum or a very gothic violet. Shades of gray like charcoal and teal especially with icy steel mixed in look mysterious. Dark browns, either muddy or chocolaty, also work well with this look. If you want to experiment more with the color palette then go for reds, blues and greens. The right shades to pick would be emerald green, navy, electric blue, crimson, olive, and royal blue. Most dark lipsticks come in a matte, glossy or wet texture.
For the glam look with dark lip color
1. When wearing a black lipstick, match up your eyes to go with the do. Nude or subtle eyes won't look nice. Wear thick eyeliner and mascara. Outline both the upper and lower rim of the eye. Smokey eyes, cat eyes, and a winged tip eyeliner looks smashing with dark lip colors. False eyelashes will look cool.
2. For a vivid look, make the skin look pale. Use concealer, full coverage foundation and powder to achieve this look.
3. You can dust some glitter powder with this look. Also, wear a dark nail polish like berry or black.
4. If you are dressing up for Halloween, there is nothing better than a super rich dark lipstick. Dab on a dark lipstick on the lips and deck your eyes black and you are ready to send a chill down the spine.
5. If the sinister dark shades are not your thing, then just try to give your lip shades a deeper tone. For this you can use another dark colored lipstick to give depth and a deep undertone to the lip color you have worn. A product to bring about this effect is the Black Tie Optional Lipstick and Shine Gloss from Lipstick Queen – Poppy King for $18 and $22 respectively. The lipstick goes under the lip color you are wearing and it will give a purplish hint to a pink shade and turn red into black cherry. The gloss lipstick can be worn on the top.
6. Dark colors look best during the night time or in the evening. Avoid wearing them during the day unless the occasion is really dressy. There are so many lipsticks to choose from if you want to pick goth or emo lip colors. Black Magic from Le Métier de Beauté Lip Metamorphosis will cost you $36. While, the Black Onyx shade from NYX cosmetics for $7 is quite alluring.
7. They look best with rich, heavy and complex clothing. Fabrics like velvet, linen, and silk suit the intense murky hues. Clothes with dark, metallic or jewel tones also look good.
8. For the lovers of classic black there is the Piha Black Color Fever Gloss from Lancôme for $23. The Style Black collection from MAC is really hip and happening. Shell out around $12 for MAC PRO Lipmix, also in black.
9. If you are a fan of colors then also there are many products to choose from. Go for Va Va Violet shade of Revlon Super Lustrous Lipstick or the Chanel Rouge Allure from Hysteria.
Avoiding beauty disasters
1. Making dark lipsticks look tidy and in place can be challenging for some. Does your dark lipstick look like a smear on your lips? Worry not; just use a thin lip brush to daub it on. This will make it come out neat.
2. You can also end up with the lipstick looking blotchy around the mouth. To prevent this just moisturize thoroughly and then dab on some concealor. Now the lip color wont skulk around your mouth.
3. If you have dry or chapped lips then they won't hold onto the color gracefully. To avoid looking gauche, just hydrate your lips thoroughly. Prepare a day in advance by exfoliating them with a damp washcloth or toothbrush. Then coat them with lip balm or oil throughout the day.
4. Outlining with a lip liner is important when wearing a dark lipstick. Avoid picking one that matches the shade of the lipstick you are going to wear. Choose a lip liner that is close to the natural color of your lips.
5. Too much of makeup with a dark lipstick is a bad idea as they look quite dramatic. Tone down the make up on your face. Stick to deep set eyes and a light blush when wearing deep lip colors.
6. Tousled hair or bangs on the face are a bad idea. Try backcoming or tie a pony tail. Dye your hair jet black or in some other deep hue.
7. Don't let the lipstick stain your teeth, a dark color glares on their white background. Apply carefully coating only your lips. Check periodically in hand mirror if the color has run over your teeth.