Tranzitions Color Changing Collection by China Glaze is a revolutionary new product that does what we pay nail artists big buck to do- it creates nail art without fussing too much! Offered in six shades, the new nail lacquer is designed to react to the color of your existing nail polish and alter it slightly to create a stunning nail art effect without you having to use a separate nail color for it. The color shifting shades can be applied strategically using a nail art brush, tooth picks or even the brush provided with the lacquer to create an entirely different look with minimal effort.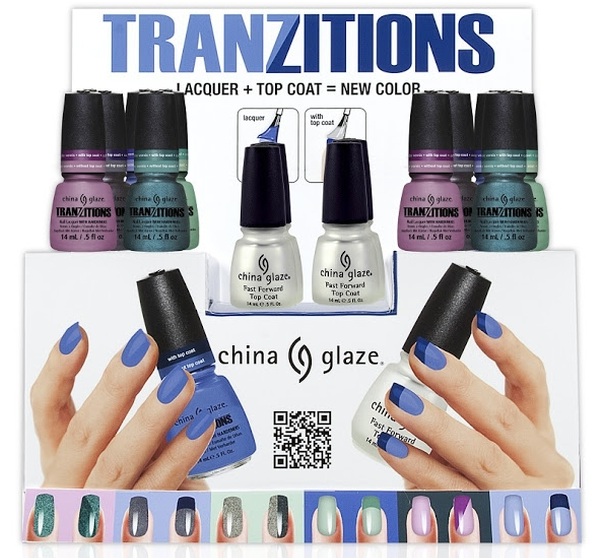 ---
Since the topcoat is designed to alter the existing color, you don't have to worry about searching for complimentary shades to your nail colors and you can use them to create stunning effects with almost any nail color in your beauty bag. The six shades in the China Glaze Tranzitions collection include shades like "Split Perso-NAIL-ity" that turns dusty or pale pink into fuchsia, "Duplicityy" which turns mint green or blue into a striking teal, "Modify Me" which shifts periwinkle blue into a vibrant indigo, "Altered Reality" that turns teal to turquoise, "Metallic Metamorphosis" which sifts silver/grey a charcoal-blue and "Shape Shifter" that turns smoke-violet to deep purple.
The collection includes just 6 shades though used with other shades they actually create an array of 12 unique shades. The company is also offering an instructional video on how you can use the new collection to create stunning nail art. The shades are perfet for creating nail art which use complimentary colors though we don't yet know what these topcoats do to other nail colors. The entire China Glaze Tranzitions line is going to hit stores this January though you will have to check with your local beauty store and salon for avilablity. Each lacquer in the line will be priced at $8.50 a bottle.