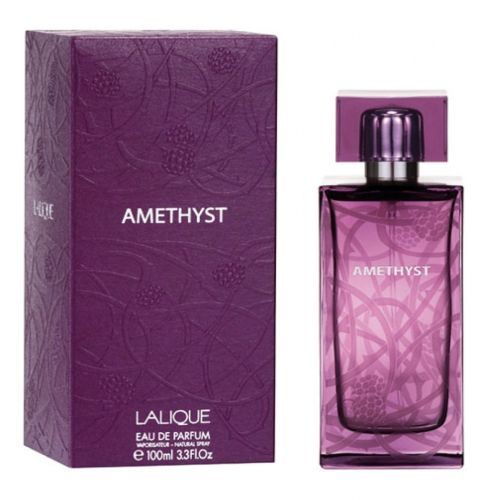 Lalique perfumes are world famous for their fragrances as well as design of their bottles. This magnificent line of perfumes has been named after a renowned French glass designer Rene Jules Lalique, acknowledged for creating perfume bottles, clocks, vases etc. There is a wide range of Lalique perfumes for both men and women and you can choose the one that suits your personality.
 7 Simple steps to choose a Lalique Perfume
You may not give perfume selection much thought. Maybe you only buy brand names or choose popular perfumes that all your friends are wearing. It will not do! You must find a defining scent that suits you. The notes of the perfume you choose interact with your human scent, which is unique due to your body chemistry and pH balance, to create your individual scent. This principle is very important for you to remember as you select your perfume. Also, you need to be careful of how you choose the scent and avoid the mistakes that lead you to a wrong decision. Read the top 7 tips to help you make the correct choice;
1. Do research
Find the best perfumes available in the market that are in your preference range. What do you like? Woody, fruity, vanilla or sexy scents. There is no need to try out varieties of perfume as you already have a list of the ones you want. Research product details and prices as well as do a comparative overview between different perfumes, all from the comfort of your home.
2. Clear your nose
If you enjoy trying out perfumes in an aisle, bring some coffee beans in a small coin bag. After you are done sniffing one perfume, take a whiff of coffee beans before going to the next product. The coffee aroma clears out the lingering smell of the prior perfume. The scent of two perfumes can mingle and confuse your senses.
3. A befitting scent
Each perfume has its own suitability for different occasions and age groups. Fresh, energetic perfumes are good for young girls while sexy exotic scents will suit mature women who are going out for the evening. Lighter perfumes offer wearers a refreshing touch in hot weather while heavier fragrances make a person feel good in cooler months.
4. Select on base notes
A perfume comprises of three layers: the top, middle and base notes. What you sniff immediately after you spray the perfume on your wrist is the top notes and they are designed to make an impression. Moreover, they evaporate quickly so you cannot select a perfume based on its top notes. Wait a few seconds to really smell the essence of the perfume.
5. Begin early
It is better to start your perfume selection early in the morning when your sense of smell is good. Don't try to purchase a perfume when you have a cold or are tired.
6. The right method
Try perfume on clean skin and limit your test to only three different fragrances as your nose will be unable to recognize more scents. Spray; do not smell the inside of the bottle's cap as the smell is not the true scent of the perfume. Same can be said about the scent samples distributed on pieces of cardboard.
7. Habitual perfume shopping
Be sure to experiment with different scents every time you get the chance, when you visit a department store, pharmacy or duty-free shop. You may inadvertently find the one you enjoy. Also, you can take the time to appreciate each perfume and judge them on their own distinctive essences.
7 Lalique perfumes that you would surely love to smell
1. Amethyst perfume for women by Lalique (3.4 oz)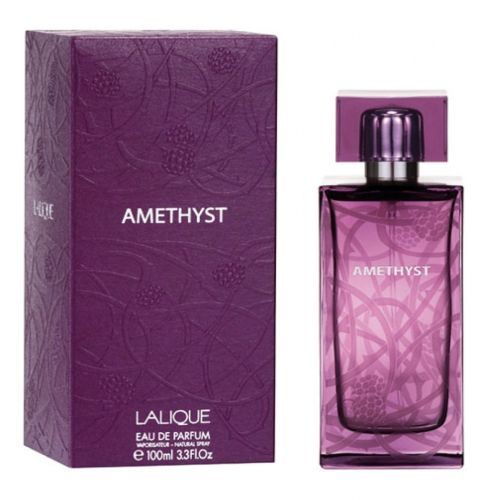 This mesmerizing fragrance was created in 2007. It is believed to have fragrance inspired by semi precious stones that imparts good health and protection. The graceful top notes of the perfume are made with black currant and boozy peppery. Femininity to this floral fragrance is provided by peony with a musk base. It also has rose ingredients, lily and ylang-ylang. This radiant fragrance features a beautiful blend of intoxicating and delicate touch. Its bottle is very beautiful with work of art all over it.
USP
It has a prominent fruity musk with woody notes and vanilla blend.
PROS
It has got a flirty fragrance, best for evening and late night parties.
The scent of this perfume is delicate and stays along with you throughout the day.
2. White Eau de Toilette Spray by Lalique (3.4 oz)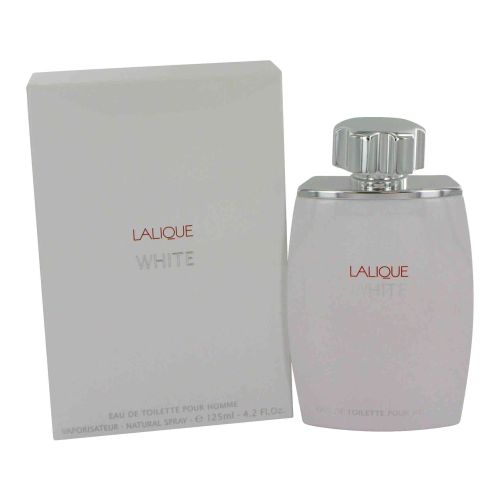 This citrusy aromatic fragrance has been created especially for men. This splendid aroma was concealed in the bottle in 2008. Its alluring scent seems quite intense for a minute and then spreads like soapy-lemon freshness. Top notes consist of lemon leaf, bergamot and tamarind while the middle notes are comprised of white pepper, cardamom and nutmeg. Blend of amber, cedar and musk is used to make its striking base notes. This perfume is made for external use only, therefore contact with naked eyes and broken or inflamed skin should be avoided. This fragrance was made by Christine Nagel. This pure fragrance comes in an innovative white colored bottle.
USP
This fragrance combines fresh, spicy and citrus notes together in a white bottle, symbolizing radiance and sparkle.
PROS
This fragrance is best suited for office wear because of its subtle and mid mature effect.
3. Encre Noire Lalique for men (3.4 oz)

This perfume has a prominent manly fragrance. Its sensual effect will definitely charge you up. It features the blend of bourbon and cypress along with cashmere and vetiver. The packing of the perfume is equally attractive. This dominating perfume comes wrapped in a black square bottle with Wengewood top, engraved with Lalique logo. The top notes feature cypress with veviter heart notes, cashmere and musk as base notes. It was launched in 2006 and the nose behind its creation is Nathalie Lorson.
USP
This powerful perfume has a bold, exotic and woody scent.
PROS
The fragrance of this perfume is best to emphasize your daring personality and comes in a gorgeous bottle.
4. Le Baiser Perfume for Women by Lalique (1.7 oz)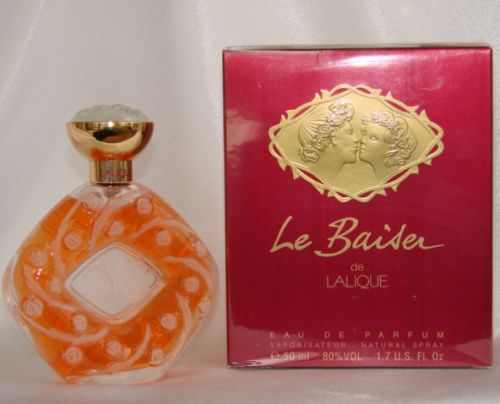 This beautiful fragrance for women was launched in 1999 and the nose behind its creation is Laurent Bruyere. It has a prominent floral fragrance created specifically for women. Base notes consist of amber, cedar and musk; while the middle notes consist of rose, jasmine, pepper and pimento berries. Top notes have black currant, violet and gardenia. The designer of this beautiful bottle is Marie-Claude Lalique. This perfume is known for its sharp floral fragrance. Its mesmerizing effect would definitely make people stop and smell you, wherever you go.
USP
It is a feminine perfume possessing the blend of exotic flowers and woody notes.
PROS
You can wear this fragrance for casual as well as romantic notes.
It has a long lasting fragrance.
5. Perles De Lalique for women (3.4 oz)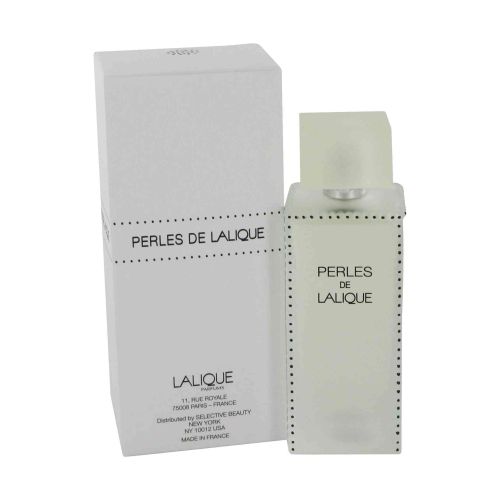 Another captivating fragrance was introduced in the line of Lalique perfumes; and it goes by the name of Perles De Lalique in the year 2006. This perfume has also won the award for Best Perfume in 2007 by Marie Claire. It comes in two types of packaging;, one for extrait de parfum 60ml bottle and another for 50ml or 100 ml bottle of Eau de Toilette. The former was inspired by feminine 'Cactus' powder bowl of René Lalique. Its handmade flacon is made of opal and is adorned with beautiful stopper; as well as decorated by black dots.The interesting part is that each and every bottle i has a unique number and comes with a signature. This composition was created by Nathalie Lorson.
USP
The main ingredients responsible for its intoxicating scent are Bulgarin rose, bourbon pepper, cashmere wood, iris and patchouli .
PROS
This Chypre-fragrance is extremely seductive with modern floral fragrance.
6. Lalique Perfume for Women by Lalique (3.4oz)

This womanly fragrance was introduced in 1992. Its sweet fragrance has a fruity floral touch. The main ingredients of top notes include gardenia, blackberry and mandarin. The middle notes consist of peony, cedar wood and vanilla with a base made up of musk, amber and sandal wood. All the above mentioned ingredients make this perfume sharp, oriental and flowery. It is a rich perfume best to satisfy your oriental preferences.
USP
The perfume has a sharp floral scent because of the presence of warm vanilla, orange blossom, oak and cedar.
PROS
The fragrance of this perfume is not only romatic but also perfect for day time use.
It stays persistent for 6 to 7 hours and would always get you complements.
7. Lalique Cologne for Men by Lalique (4.2 oz)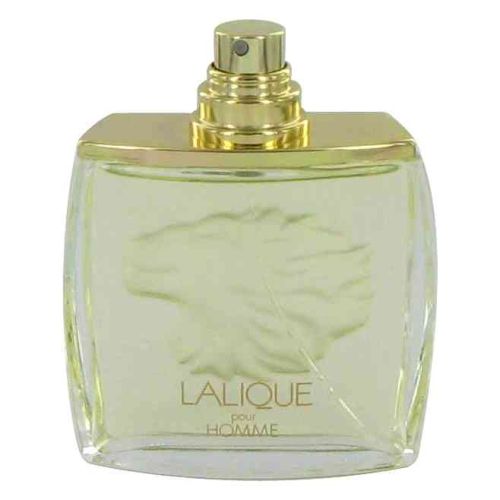 This splendid Lalique Perfume was launched in 1997. It has a pronounced woody fragrance with sharp, oriental touch. This fragrance is best to enhance your masculinity. The blend of citrus, jasmine and cedar provides a bold touch to this fragrance. It has got a long lasting effect and has remained very famous ever since it has been created. The blend of citrus notes provide an all day long freshness.
USP
The mesmerizing blend of vanilla and woods gives this perfume a crispy note.
PROS
The mild mesmerizing fragrance of this perfume is perfect for casual wear.