With the advancing age, there are few things which you cant hide and gray hair is one of the aging blues. Although, we dont have a permanent solution to it but there are temporary solutions which can help you look young by covering you gray mane. One such hair product that has been the best friend of many ladies, because of its goodness is Garnier. All the hair dyes manufactured by Garnier have the nourishment of olive oil, which makes the hair soft and smooth on each application. Your hair gets extra bouncy and dances to your tunes, thus adding glitters to your look. But choosing the correct shade for your hair type can be a tough task, unless you know few parameters that would help you to get the best. Read on, to know about the top 10 shades of Garnier hair color.

1. Nutrisse hair color #69 intense auburn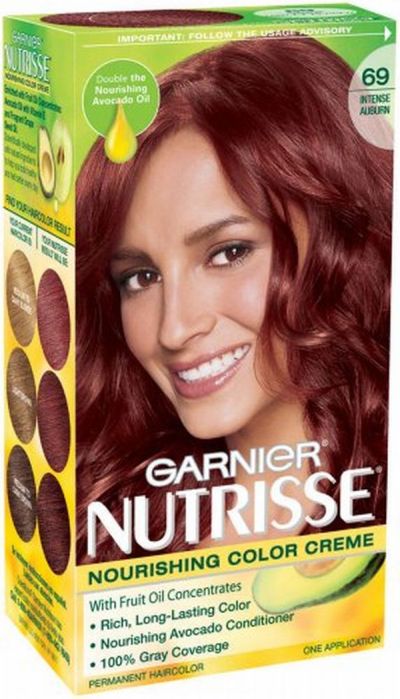 Get your hair colored in auburn with Garnier nutrisse hair color. This has many natural ingredients which makes it high on nourishment factor. Giving you 100 percent gray coverage its effect lasts long. Good for any type of hair whether thick or thin. This cream has fruit oil concentrate, avocado oil with vitamin E and fragrant grape seed oil. You are surly going to get good amount of nutrition to your hair, thus making it healthy and extra shiny. For that rich texture which you always looked for in hair colors, Garnier intense auburn is simply valiant and rich with good properties. The average customer review given to this product is very good and worth giving a try. The auburn shade is perfect for blonde hair.
USP
The extra nourishment makes your hair shiny, healthy and unbreakable for long period.
PROS
Long lasting.
Avocado conditioning.
Protects from dryness.
100 percent gray coverage.
2. Herbashine 426 dark burgundy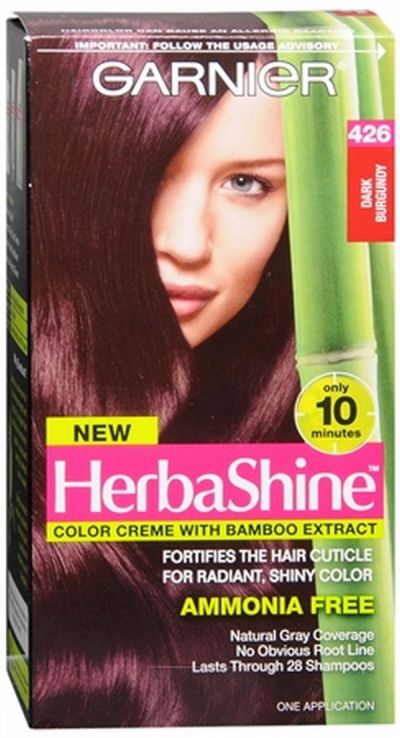 The most typical hair dye that has been in style since very long is dark burgundy and Garnier brings this shade for all the burgundy lovers. The dye fortifies the hair cuticle and brings true shine. It is enriched with herbashine that has bamboo extract, all done for the sake of your valued hair. Being ammonia free you don't expect any sort of side effects on your scalp or mane. Bring back the lost luster and redefines your look.
USP
The presence of bamboo extract makes it worth a shot.
PROS
Lasts long.
Ammonia free.
No side effects.
3. Nutrisse Nourishing color creme, 53 medium golden brown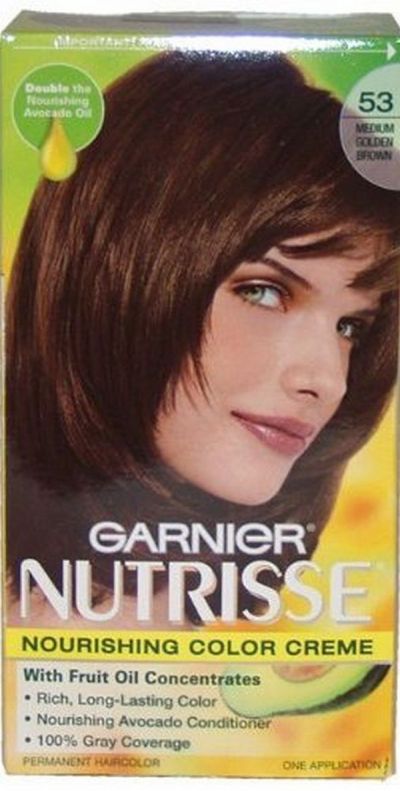 Get your mane colored in golden brown shade with the all new Garnier Nutrisse hair dye. The complete magic that the dye creates on your hair is idyllic. It has triple fruit oils and gives you hair triple nourishment with the goodness of avocado oil and shea. The presence of shea conditions your hair and makes it soft and bouncy. You get radiant color from root to tip and no wonder; you do get 100 percent gray coverage with this shade of Garnier.
USP
The presence of nourishment like avocado oil, grape seed and Shea makes it worthy for your hair.
PROS
Radiant glow for the hair.
Long lasting.
100 percent gray coverage.
4. Nutrisse color no 82 champagne blonde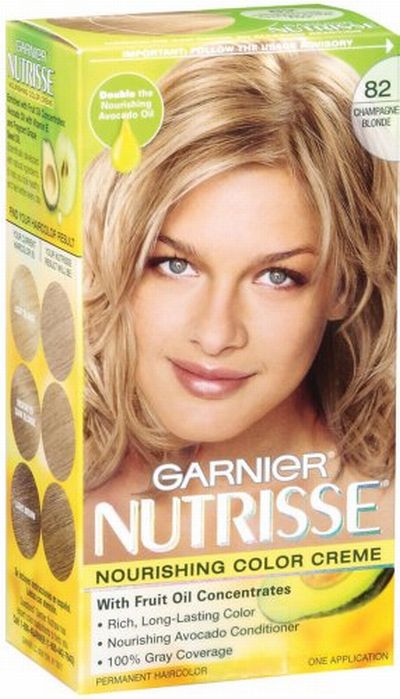 You get the champagne blonde look after the application of this shade. That looks instrumentally regal and you are sure to garner eyeballs with your beautiful, shiny hair. Moreover, you have the fruit oil concentrate added to it which makes the dye high in nourishment quotient. It has natural ingredients that make your hair glorious and healthy. This shade mostly suits the people with warm skin tone.
USP
The butternut and avocado oil added to the dye makes it a prodigy.
PROS
Long lasting.
100 percent gray coverage.
Rich in avocado oil.
Non drip formula.
5. Nutrisse permanent hair color, BI 33 reflective bronze black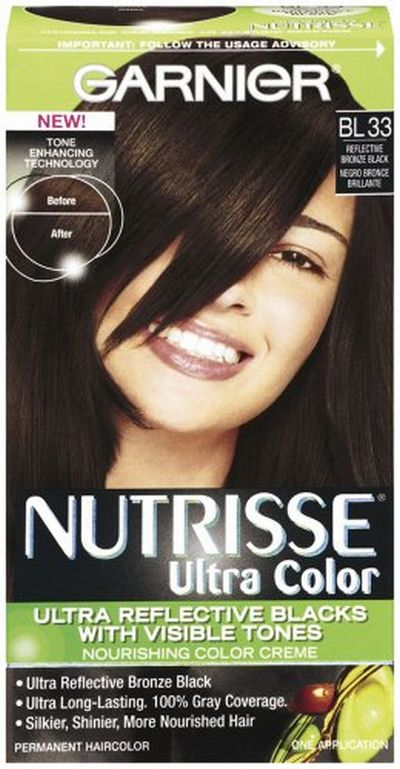 You deserve to pamper you hair with this astonishing and dazzling bronze black shade. The dye is ultra reflective and gives 100 percent gray coverage. This is the only hair crème where you get a separate ampoule of grapeseed oil, this will help you nourish you mane while you are in the process of coloring it. The uber black shine that you get after using this is just beyond explanation. It has avocado oil that makes your hair shine like never before.
USP
For the extra silky and shine feel try this ultra cool hair color brought by Garnier.
PROS
Ultra reflective.
Rich in avocado oil.
100 percent gray coverage.
6. Nutrisse hair color, 66 true red pomegranate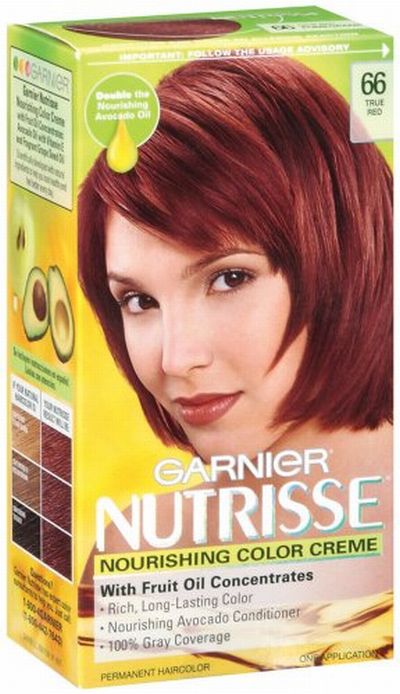 Set loose yourself in the red pomegranate shade of your hair and feel the vibraciousness. The avocado oil used here nourishes double the times. Enriched with fruit oil concentrate you hair is all set to get the right amount of nourishment it deserves. Moreover, this dye locks moisture and prevents dryness. The vitamin E present in the dye works wonder for your hair, making it stronger than ever before. Fall for the grape seed oil mesmerizing smell. The overall customer review given to the product is excellent.
USP
Perfect shade for any occasion with a lot of goodness.
PROS
Rich in avocado oil.
Long lasting.
100 percent gray coverage.
7. Herbashine color creme with bamboo extract, 400 dark natural brown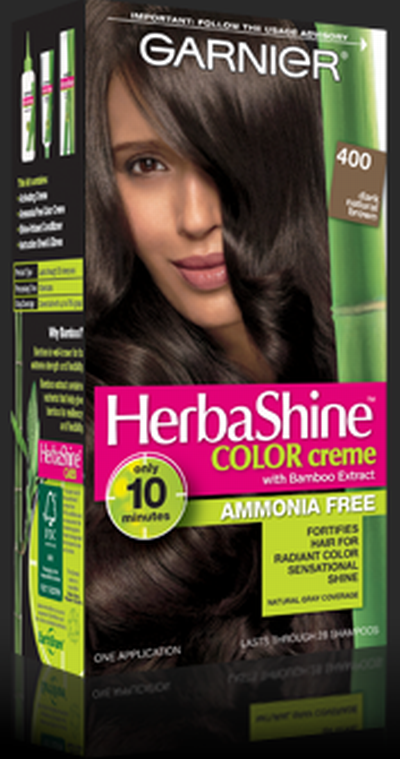 The dark natural brown hair dye by Garnier is suitable for all hair types. It causes no harm to your hair as it is ammonia free. The gray coverage looks very natural and one would hardly recognize that the hair has been dyed. The strength of your hair increases with each use. The bamboo extract fortifies your mane and makes it shiny and radiant. You just have to leave the mixture for 10 minutes and allow it to dry and then wash. Your hair will dazzle like never before and all your gray hair will disappear.
USP
The natural brown color is a rage among the ladies.
PROS
Bamboo extract.
Long lasting.
Ammonia free.
No obvious root line.
100 percent gray coverage.
8. HerbaShine color creme with bamboo extract, 700 dark natural blonde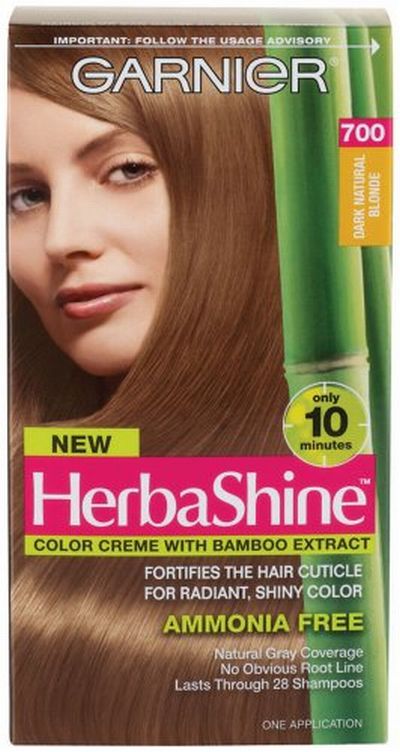 Bringing this hair dye home will be the smartest thing which you can do while selecting the hair colors. It comes with herbashine that is a new generation of hair color from the house of Garnier that has bamboo extract. You hair gets extra conditioning because of it and the cuticles get fortified. The best thing about this hair dye is that it is ammonia free and thus your hair won't be harmed. The gray coverage lasts through 28 shampoos, that means you dye effect will remain for about a month. You are going to be enticed with Herbashine's fragrance. There is no room for dripping and the creamy formula spreads easily. Get the supple look in no time.
USP
It comes with bamboo extract for nourishment. It is ammonia free.
PROS
Remains till 28 washes.
Bamboo extract.
Ammonia free.
Non drip formula.
9. Nutrisse hair color, 81 medium ash blonde, vanilla Mint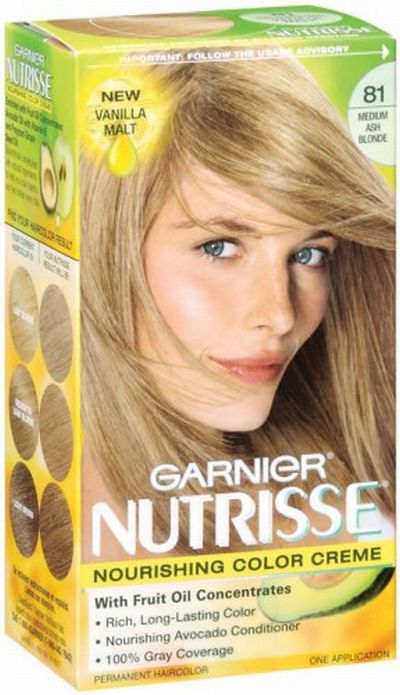 If you want to dye your hair in ash blonde color, then applying Garnier Nutisse hair color, 81 medium ash blonde vanilla mint will help your cause. The dye penetrates deep into hair fibers to give rich and long lasting color that will help in covering the gray mane up to 100 percent. It locks in moisture to prevent dryness and gives a radiant glow. You can use this immediately after coloring hair or go 14 days after. The application process is very simple and covers the gray hair in 45 minutes.
USP
The shade is desirable and your hair is going to simply adore this product.
PROS
Non drip formula.
Long lasting.
Enriched with avocado oil.
The smell is simply awesome.
10. 100% hair color #610 light ash brown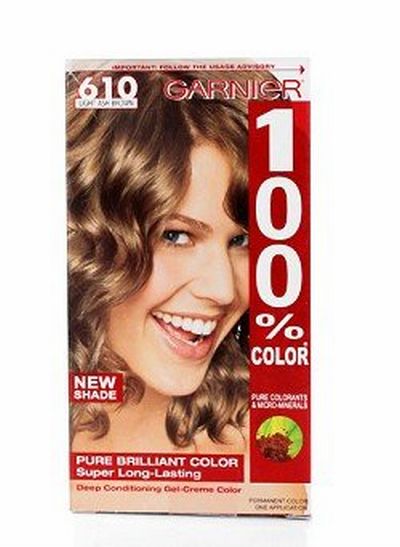 The micro minerals present in this ash brown shade is best for your beautiful hair. This hair dye is in gel form which makes the applying process very easy. It perfectly glides through the hair and fully saturates each strand for pure intense color. The conditioner in this dye is enriched with vitamin B3, this helps seal the color and enrich its purity and glitter. This color is best for warm skin tones and you surely going to experience great change with ash brown color from Garnier.
USP
It has micro minerals enriched with vitamin B3.
PROS
Multipatented color kit loaded with pure colorant.
Intense action from within.
In the form of gel.