Body lotions help to enhance and improve the condition and texture of your skin. A good quality body lotion can be a boon for dry, scaly, and dehydrated skin. Body lotions rehydrate the dried skin, replenish the rough spots on the skin (primarily around knees and elbow), relax the body with a good body massage, softens the rough parts of the body, makes your skin glow by removing dull and dead flakes, thereby giving a rejuvenated look to you. Both men and women can use body lotions to keep their skin moisturized and soft. However, when it comes to choosing a particular lotion from a range of lotions available in the market, the task becomes quite a difficult one.
Useful tips while choosing a body lotion
Using body lotions are an important part of our beauty regime and this is especially true during the winter months. Applying body lotions liberally and regularly during those cold dry months help you look sparkling and amazing despite the chill. However, before you start using a body lotion you need to know how to choose one that is appropriate for your skin and its needs as well. Different people have different skins and different skins have different requirements, so it is essential to keep in mind the various formulations of different body lotions and their effects on various types of skin. Here is a guide to choose the perfect body lotion to act as a shield against the dryness of the winter months.
1. Understanding the skin type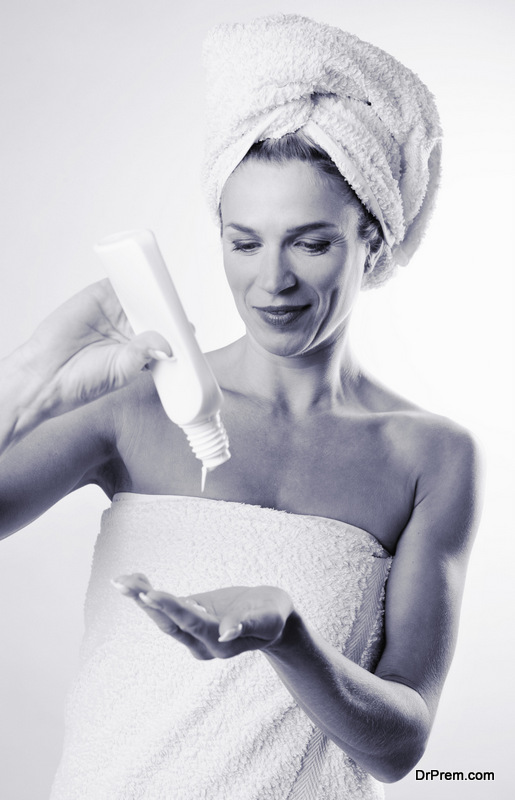 Your skin type must be well understood before choosing the appropriate body lotion. Dry skin needs extra protection with a healthy dose of moisturizers, while the lotion for oily skin needs to be light and basically water based to let the skin breathe.
2. Caution for sensitive skin
For those with a sensitive skin, the dermatologist must be consulted before you buy any lotion. Generally those lotions which have hypoallergic written on them are safe to be used by anyone. Just to be sure you can carry out sample testing for reaction and allergies. You can even buy a small bottle as well.
3. Other skin requirements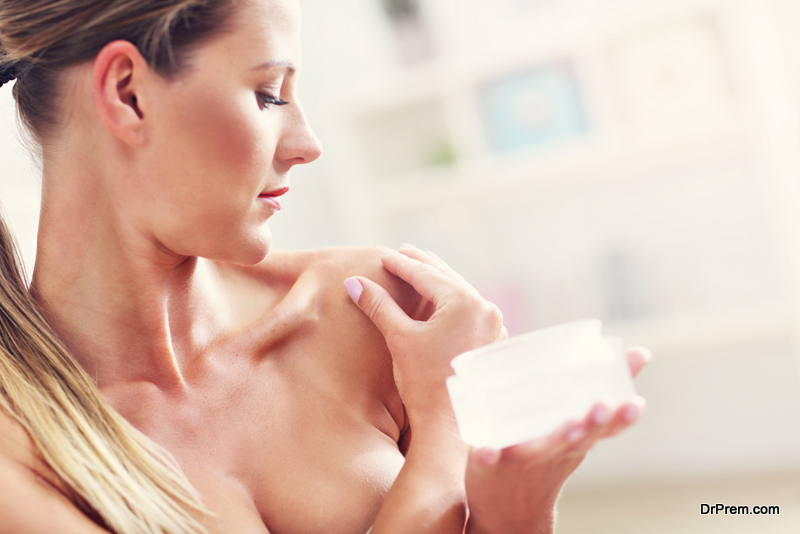 If you have some other particular requirement from your body lotion other than the nourishing part, you should check out the label carefully. There are lotions that have various properties like cellulite reduction, anti-aging, tanning, etc.
4. User ratings and reviews
When choosing the product, it is a good idea to check out the user reviews and ratings. Instead of relying on the ads of the product, the opinions of real people will help you get a good product for yourself.
5. Scent of lotion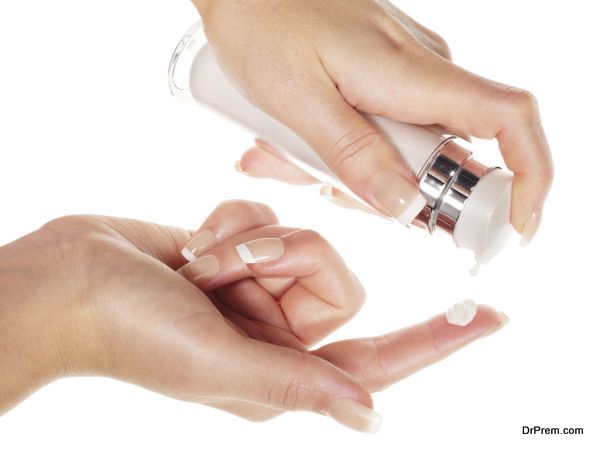 It is always a good idea to keep the perfume of the body lotion in mind when buying. Strongly perfumed lotions may not go down well with some people, especially since in some cases the perfume that you are wearing mixed with the scent of the lotion may give rise to a peculiar odor. You can try the concept of layering by matching with the perfume that you use as well.
6. Budget
Keep your budget in mind while splurging on a body lotion. Remember that it is not a necessary thing that only lotions that come in expensive bottles are effective. Inexpensive stuff can be equally effective.
7. Different lotions for different body parts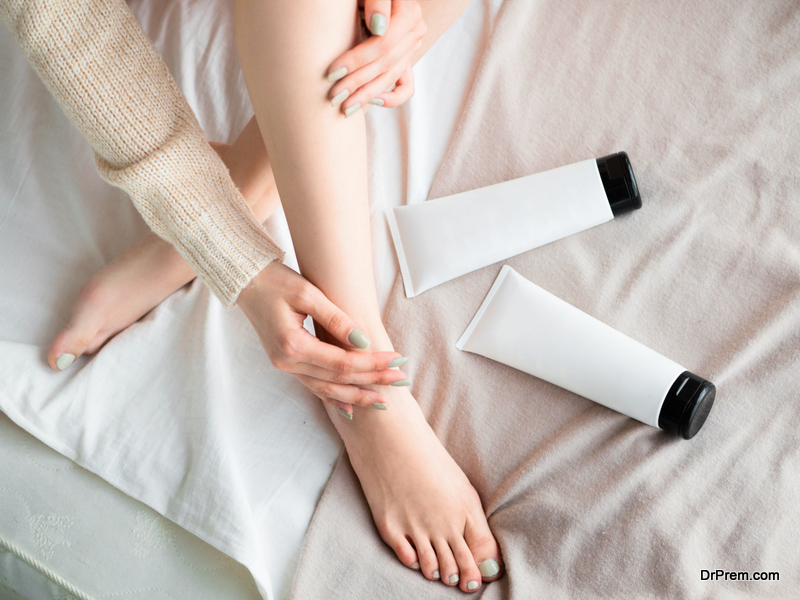 Choose different body lotions for different parts of your body. Never apply on your face what you apply on your hands as this may leave you with serious consequences. The delicate nature of face requires something that is delicate and sensitive enough, while the body may require something more heavy duty.
8. Appropriate season for use
The season when you are using the lotion is also to be taken into account when choosing the appropriate body lotion. In winter, you need a heavy lotion with heavier coverage, while during the summer time you can get away with something that provides lighter coverage like even a sunscreen.
How to Realize the Dream of Getting Baby-Soft Skin with these simple tips
A dry and itchy skin is irritable and makes you feel bad. Dull looking skin makes you look more old and unhealthy. However, you do not have to worry because you can transform your dry and rough skin into a baby soft skin. To achieve such dream you have to consider some simple tips. Moreover, you can realize your dream of having baby soft skin at your home and do not have to spend much money in the process.
Clean your skin daily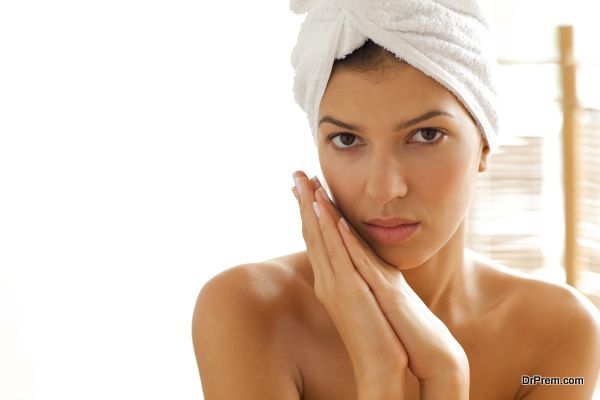 Drink a lot of water when you wake up. You can use a soap free facial, body wash or a facial cleanser to clean your skin daily. Use a soft sponge or face washer to remove dirt and oil from your delicate skin. If you have sensitive skin, try to take shower every other day, this lets your skin nourish by natural oils secreted by your skin. Takingshower too much while having sensitive skin will lead to irritation and itching.
Exfoliate your skin
It is very important to exfoliate your skin to remove the dead skin cells. Moreover, it makes skin energized andhelps in increasing blood circulation. For delicate skin, you have to exfoliate bi-weekly otherwise, perform exfoliation thrice a week. To carry out the exfoliation process you have to use a scrub sponge or a loofah, rub them against your skin gently under clear running water to remove the dead skin and dirt. After completion, use a soft towel to pat dry your skin.
Moisturize your skin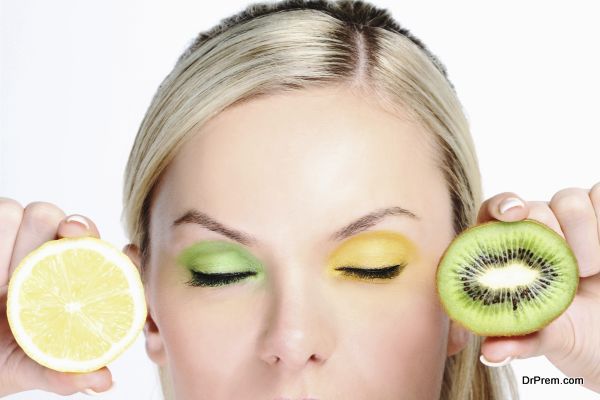 After drying your skin, it is very important to provide moisture support because all the oils that provide moisture to your skin gets washed away. Buy a moisturizer that suits your skin, moreover, you can consult a profession to know about the products that are best for your skin. Apply the moisturizer immediately after drying your skin; this will help in better results.
Massage your skin
Massage your skin with oils such as coconut oil, castor oil, olive oil, almond oil etc. to improve the softness and texture of the skin.The best time to massage your skin is before going to bed at night. Massage helps in stimulation of your skin tissues and boosts softening. You can use other natural products like papaya paste, carrots and honey, rose water, mixture of banana-milk, apricot-honey etc. to massage your skin.
Protect your skin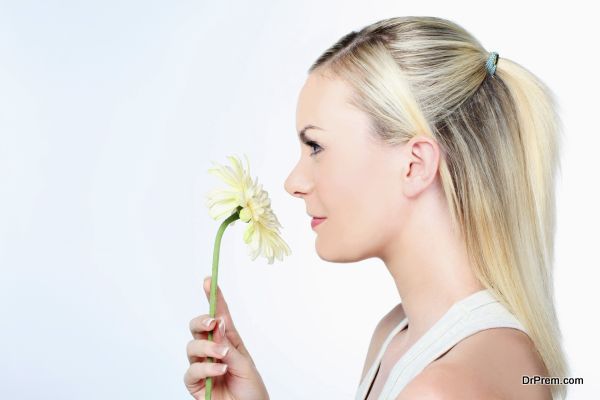 You should protect your skin from harmful effects caused by the exposure to harmful UV rays. When you are outdoors, make sure youcover your skin using long-sleeves and long-leg clothing. Wear a hat if you want to protect skin of your face from sunrays. You can also apply sunscreen to your skin before going out to make sure that your skin remains protected during the exposure to harmful UV rays. Moreover, protect your skin from dust and other particles that can cause damage to your skin.
Other skin softening tips
Get a sound sleep of at least 8 hours to have more glowing, healthy and beautiful skin . Exercise helps your skin to bloom by reducing the level of stress hormones like cortisol and provides firmness.  Avoid alcohol, smoking and caffeine because theycause dullness in your skin. Include fruits, vegetables, fish and other proteins to your diet and avoid taking fast foods and foods with high sugars to protect your skin from dryness and scar complexion. These additional skin care tips help effectively in making your skin soft and beautiful. 
Top 10 body lotions we recommend
1. Nivea extra enriched lotion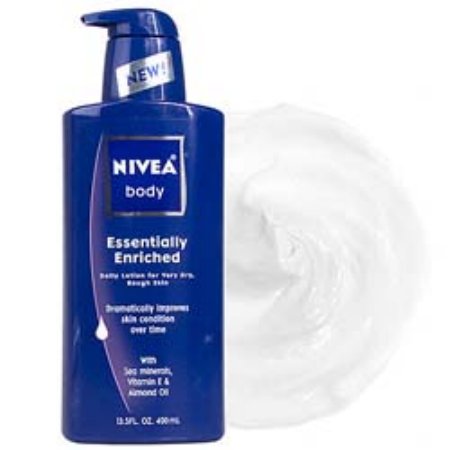 A very popular brand in itself, Nivea offers body lotion for both men and women to help rejuvenate severely dry skin. With Vitamin E in its nourishing formula, it helps in reducing roughness and providing moisture to the skin. This product by Nivea is suitable for those with very sensitive skin.
2. La Mer – The radiant infusion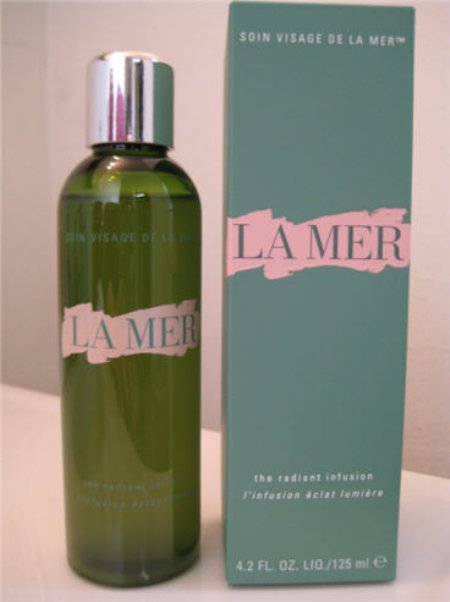 Though, a bit overpriced , this lotion rejuvenates your skin, giving it a radiant and clear look. The ingredients are such that they do not clog the pores of the skin, making skin remain healthy. Packed with super antioxidants, this is a perfect product to get a glowing skin.
3. Clarins Younger Longer balm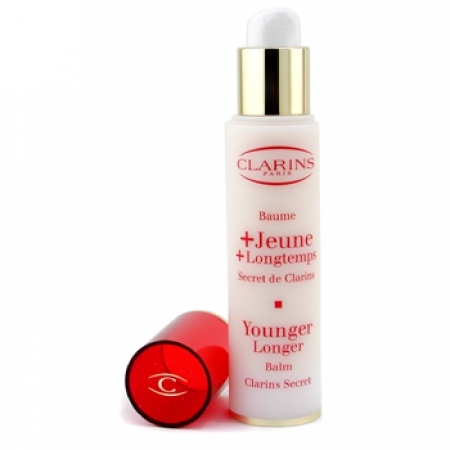 This body lotion is available for about $99 in an attractive bottle. It makes the skin fresh, radiant, and hydrated. The lotion gives the skin a light and soothing texture by rapidly penetrating into the skin and making it soft. Its active ingredients include vitamins A, E, and C.
4. Hydrazone body lotion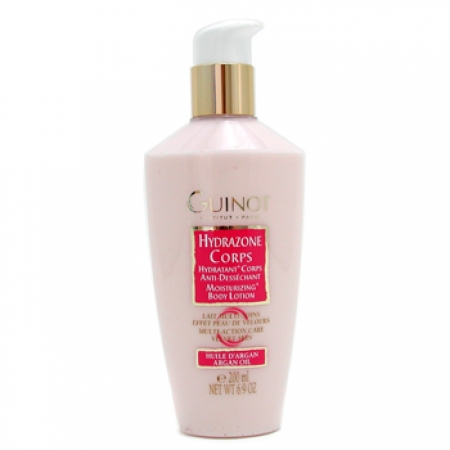 This long lasting moisturizing lotion comes packed with Moroccan argan oil and hydrocyte complex to rehydrate, repair, and regenerate the epidermis. The argan oil keeps the skin hydrated and nourished making it suitable even for the driest of the skin types. The product comes in an attractive bottle with a mild scent.
5. Frederic Fekkai Creme Luxueuse, Luxurious body cream with Shea butter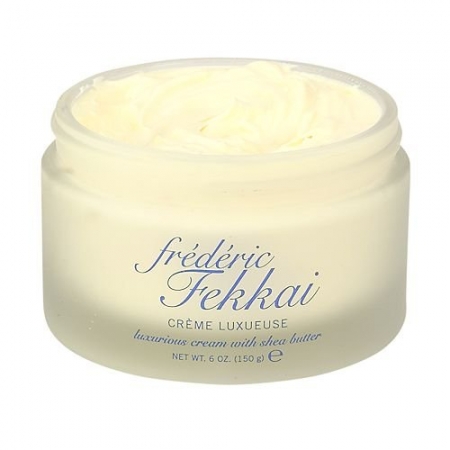 This luxurious beauty product is infused with natural Shea butter and vitamins. These ingredients help to protect the skin from losing moisture; and gives it a fresh, silky, and soft look. The cream is enriched with calming botanicals and a mild fragrance.
6. Penaten baby face and body cream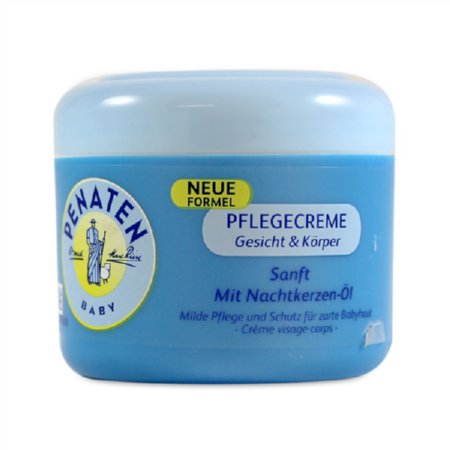 Enriched with Vitamin E and olive leaf extracts, this cream takes care of the child's rough, cracked, and sensitive skin, making it soft again. The cream moisturizes the skin without clogging the pores. It can be used for sensitive skin or can be applied on the face as well.
7. Cabot's vitamin E creme intensive skin cream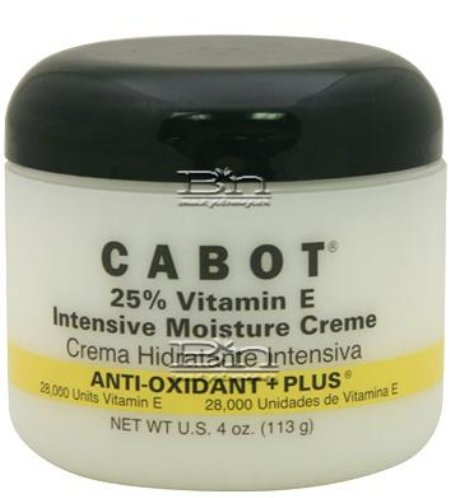 This intensive skin cream with about 25 percent vitamin E hydrates and soothes the dry and sun damaged skin. Everyday application smoothens the skin and prevents excessive moisture loss. This cream can be used alone or under makeup.
8. Lemony lemon Shea butter cream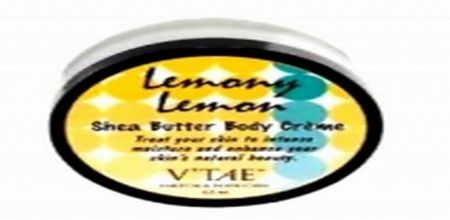 This intense rich cream with Shea butter rejuvenates, moisturizes, and provides firmness and elasticity to the skin when used regularly. Though it contains more oil and is slightly thick; the essential oils of sandalwood and lemon will hydrate your skin and leave you rejuvenated.
9. Thalgo Creme D' exception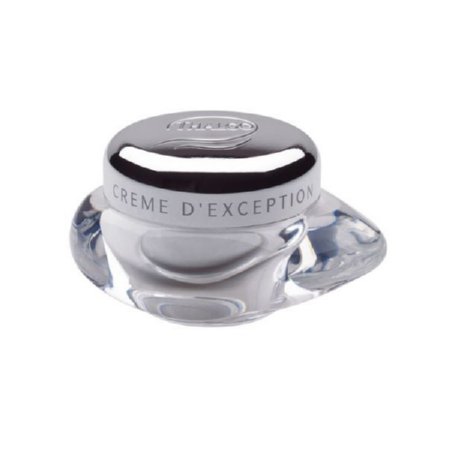 This cream gives a glowing and radiant complexion upon its application. Te presence of ingredients like natural algae hormones help to fight against the signs of ageing. Regular usage adds suppleness to the skin and reconstructs the epidermis by hydrating and activating fibroblast. The dermis relaxing nature of the cream soothes the skin and reduces the appearance of expression lines.
10. Body contouring cream by Yonka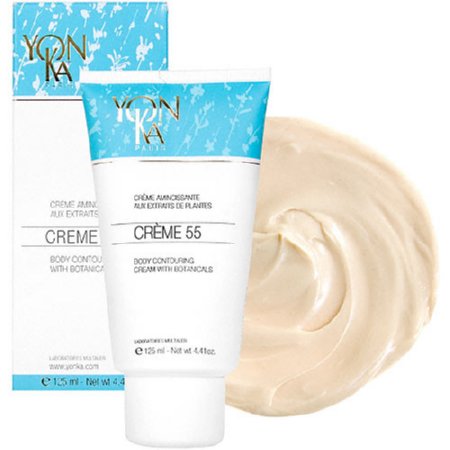 This body contouring cream also reduces cellulite and the extra fat deposits; thereby helping in trimming your figure. It works best when applied before and after exercise. Regular application improves blood circulation and reduces the tissue pressure. It hydrates the body well, making it moisturized and elastic; and leaves behind an energizing sensation.
Top 10 organic moisturizers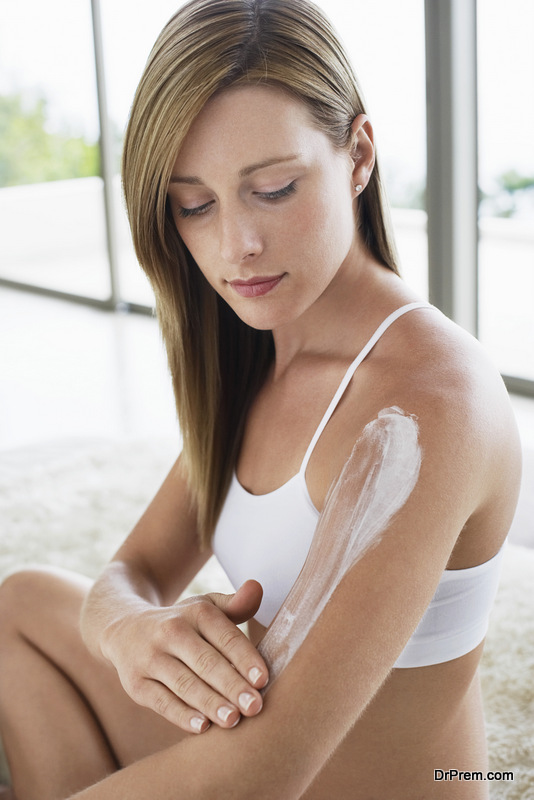 The market is today flooded with many anti-aging beauty creams that make many lofty promises. Most of these promises are fed into your mind through misleading advertisements. Moreover, in the absence of any authentic guidelines and organic moisturizers, you are often left switching brands at a regular intervals, even as your beauty is compromised and you grow many skin defects along with age.
There are a few things that need to be understood here. First, aging is a natural process and it cannot be averted unless interrupted with artificial means. While these artificial means may be beneficial in the short run, they often result in some serious side effects despite the heavy cost incurred. Second, most of the moisturizing creams are heavily based on inorganic chemical substances instead of organic ingredients. Research has proved the harmful effects of such products.
However, it is not true that there are no healthy alternatives for prolonging the youthful look and making your skin look desirable. Many new organic products available in the market today aid the natural process of generation of healthy tissues on your skin. Moreover, they are mostly made up of certified herbal ingredients. Some of the organic products have also used latest tools like nanotechnology. Here is a list of top 10 organic moisturizers that you can use.
1. Organic Nano Gold anti aging moisturizer cream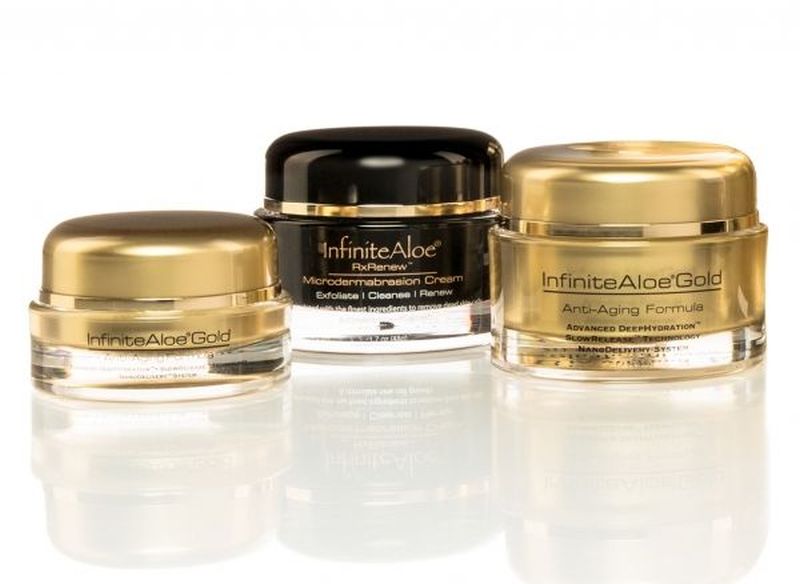 The Organic Nano Gold is an all-skin type anti-aging organic moisturizer cream. It has been made up of organic nutrients and pure gold with the help of nanotechnology. This light cream not only nourishes the skin but also accelerates the skin's natural ability to hydrate and rejuvenate damaged skin cells. In addition, it supports the natural synthesis of collagen in skin for prolonging youthful look of the users.
Key ingredients of this cream include aloevera, seaweed extracts, nano phospholipids, nano liposome encapsulated vitamin C, E and pure nano-sized gold. While the phospholipids help in the formation of cell membranes in the body, pure gold serve as a natural anti-oxidant and has extremely beneficial anti-aging and anti-inflammatory properties. The nano-sized gold particles heal the sunburn and wrinkles by stimulating the growth of new healthy tissues on the skin. It also heals the wounds and other skin irritations that develop along with age.
For best results, it should be applied on the face and neck in a circular upward motion everyday in either morning or at night.
USP: Anti-aging organic moisturizer cream for all types of skins, including the problematic skins.
Pros: Apart from the anti-aging usage, this cream could also be applied as a makeup base.
2. Kiss My Face organic moisturizer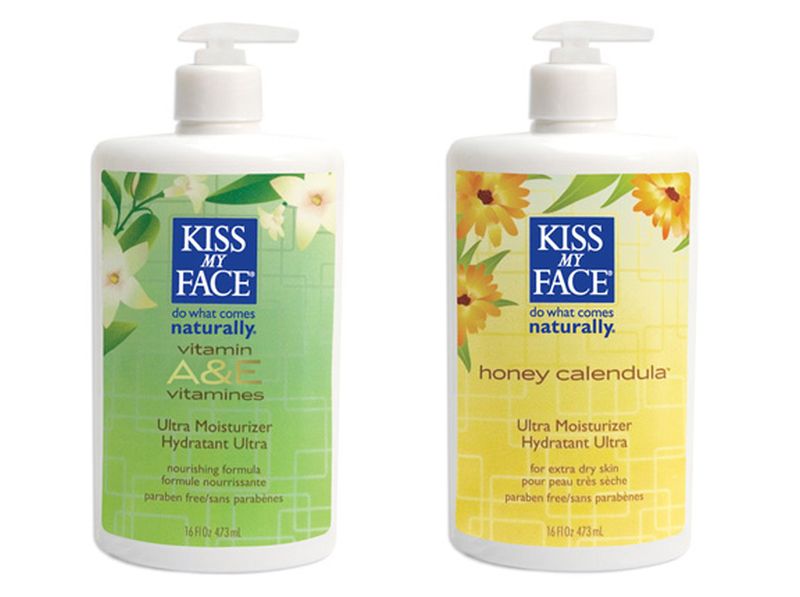 As the name suggests, the Kiss My Face organic moisturizer makes the skin look desirable, irrespective of age. This is a purely herbal solution for wrinkles and the skin defects, which develop with age. It works by increasing the firmness and brightness of the skin. Certified organic herbs and oils have been used for making this organic moisturizer. The key ingredients of this cream include natural proteins from the sunflower and grape seed oil, wheat extracts, lavender, centella asiatica (golu cola), and an essential oil blend of grapefruit, lime, and chamomile.
While the sunflower oil with its vitamin A and E serves dry and sensitive skins, the certified ayurvedic botanical Centella Asiatica helps in toning and brightening the texture of skin. In addition, the grape seed oil helps in regenerating new healthy tissues on the skin and acts like a natural moisturizer as well.
USP: Purely herbal moisturizing cream, contains no animal ingredients, artificial colors and other harmful chemicals. This organic lotion has also not been tested on animals like many other beauty products available in the market today.
Pros: The Kiss My Face organic moisturizer has been certified by the Quality Assurance International.
3. Attitude organic aloe vera moisturizer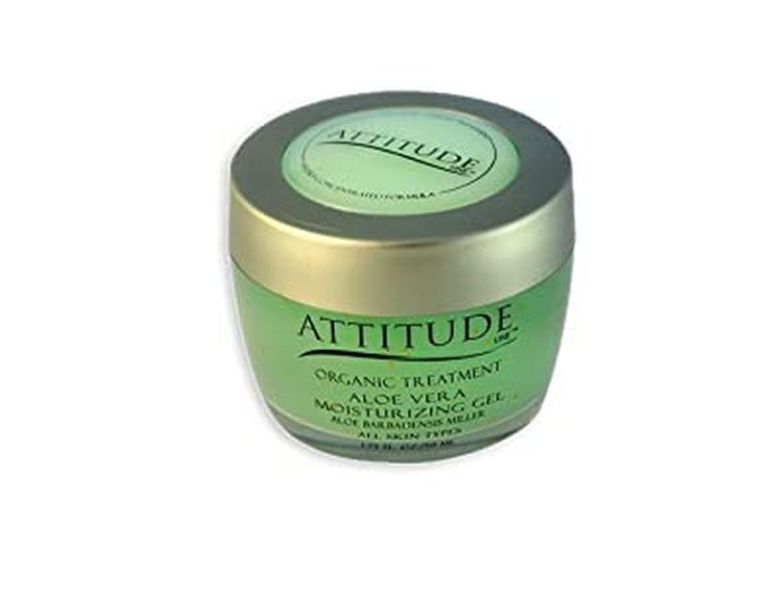 Like many organic moisturizers available in the market today, Attitude Organic Aloe Vera Moisturizer is based mostly on the naturally proven anti-aging abilities of aloe vera. It revitalizes the skin and serves as an ultimate skin care lotion. Aloe vera contains many vitamins, minerals, enzymes, and amino acids that are proven to be extremely beneficial for the skin. This moisturizing lotion helps in reviving the jaded skin. It reduces the dryness, blemishes and helps in developing a cleaner complexion.
For best results, this cream should be used twice daily. It should be applied evenly on the washed and pat-dried face.
USP: It is based on the proven skin-healing capacity of natural aloe vera. It enhances the natural glow of skin and prolongs a youthful look.
Pros: Herbal moisturizing gel revitalizes the tired skin.
4. Africa's Best Organics olive oil moisturizing lotion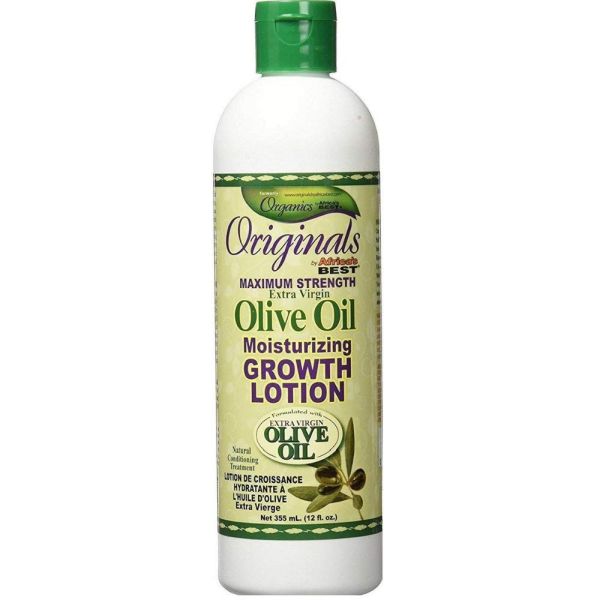 The Organics olive oil moisturizing lotion is a herbal solution for strengthening and growth of hair. It is lighter on the scalp and can be applied on all types of hair. This moisturizing lotion is based on natural restorative properties of the olive oil. This oil not only helps in treating many skin ailments, but also provides the best natural remedy for hair loss. When applied on the scalp, olive oil reduces the production of DTH hormones, which is mainly responsible for hair loss in most of the cases.
In addition, the anti-oxidants present in olive oil improve the scalp health and act as a natural conditioner for hair. Besides, the Organics Olive Oil Moisturizing Lotion has been blended with other useful proteins and conditioners, which reduces damaging effects of heat styling or chemical applications. It should be applied regularly for shiny hair.
USP: It is a herbal remedy for hair loss and is based on the natural hair healing capacity of olive oil.
Pros: It effects hair growth and is applicable for all types of hair.
5. Natures Baby Organics face & body moisturizer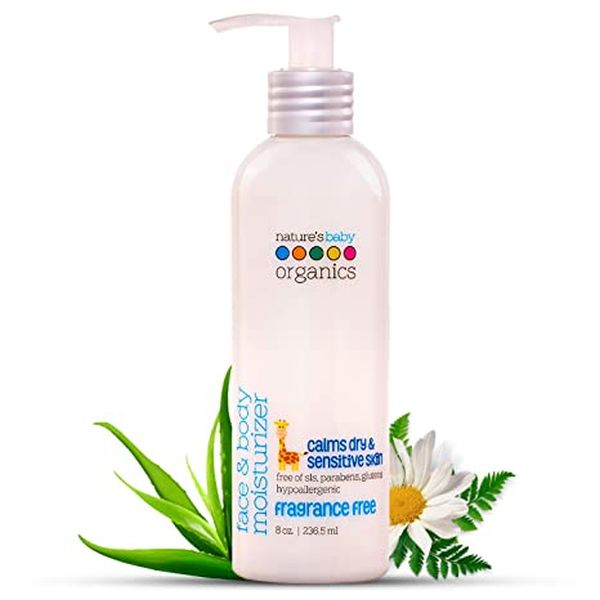 The Nature's Baby Organics Moisturizer is another organic product for making your skin soft and glow. It is best applicable for all types of dry and sensitive skins. It has been made up of mostly herbal ingredients like aloe vera, olive oil, chamomile, calendula flower extracts, palmitate, and safflower seed oil. While the aloe vera soothes and moisturizes the dry skin, calendula aides in the healing of skin. In addition, the olive oil helps in retaining and restoring the elasticity of the skin.
The Nature's Baby Organics Moisturizer can also be used on skin types with some prevailing irritations.
USP: It is a 100 percent vegan product and is an excellent therapy for dry and sensitive skin types. Pure aloe vera developed at Nature's Baby Organics' certified farm has been used for making this moisturizer.
Pros: Apart from moisturizing, it can be used for treating many forms of skin irritation.
6. John Masters Organics bearberry oil skin balancing face moisturizer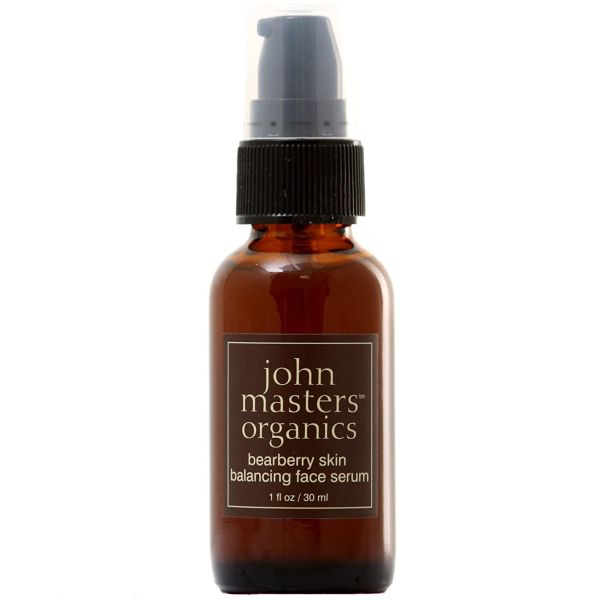 John Masters Organics Bearberry Oily Skin Balancing Face Serum is best applicable for oily skin types. It can be used either for spot treatment or as an overall remedy for a fresh and clean skin. This organic lotion has been made up of mostly bearberry extracts, willow bark, green tea, and rice. While the bearberry extracts help in reduction in the production of the serum that causes oily skin, the rice extracts helps in preventing wrinkles and softens the skin. In addition, the willow bark extracts serve as an antiseptic and the green tea provides bacterial resistance.
This face serum also reduces the pore size while rejuvenating the skin. It should be evenly applied over cleaned and toned face and the neck. It can also be used before applying make-up or moisturizing.
USP: It is an organic herbal solution for the oily skin and is a great spot treatment for breakouts.
Pros: An NOP certified organic serum. It can be used either for spot treatment or as an overall remedy for a fresh and clean skin. It can also be applied as a make-up base.
7. Juice Beauty nutrient moisturizer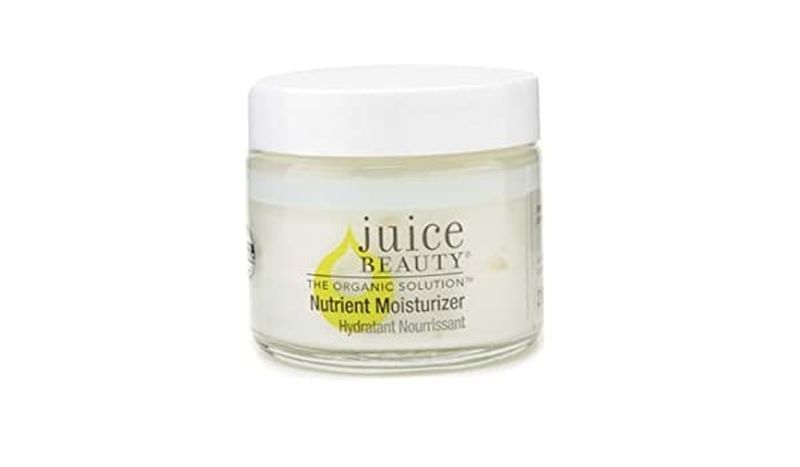 The Juice Beauty Nutrient Moisturizer has been made as a solution for aging beauty. This nutrient-rich organic moisturizer is another example of the application of natural healing capacities of many naturally occurring fruits and herbs. It is heavily based on the cleansing property of grape juice, which has many anti-oxidant compounds that help in protecting the premature aging of skin. It is also rich in many vitamins, especially vitamin E, that helps in maintaining the smoothness of the skin. Other ingredients include carrot juice and some essential fatty acids.
This organic moisturizer also protects the skin from sunburn, helps in alleviating many recurring skin problems like acne, and removes the stretch marks. For best results, it should be applied every morning and evening on the face and neck after warming the lotion for sometime in the palms.
USP: It is based on the natural cleansing properties of grape juice.
Pros: It is an organic moisturizer, which is a solution for an ageless beauty. It also helps in protecting the skin from sunburn and solves other skin problems like acne and stretch marks. It results in smooth and healthy skin.
8. Eco-Organic antioxidant skin moisturizer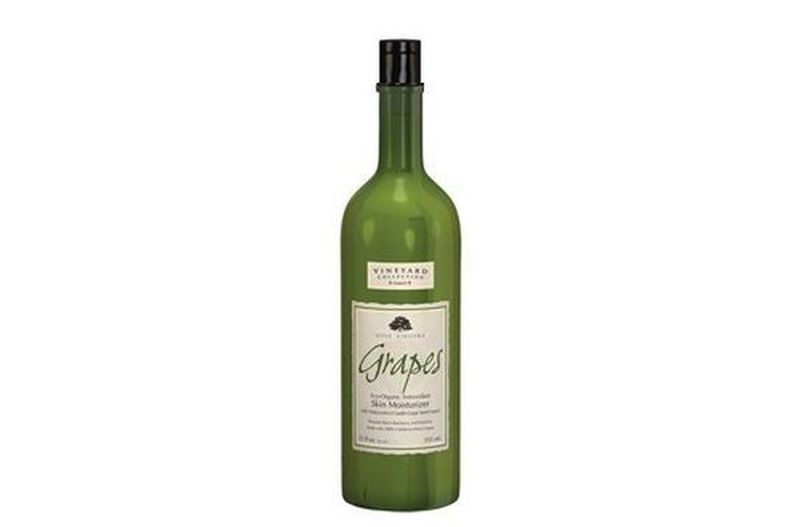 The Eco-Organic Antioxidant Skin Moisturizer is another grape juice-based beauty lotion for providing an ageless charm to your skin. This organic lotion can be applied all over the body. It has been prepared from the nutraceutical grade 100 percent California grape extracts. Other ingredients include jojoba olive oil, avocado oil with shea as well as mango, and aloe butter. These ingredients not only serve as anti-oxidants but also restore the balance of skin and make it appear smooth.
The lotion has been blended with additional vitamins A, C and E and no chemical preservatives have been used.
USP: It is totally organic body moisturizer blended with naturally occurring nutrients.
Pros: It is made from specifically grown grape fruits, provides ageless charm to whole body skin and is a completely eco-friendly moisturizer. No chemical preservatives have been used.
9. Oil Free Moisturizer cream aloe & green tea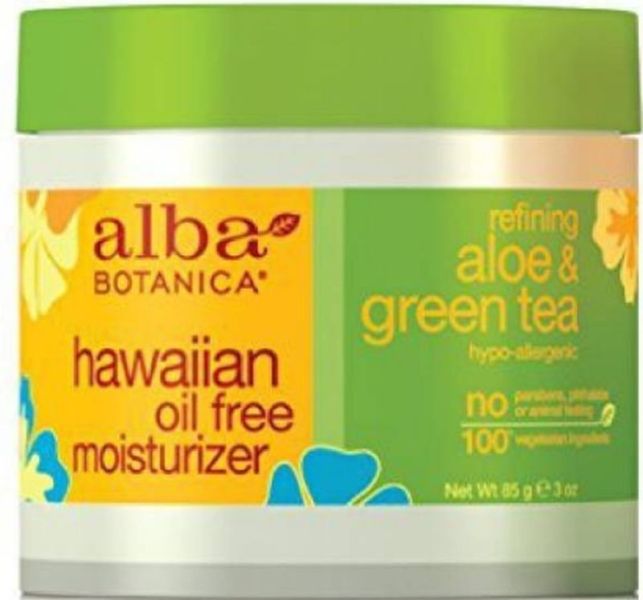 This skin care moisturizer is another aloe vera-based 100 percent herbal organic lotion that retains the charm of your skin. It is light and oil-free. Though it can be used on all types of skin, people with least tolerance to heavy moisturizers will immensely benefit from this product. Apart from certified organic aloe vera, the other key ingredients are certified extracts of green tea, lavandula, angustifolia juice, organic mango, and cucumber. While aloe vera is a proven organic substance for skin-repair, the green tea extracts repairs and strengthens the skin tissues. It also has anti-inflammatory properties. In addition, the oil-free humectants used in this moisturizer are easily absorbed by the skin and protect from dehydration.
For best results, it should be applied daily on cleaned face and neck. It can also be applied as a make-up base. Since the individual results may vary, you should preferably consult your physician before using this produce. Also, avoid any contact with the eyes.
USP: It leaves no residual oiliness on the skin and makes the skin appear smooth and shiny.
Pros: It is made up of mostly certified organic products and could be used as a make-up base.
10. Organic vanilla bean nourishing body cream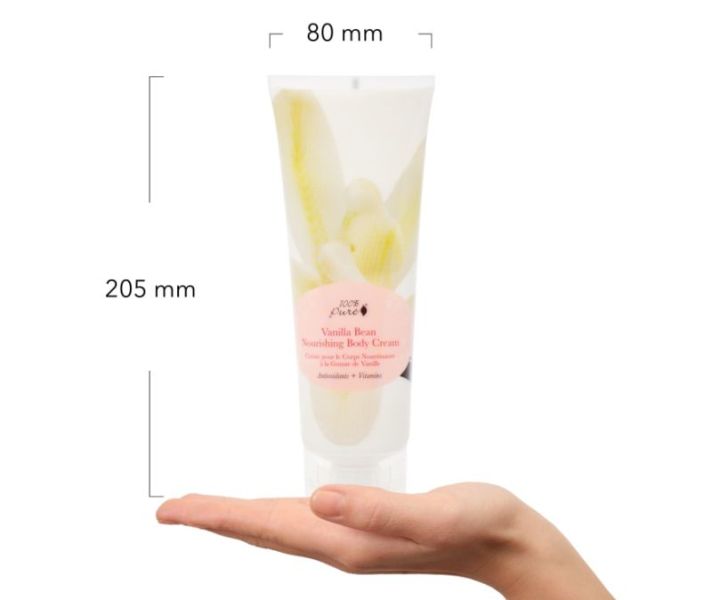 The Organic Vanilla Bean Nourishing Cream can be applied all over the body. It is completely toxin free and harmless for your soft skin. This full body cream has been blended with some powerful antioxidants and vitamins for revitalizing the skin. While the key ingredients – cocoa butter and macadamia oil help in softening and moisturizing the skin, green coffee stimulates the circulation of blood beneath the skin. Other ingredients includes tahitian vanilla, madagascar vanilla, and hazelnut. These provide a delicious vanilla smell to this luxurious body cream.
USP: It is a luxurious organic body cream that smells like vanilla. 
Pros: It is a full body cream, blended with powerful antioxidants and vitamins for revitalizing the skin.
Follow these simple tips to make your skin as soft as a baby's skin. These tips can work for every type of skin. Follow them carefully with proper attention to realize your dream of having baby soft skin.